DVDs from TCM Shop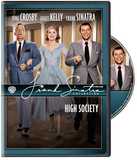 High Society In this musical version of The... MORE&nbsp> $9.71 Regularly $14.98 Buy Now
NOTES
After the opening credits, Louis Armstrong appears with his band on a bus bound for Newport, RI, singing the song "High Society," in which he introduces the story's main characters. After finishing the song, Armstrong tells the audience, "End of song, beginning of story." Armstrong also makes voice-over story predictions several times throughout the film, and closes the picture by playing a Jazz version of the wedding processional for the newly reunited "Tracy Lord" and "C. K. Dexter-Haven." He then tells the audience, "End of story." A flashback sequence, as remembered by Tracy, recounts her honeymoon with Dexter aboard their yacht True Love and the song they sang ["True Love"] celebrating their romance. An epilogue acknowledging the cooperation of the Newport Jazz Festival (which was founded in 1954) follows the closing onscreen credits.
As noted in a February 5, 1956 Los Angeles Times article about producer Sol C. Siegel, arranging for the three top-billed stars, Grace Kelly, Frank Sinatra and Bing Crosby, to appear in the same film was difficult, but resulted in M-G-M's highest grossing film of 1956. During pre-production, both Crosby and Sinatra were appearing in other films and had scheduled road tours, while Kelly had already made plans to marry Prince Rainier of Monaco and suggested she might be retiring. Although Kelly was scheduled to star in M-G-M's Designing Woman and had several years remaining in her M-G-M contract, High Society was her final film. Some modern sources have erroneously stated that The Swan, which was both produced and released prior to High Society, was her last film. For more information on Kelly, her marriage to Prince Rainier and death in 1982, please refer to the M-G-M 1956 film The Swan (see below).
High Society marked the first time popular singers Crosby and Sinatra had appeared in a film together and also marked Cole Porter's return to film scoring for the first time since the 1949 film Adam's Rib (see AFI Catalog of Feature Films, 1941-50). High Society also marked the singing debut for Kelly, whose recording of "True Love" with Crosby became a popular hit and won a Grammy award. Of the nine songs included in the film, only one, "Did You Evah?" was not written expressly for the picture; Porter wrote the song for his 1939 Broadway musical Du Barry Was a Lady, starring Ethel Merman and Bert Lahr and featuring Charles Walters, who directed High Society.
According to a July 29, 1955 Hollywood Reporter news item, Howard Keel had wanted the role of Dexter, while an January 11, 1956 Hollywood Reporter "Rambling Reporter" article noted that Patty McCormack was considered to play "Caroline Lord." Portions of the film were shot on location in San Marino, California. According to M-G-M press materials found in the AMPAS Library production file on the film, Armstrong's six-piece band made its feature film debut in High Society, although Armstrong himself had been in numerous films since the 1930s. Modern sources add that Armstrong's band included the following musicians: drummer Barrett Deems, clarinetist Edmond Hall, pianist Billy Kyle, bassist Arvell Shaw and trombonist James Young. Modern sources also credit Robert Franklyn with additional orchestrations.
Philip Barry's play had previously been filmed by M-G-M as their 1941 Oscar-winning film The Philadelphia Story, starring Katharine Hepburn, Cary Grant and James Stewart and directed by George Cukor. That film was also the basis of two Lux Radio plays (see AFI Catalog of Feature Films, 1941-50). As noted in reviews, the setting of the original play and movie was Main Line, Philadelphia, while the 1956 film was set in the socially elite Newport, Rhode Island, home to the Newport Jazz Festival. The Newport setting provided the impetus for Armstrong and Dexter to come to the town.
Although High Society received rave reviews and became M-G-M's most successful 1956 film, some reviewers criticized Siegel for miscasting Crosby and Kelly, pointing out that Crosby was possibly too old to play Kelly's love interest and Kelly did not fit the "austere" yet madcap role for which Hepburn had received an Academy Award nomination in The Philadelphia Story. High Society was nominated for an Academy Award for Best Music-Scoring Musical Picture. Cole Porter also received a nomination for Best Music (song) for "True Love." When the Allied Artist Bowery Boys series comedy, which was also entitled High Society, inadvertently received an Academy Award nomination for Best Writing (Motion Picture Story), Allied Artists withdrew their film from the final ballot upon realizing that Academy members had intended to nominate M-G-M's High Society, but had nominated the comedy by mistake.