DVDs from TCM Shop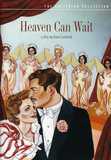 Heaven Can Wait An old roué arrives in Hades... MORE&nbsp> $23.96 Regularly $29.95 Buy Now
Articles
SEE ALL ARTICLES
Heaven Can Wait (1943)
In many ways, Ernst Lubitsch's Heaven Can Wait (1943) is a representative example of its time: It's a costume drama that luxuriates in period detail, playing to the strengths and predilections of parent studio 20th Century Fox. It's a character study told with inventive narrative techniques and non-chronological structure, like Preston Sturges' The Great McGinty (1940) or Orson Welles' Citizen Kane (1941). It is in glorious Technicolor, which was surging to popularity in the wake of Snow White and the Seven Dwarfs (1937).

Then again, this is Ernst Lubitsch we are talking about. He did not make movies like everyone else.

Although a "character study," Heaven Can Wait is the life story of nobody in particular. Citizen Kane and The Great McGinty fulminate over the accomplishments of Great Men (with capital letters). Lubitsch, as he put it, set forth "a man only interested in good living with no aim of accomplishing anything or doing anything noble."

Lubitsch admitted that he faced studio opposition to making a movie that "had no message and made no point whatsoever." But he defended his choices, saying, "I hoped to introduce to a motion picture audience a number of people, and if the people should find them likeable--that should be sufficient for its success."

To play those "number of people," Lubitsch was restricted to the roster of somewhat lackluster stars under contract to 20th Century Fox, instead of the performers with whom he had built his reputation. Lubitsch reluctantly screen-tested Don Ameche for the lead role, and complained to screenwriter Sam Raphaelson "we are in trouble." Raphaelson was baffled by this--Ameche's screen test was terrific, he thought. Lubitsch agreed--Ameche had nailed it. That was the problem--now he was obliged to use Ameche, in a role he'd written with Fredric March in mind.

Under Lubitsch's direction, Ameche gave one of his career-defining performances, as the lecherous rogue Henry Van Cleve. The film covers Van Cleve's life, from birth to death (not necessarily in that order), by focusing on the women in it--his mother, the French maid who seduced him at thirteen, the various showgirls that invariably caught his eye, and so on. But of these women, one stands apart--his wife and soul-mate Martha (Gene Tierney), with whom he stays married--if not wholly faithful--for 25 years.

Tierney had not yet achieved her breakout role in Laura (1944). She was highly regarded for her beauty, but as an actress had a reputation for glassy-eyed diffidence. Lubitsch demanded more from her than she was accustomed to giving--and to inspire a fierier, lustier performance from her, he badgered and berated her to the point of tears. Tierney accused Lubitsch of being a "tyrant," and ordered him to stop shouting at her all the time. "I'm paid to shout at you!" was his response.

Whatever on-set tension may have existed between the director and his leading lady, the production sailed through on a modest budget and a short, efficient schedule. Raphaelson called it a "three-haircut picture," in that it only took Lubitsch the length of three haircuts to make it. Lubitsch only spent $1.1 million on the film--remarkable, considering he had the same budget on his previous film, To Be or Not to Be (1942), which wasn't in color and didn't encompass some seventy years worth of settings and fashions.

Lubitsch felt the key to working so efficiently on-set was in the preparation--specifically in the writing. Having bought the rights to Lazlo Bus-Feket's 1934 play Birthdays, Lubitsch engaged his favorite screenwriter Raphaelson to hunker down with him at Lubitsch's home to adapt the play into a movie.

It took Lubitsch and Raphaelson months to craft their screenplay. Raphaelson said that during that time, studio chief Darryl Zanuck asked how things were coming along. "Vell, I tell you--slow but good," Lubitsch replied. Zanuck smiled, "That's fine. The only thing I'd rather hear than that is--slow and great!" Raphaelson marveled at the seeming indulgence from Zanuck, but Lubitsch explained, "Dis time ve are spending here, writing, is de cheapest time ve got. All ve are paying now is your salary and mine. But the minute ve are on de set, ve are paying de stars, de dis, de dat, ve are paying $50,000 a day..."

The long gestation period for the script was partly Lubitsch's way of escaping the ugliness and acrimony of his divorce from Vivian Lubitsch, a way of taking the pain of that part of his life and turning it into something positive--Vivian accused Ernst of being a childish kind of man, fixated on his own appetites and unconcerned with the effects of those choices on the people around him, so Ernst went and made a movie celebrating those very characteristics.

Raphaelson described it as "a series of animated tintypes, poking sly fun at the manners, decorations and naughtiness of the gay nineties, the locale moving, in a vein of fantasy, from Hades to old New York and Kansas as the career of a mild Casanova is traced."

The character of Henry Van Cleve was conceived as a man "fifteen years ahead of his time, all the time," in terms of sexual mores. In other words, his behavior is only scandalous in terms of the attitudes of the people immediately around him, but not fundamentally scandalous. Time marches on, and forgives him, repeatedly.

Henry Van Cleve passes his final hours with a great meal ("I ate everything the doctor forbade!") and fantasies of a lovely blonde sneaking into his bedroom. Although he had no way to know it at the time, in just four years' time, Ernst Lubitsch would spend his own final hours under strikingly similar circumstances.

Standing in front of the Devil, recounting the long uninterrupted misdemeanor of his life, Henry finds that even Hell isn't interested in his transgressions. His sins don't count as sins. Through the vehicle of this film, Lubitsch presents his own case in its most extreme caricature--a man motivated only by sex and food and pleasure--and granted himself redemption.

By David Kalat

Sources:
Scott Eyman, Ernst Lubitsch.
Herman G. Weinberg, The Lubitsch Touch.
William Paul, Ernst Lubitsch's American Comedy.
Leland A. Poague, The Cinema of Ernst Lubitsch.
back to top
---