DVDs from TCM Shop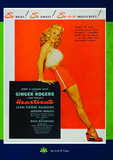 Heartbeat A young female escapee from a... MORE&nbsp> $10.95 Regularly $14.99 Buy Now
NOTES
DVDs from TCM Shop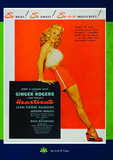 Heartbeat A young female escapee from a... MORE&nbsp> $10.95
Regularly $14.99 buy now
Although not mentioned in reviews or news items, the "original screenplay" on which this picture was based and credited onscreen was first filmed in Italy, as Batticuore. Mario Camerini directed and John Lodge and Assia Noris starred in 1938 in the Italian film. In 1939, Henri Decoin directed Danielle Darrieux in Battement de coeur, a French version of the same script. Reviews and news item generally refer to the French picture as the source of the American film. As early as May 1942, Hollywood Reporter announced that producer Gregor Rabinovitch was planning to remake "his French production Heartbeat," which was to be released by United Artists. By April 1945, however, Hollywood Reporter reported that Robert and Raymond Hakim and Ginger Rogers were joining forces to remake Battement de coeur on a one million dollar budget. Heartbeat was the first collaboration of Rogers and director Sam Wood since RKO's 1940 film Kitty Foyle.
A July 1951 Hollywood Reporter article gives the following information about the film's unusual financing: As part of their distribution deal, RKO agreed to defer all studio space costs and other charges over $185,000, while Security-First National Bank agreed to finance seventy-two percent of production cost up to $875,000. Wood deferred his $75,000 directorial fee, while Consolidated Film Industries consented to lend the production $75,000. New World Productions had to procure only $100,000 in "loans and otherwise" in order to start filming. In 1951, David L. Loew sued New World because $200,000 in a "second money loan" he had given to the film had not been repaid. The final disposition of that suit has not been discovered.
Hollywood Reporter news items add the following information about the production: Director Wood and executive assistant Lonnie D'Orsa canvassed the Russian section of Los Angeles' Boyle Heights district for "types" to cast in the production. Wood devised a new system of casting for the picture by "mass testing" all of the roles requiring tryouts in a single session. New World Productions borrowed casting director Jack Murton from International Pictures for the film, and RKO borrowed actor Mikhail Rasumny from Paramount. Fortunio Bonanova was cast in the production, but his appearance in the final film has not been confirmed. Mildred Thorpe, a seventeen-year-old USC student, was signed by Sam Wood for a role, but her appearance in the final film has not been confirmed. Some scenes were shot at California Studios, and others were filmed at M-G-M. Ralph Dawson is listed in Hollywood Reporter production charts as editor, although Roland Gross and J. R. Whittredge are listed onscreen. Modern sources credit Eddie Hayden as "the fat thief." Modern sources also credit Mel Berns as makeup artist and John Miehle as still photographer.