DVDs from TCM Shop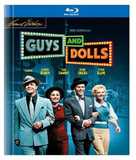 Guys and Dolls A big-city gambler bets that he can seduce a Salvation Army... MORE&nbsp> $20.95 Regularly $24.98 Buy Now
Quotes
Nathan Detroit


Everybody in the whole world who hates me is now here.

Sky Masterson


One of these days in your travels, a guy is going to show you a brand-new deck of cards on which the seal is not yet broken. Then this guy is going to offer to bet you that he can make the jack of spades jump out of this brand-new deck of cards and squirt cider in your ear. But, son, do not accept this bet, because as sure as you stand there, you're going to wind up with an ear full of cider.

Nathan Detroit


I have been running the crap game since I was a juvenile delinquent.

Miss Adelaide


Speaking of chronic conditions, happy anniversary.

Harry the Horse


I just acquired five thousand fish.

Nicely Nicely Johnson


Five thousand? If it can be told, where did you take on this fine bundle of lettuce?

Harry the Horse


I have nothing to hide. I collected the reward on my father.

Benny Southstreet


It is an advantage to have a successful father. Nobody ever wanted my old man for as much as five hundred.

Sky Masterson


For two weeks I gambled in green pastures. The dice were my cousins and the dolls were agreeable with nice teeth and no last names.