DVDs from TCM Shop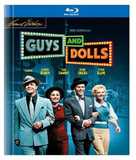 Guys and Dolls A big-city gambler bets that he can seduce a Salvation Army... MORE&nbsp> $20.95 Regularly $24.98 Buy Now
NOTES
Joseph L. Mankiewicz's onscreen credits reads, "Written for the screen and directed by Joseph L. Mankiewicz." The opening and ending cast credits differ slightly in order. Damon Runyon's "The Idyll of Miss Sarah Brown" was later included in his short story collection Guys and Dolls (New York, 1931). Frank Loesser's Guys and Dolls was a hit musical that ran over 1,200 performances after its November 24, 1950 Broadway opening, closing three years later on November 28, 1953. In addition to the original Broadway show, which starred Robert Alda as "Sky Masterson," the play was successful on the London stage and in a number of touring road companies throughout North America. According to the film's pressbook, the play grossed over $13,000,000 in the United States and $3,000,000 in Great Britain. Vivian Blaine, Stubby Kaye, Johnny Silver and B. S. Pully recreated their Broadway roles for the film. Choreographer Michael Kidd created the dance numbers for both the play and the film.
Contemporary news items, studio press materials and feature articles in magazines provide the following information on the production: In July 1952, a Los Angeles Examiner article indicated that Paramount Pictures, which owned the rights to the original Damon Runyon short story on which the Broadway musical was based, was to produce a film adaptation to star Bob Hope as "Nathan Detroit" and Bing Crosby as Masterson. The article also mentioned that the studio had briefly considered Dean Martin and Jerry Lewis for the leads.
According to Daily Variety and Variety news items in late January 1954, producer William Goetz acquired the rights to the play for a fee of $300,000, plus a percentage of the film's gross after it reached $4,000,000 in domestic distribution. At that time, the film was to be the first of three Goetz productions for Columbia Pictures. By early March 1954, news items in Hollywood Reporter and Daily Variety announced that Samuel Goldwyn was the top bidder for the rights, which he bought for $1,000,000 against ten percent of the picture's gross. That figure, which was widely reported in trade publications and confirmed in the film's pressbook, was the highest price paid to that time for motion picture rights.
It has not been determined at what point Goetz was no longer involved in the project, although a March 14, 1954 Los Angeles Times article reported that Goldwyn "had out bidden all competitors, including William Goetz, who, apparently, reported acquisition of the rights prematurely." News items in February and March 1955 indicated that Goldwyn had been negotiating with both Paramount and M-G-M on distribution rights to the film, and would shoot the picture in the VistaVision widescreen process if Paramount was selected, but CinemaScope if M-G-M.
A few days after a March 3, 1955 Hollywood Reporter news item noted that Twentieth Century-Fox had agreed to allow Goldwyn to use CinemaScope lenses for the film, a New York Times article announced that Goldwyn planned to release Guys and Dolls under the M-G-M banner, his first, and only, association with that company since the 1924 merger of Metro Pictures and Louis B. Mayer Pictures with the old Goldwyn Company. The article also noted that Goldwyn would finance the film's $5,000,000 budget himself. Hollywood Reporter and Wall Street Journal articles on March 9, 1955 noted that the distribution deal would be an 80-20 split favoring Goldwyn. For the previous fifteen years, Goldwyn had released his films through RKO Radio Pictures, and his last production, Porgy and Bess (see below), was released through Columbia.
Goldwyn announced the casting of Marlon Brando on August 1, 1954 and Jean Simmons on September 21, 1954. At that time, according to feature articles, it was assumed by many that the "non-singer" actors would have their voices dubbed for the film. In a modern television interview, Simmons stated that she and Brando also assumed they would be dubbed but were told by Goldwyn that, although they did not have good voices, they were "real." According to press materials, it was not revealed to the public until shortly before the film opened that Brando would do his own singing. Although some reviews commented on Brando's lack of singing expertise, most found his and Simmons' voices acceptable. In Saturday Review (of Literature), Hollis Alpert stated an opinion echoed by many critics: "...Brando can't really sing. But he has moments when he almost convinces you he that can...Simmons, on the other hand, can almost sing. She has a clear likable voice..."
The long production schedule of the film ran from 14 March to July 9, 1955, including a shutdown from 10 June-20 June for rehearsals on the two "Hot Box" club numbers. Filming of the "Pet Me, Poppa" number took place from 7 July-9 July and concluded the lengthy 102 day rehearsal and shooting schedule of the production. According to the film's pressbook, the final budget for the film was "upwards of $5,500,000." Hollywood Reporter news items included the names of the following actors and dancers, whose appearance in the released film has not been confirmed: Gloria Rhoads, Jerry LaZarre, Jean Corbett, Betty Jean Hansen, Jane Fischer, Cecile Rogers, Virginia Aldridge, Lorraine Crawford, Carey Leverette, Clark Lee, Wilson Morelli, Lance Avant, Lynn Bernay, Carmen Clifford, Beth Carter, Jean Goddall, January Hollar and Alicia Krug.
The picture, shot entirely on the Goldwyn lot in Hollywood, projected a very stage-bound look, with even most exteriors filmed on soundstages. According to the pressbook for Guys and Dolls, art directors Oliver Smith and Joseph Wright deliberately altered the letters on the neon signs in the large Times Square set so that no real companies would be identifiable, but that logos resembled those of familiar brands such as Pepsi-Cola. For several minutes after the end of the opening credits, there is no dialogue, only an unfolding of images of New York street life enlivened by dancing, music and sound effects. This sequence is followed by the picture's first song, "Fugue for Tinhorns."
Several songs from the Broadway score were not included in the film: "My Time of Day," "I've Never Been in Love Before," "More I Cannot Wish You" and "A Bushel and a Peck," a production number performed at the Hot Box by "Miss Adelaide." "A Bushel and a Peck" was replaced in the film by Adelaide's "Pet Me, Poppa" number. Loesser wrote two new songs for the film, "Adelaide," sung by Frank Sinatra, and the romantic ballad "A Woman in Love," heard as both instrumental background and a song with Spanish lyrics sung by Renee Renor and English lyrics sung by Brando and Simmons in the film's Havana sequence. Although Brando sang "Luck Be a Lady" in the film, Sinatra later became associated with the song and recorded a version for his 1963 Reprise Musical Repertory Theatre album.
The film retained much of the "Runyonesque" quality of the stage play, with the use of dialogue unique to Runyon's New York underworld characters. The film's pressbook included a glossary of popular Runyon terms such as "sucker bet," "marker" and "chump" to explain some of the film's dialogue. Several of the characters in the story were also featured in other Runyon stories, some of which have been adapted to film. The character "Nicely-Nicely Johnson" was also featured in the 1942, Irving Reis-directed RKO production The Big Street, and "Harry the Horse" appeared in the 1942, Albert S. Rogell-directed Universal release Butch Minds the Baby and the 1943 Universal film It Ain't Hay, directed by Erle C. Kenton (see AFI Catalog of Feature Films, 1941-50).
Although many contemporary and modern sources refer to "Sarah Brown" as "Sister Sarah" of the Salvation Army, she was called "Sergeant Brown" in the film, and the Save-A-Soul Mission was a fictionalized representation of the Salvation Army. The restaurant featured prominently in the story, "Mindy's," was a fictionalized representation of Lindy's, a famous New York City restaurant noted for its cheesecake. The film's most famous line is uttered by Brando when Masterson realizes that Nathan Detroit has lured him into a sucker bet: "Daddy, I got cider in my ear." Modern sources add the following bit players to the cast: Franklyn Farnum, Tony Galento, Joe Gray, Sam Harris, Jack Perry, Frank Richards, Julian Rivero, Jeffrey Sayre and Harry Wilson.
"The Goldwyn Girls" were featured in some of the early Goldwyn sound films, beginning with Whoopee! in 1930 (see AFI Catalog of Feature Films, 1921-30) and had not been featured in many years. As publicity for the film, the six Goldwyn Girls went on a cross-country promotion tour and on October 9, 1955, the popular Ed Sullivan television show ran a 30-minute promotion of the film. According to a April 13, 1956 Daily Variety news item, Sinatra refused to appear with the rest of the cast on an April 1956 Sullivan program, contending that "TV is as much a business with him as motion pictures and he should be paid accordingly." The article continued that Goldwyn considered a gratis appearance to promote the picture as part of their contract and that a film clip of Sinatra in the picture would be used on the Sullivan program.
According to various news items, the November 3, 1955 New York premiere of the picture benefited the Will Rogers Memorial Hospital and Tuberculosis Research Laboratories, while the November 22, 1955 Los Angeles premiere was held to benefit the Cedars of Lebanon Hospital. The film received several Academy Award nominations, including Cinematography (color, Harry Stradling), Art Direction-Set Decoration (color, Smith and Wright and Howard Bristol), Costume Design (color, Irene Sharaff) and Scoring of a Musical Picture (Jay Blackton and Cyril J. Mockridge). Although the film had premieres and road show engagements in November and December 1955, it was not given a wide national release until 1956. According to figures in the Motion Picture Almanac, it became the highest grossing film of 1956, taking in over $9,000,000 at the box office. In 1967, Goldwyn sold the first television broadcast rights to Guys and Dolls, Hans Christian Anderson and Porgy and Bess to ABC for $1,000,000 each, the highest price paid for broadcast rights to that time.
Runyon's story was adapted for radio and broadcast on The Damon Runyon Theatre on February 6, 1946. Two successful Broadway revivals of the musical play have been staged: The first, in 1976, featured an all-African American cast and starred Robert Guillaume as Sky Masterson. The second, in 1992, starring Peter Gallagher and Nathan Lane, spawned both a London revival and a new North American road company production. In 2003, it was announced that Craig Zadan and Neil Meron, producers of the successful, recent screen adaptation of Chicago, would be making another screen adaptation of Guys and Dolls for Miramax Pictures, but, as of summer 2005, it had not been produced.