DVDs from TCM Shop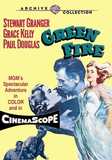 Green Fire An emerald prospector clashes... MORE&nbsp> $15.96 Regularly $19.99 Buy Now
Articles
SEE ALL ARTICLES
Green Fire (1955)
A story of emerald mining and romantic misadventures in South America, Green Fire (1955) stars Stewart Granger, Grace Kelly, Paul Douglas and the beauty of Columbia's mountains in dazzling color and Cinemascope. The plot follows two Americans, Rian (Stewart Granger) and Vic (Paul Douglas), as they search for priceless gems in a hot and often hostile terrain. During their hunt they encounter Catherine (Grace Kelly), a coffee plantation owner, and her brother Donald (John Ericson). Rian's quest to find his emeralds soon presents a problem for Catherine, who owns the land where the treasure lies. She is committed to preserving her family's coffee business while Rian wants to convert the property to a mining operation. So what's it going to be? Emeralds or coffee? How about romance? Yes, there is that plus a lot of obstacles to overcome before the romantic fade-out, like Rian's jealous partner Vic, the dreaded El Moro (a murderous bandit who wants to steal the "green fire"), and numerous natural disasters. But what did you expect from Ivan Goff and Ben Roberts, the duo who would go on to create television's Charlie's Angels? The film zips along thanks to director Andrew Marton who is no slouch when it comes to action sequences (He supervised the chariot race scenes for Ben-Hur, 1959) and yes folks, those effects are real stunts and not enhanced computer effects.

Stewart Granger's reputation as a movie star rests on his swashbuckling roles in a series of sumptuous costume epics at MGM Studios; his physique and handsome features were ready made for leading man status. In his autobiography, Sparks Fly Upward, Granger recalled the rather unpleasant film shoot; "Grace arrived with her sister as her chaperone, and Paul Douglas with several bottles of Scotch as his. Everywhere was dusty, dirty and swarming with flies and God knows why we went there as I didn't see any emerald mines, which was the theme of our story."

But whereas Stewart Granger had only fond memories of working with Grace Kelly, the actress had a different impression of her co-star and later confided to a friend, "I don't think I have ever met anyone who was quite so conceited." She had just completed her role in The Country Girl (1954) and would go on to star in To Catch a Thief (1955). Green Fire was a fitting conclusion to a year that had been packed with a most intensive work schedule, not to mention Kelly's equally tangled love life. The production literally left her no time to dally and as Kelly later recalled, "I finished Green Fire one morning at eleven, I went into the dubbing room at one — and at six o'clock I left for France."


Director: Andrew Marton
Producer: Armand Deutsch
Screenplay: Ivan Goff and Ben Roberts
Cinematography: Paul Vogel
Editor: Harold F. Kress
Music: Miklos Rozsa
Special Effects: A. Arnold Gillespie
Cast: Stewart Granger (Rian X. Mitchell), Grace Kelly (Catherine Knowland), Paul Douglas (Vic Leonard), John Ericson (Donald Knowland), Murvyn Vye (El Moro).
C-101m. Letterboxed.


By Celia M. Reilly


back to top
---