DVDs from TCM Shop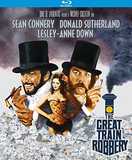 The Great Train Robbery Three crooks plot to steal a fortune in gold from a moving... MORE&nbsp> $22.46 Regularly $29.95 Buy Now
Trivia
Michael Crichton based his book and movie only loosely on the actual crime committed in 1855. In real life there were four criminals: Pierce, Agar, the railway guard Burgess, and a railway clerk named Tester. All four keys were kept on railway premises, two in London and two in Folkestone. They were stolen temporarily by Tester and Pierce respectively so that Agar could duplicate them, but it turned out that the Folkestone keys were not being used anyway. The guard's van was not locked from the outside; Pierce and Agar were let in by Burgess, and a share of the loot was handed out to Tester, at stations. None of the criminals was spotted at once; it was months before the railway conceded that the crime must have occurred on the train. The details came to light after Agar had been convicted in an unrelated crime and his accomplices decided to steal his share instead of using it, as he had asked, to provide his mistress an income. She got word to him, and he turned Queen's Evidence against the others, and told all. At no point in the case did anyone escape from custody.
Sean Connery spent several days running on top of a moving train. The train was supposed to be traveling at 35mph; Connery argued it was going faster. The train driver was counting telegraph poles to measure the speed. A helicopter pilot confirmed Connery's suspicion - the train was traveling at over 55mph.
Crichton was frustrated at the pace of filming with an Irish and British crew. They had no respect for such a young director, until he ordered a copy of his latest film, Coma (1978); after watching it, the crew decided he was a good director and they began working harder for him.
Crichton had his hair catch fire when the steam locomotive he was filming from spewed burning embers.
The steam engine originally used in the film was not powerful enough to pull the train, so a diesel locomotive was disguised as a goods van and used for extra power.