DVDs from TCM Shop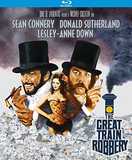 The Great Train Robbery Three crooks plot to steal a fortune in gold from a moving... MORE&nbsp> $22.46 Regularly $29.95 Buy Now
Quotes
DVDs from TCM Shop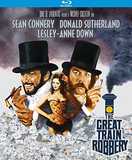 The Great Train Robbery Three crooks plot to steal a... MORE&nbsp> $22.46
Regularly $29.95 buy now
Edward Pierce


In the year 1855, England and France were at war with Russia in the Crimea. The English troops were paid in gold. Once a month, twenty-five thousand pounds in gold was loaded into strongboxes inside the London bank of Huddleston and Bradford and taken by trusted armed guards to the railway station. The convoy followed no fixed route or timetable. At the station, the gold was loaded into the luggage van of the Folkestone train for shipment to the coast and from there to the Crimea. The strongboxes were placed into two specially-built Chubb safes constructed of three-quarter inch tempered steel. Each safe weighed five hundred and fifty pounds. Each safe was fitted with two locks, requiring two keys, or four keys altogether. For security, each key was individually protected. Two keys were entrusted to the railway dispatcher who kept them locked in his office. A third was in the custody of Mr. Edgar Trent, president of the Huddleston and Bradford. And the fourth key was given to Mr. Henry Fowler, manager of the Huddleston and Bradford. The presence of so much gold in one place naturally aroused the interest of the English criminal elements. But in 1855 there had never been a robbery from a moving railway train.

Edward Pierce


No respectable man is that respectable.

Edward Pierce


I've just returned from America, a country of many prominent erections.

Judge


Now, on the matter of motive, we ask you: Why did you conceive, plan and execute this dastardly and scandalous crime?

Edward Pierce


I wanted the money.