DVDs from TCM Shop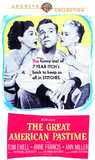 The Great American Pastime A mild-mannered lawyer gets... MORE&nbsp> $14.95 Regularly $17.99 Buy Now
NOTES
DVDs from TCM Shop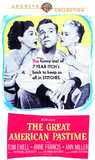 The Great American Pastime A mild-mannered lawyer gets... MORE&nbsp> $14.95
Regularly $17.99 buy now
The working titles for the film were Little Leaguer and Father's Little Leaguer. Tom Ewell as "Bruce Hallerton" addresses the camera at the beginning of the story and provides voice-over narration of his character's inner monologue throughout the film.
By 1956, when the film was released, the Little League had established teams in all of the [then] 48 states and in Canada and had become a popular American hobby. The Little League was formally established in 1939 by Carl E. Stotz, and by 1947, the first National Little League Tournament was held. As noted in the November 21, 1956 Variety review of The Great American Pastime, the film reflected not only the growing popularity of Little League, but also the sometimes overly competitive spirit among parents involved in the child's game.
A March 20, 1951 Los Angeles Examiner article noted that Samuel Goldwyn purchased a story entitled "The Great American Pastime" from writers Norman Foster and Robert Keith and planned to produce the film that year. According to the article, the original story was about a girl's softball team. Goldwyn was considering the "Goldwyn girls" to star in the picture and, according to a April 27, 1951 Los Angeles Times article, approached Ken Englund to write the screenplay. Aside from the common theme of baseball, no information has been located to connect that story with the 1956 film. A July 16, 1956 Hollywood Reporter news item adds Gene Coogan, Mitch Rhein, Sandra Ross and Willie Bloom to the film's cast. A June 5, 1956 Hollywood Reporter news item states that Robert Bronner was signed as director of photography; however, onscreen credit is given to Arthur E. Arling.
The Great American Pastime was the first film of writer Nathaniel Benchley (1915-1981), son of noted American humorist and actor Robert Benchley and father of novelist Peter Benchley. Nathaniel has a bit part in film as well. The film was the last M-G-M production of actress Ann Miller (1923-2004). Miller did not make another film until her cameo appearance in the 1976 Won Ton Ton, the Dog Who Saved Hollywood. Her final screen appearance was a brief role in David Lynch's 2001 Mulholland Dr..
Walt Disney produced a television movie for his series Walt Disney Presents that also centered on a Little League team. The series was entitled Moochie and the Little League and was broadcast on ABC-TV on October 7, 1959.