DVDs from TCM Shop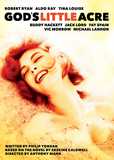 God's Little Acre A dirt-farmer lets his family... MORE&nbsp> $15.95 Regularly $19.95 Buy Now blu-ray
NOTES
The onscreen title card reads: "Security Pictures, Inc. presents Erskine Caldwell's God's Little Acre." God's Little Acre was based on Caldwell's controversial and best-selling 1933 novel of the same name, which, due to the story's sexual content, was banned from many book stores upon publication and faced a court censorship battle. The complaint, filed by the New York Society of Suppression of Vice, was later dismissed by a New York City magistrate, which upheld the integrity of the novel. Upon the film's release, several reviews noted that its ending was considerably less somber than that of the book. In the novel, "Buck Walden" kills his brother, "Jim Leslie," for attempting to abduct Buck's wife "Griselda," whom Jim had molested earlier when their father, "Ty Ty Walden," came to him to borrow money. The book ends with Ty Ty wearily telling his daughters and Griselda that Buck has wandered off with a shotgun, presumably to commit suicide.
According to information in the file on the film in the MPAA/PCA Collection in the AMPAS Library, on January 3, 1950 producer Anson Bond of Emerald Productions submitted a script of God's Little Acre for PCA approval, indicating his intention to begin production within three months. On January 17, 1950, the PCA rejected the script, basing their decision on three major story details: the "sex affair" between "Will Thompson" and Griselda, his sister-in-law; the forthright description of "Shaw's" daily sexual activity; and Jim Leslie making advances to Griselda while his wife lay ill. There is no indication that Bond or Emerald pursued production of the film further.
A August 4, 1955 Hollywood Reporter item notes that producer Sidney [erroneously called Ed] Harmon was finalizing a deal with Caldwell, writer Philip Yordan and director Anthony Mann to produce the film. In December 1955, Los Angeles Times noted that Caldwell, Yordan and Mann would co-produce the film and hoped to cast Spencer Tracy for the role of "Ty Ty Walden." A April 3, 1957 Variety article states that producer Harmon and Yordan maintained that they had not submitted a copy of the script to the PCA, had no intention of doing so and would ensure that the film received distribution with or without the PCA seal of approval. Correspondence in the PCA file indicates, however, that by May 1957, Yordan had submitted a script and was making alterations in accordance with PCA recommendations. Those changes included reducing the role of Jim Leslie from that of the novel and also excising his subsequent murder by Buck for his attempt to seduce Griselda.
The April 1957 Variety article mentioned above indicates that Mann and Harmon would be scouting for locations in Georgia for shooting. A August 9, 1957 Hollywood Reporter item reveals that as a result of press and civic pressure in Atlanta, Mann and Security Pictures were denied permission to film in Georgia and would be searching for new locations in Louisiana, the Carolinas and Southern California. The item states that "(Atlanta) civic and business leaders and the press" feared that Caldwell's story would portray the region in bad light. An October 1957 New York Times article describes location shooting that took place just outside of Stockton, CA. The article relates that the Stockton Chamber of Commerce was extremely pleased with the location shooting of the William Wyler-Gregory Peck production of The Big Country and invited Mann to shoot in their city upon learning of his difficulties in Georgia. A August 29, 1957 Hollywood Reporter news item added Sharon Lee to the cast, but her appearance in the film has not been confirmed.
Despite the controversy surrounding it, the completed picture was released without incident, with the Daily Variety review describing it as "a ripe Georgia peach, bursting with earthy vigor." The Motion Picture Herald praised the film for its "ring of truth and sincerity." According to a March 31, 1958 Daily Variety article, the filmmakers had spent $75,000 shooting "alternate scenes" to be used for exhibition "below the Mason-Dixon Line," if audiences reactly negatively to the picture. The article detailed that the sequences, having to do with politcs, unemployment, the existence of brothels and the treatment of "Southern womanhood," would be made available to Southern UA exchanges, although based on favorable previews, Harmon doubted that they would be used. It has not been determined if the substitute footage was ever exhibited in the United States. The article did assert that Europeans would "get an entirely different view" of the picture-a "revealing one of curvaceous Tina Louise and a lengthened one of a rather intimate love scene." God's Little Acre marked Louise's motion picture debut.