DVDs from TCM Shop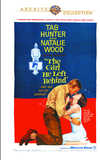 The Girl He Left Behind The misadventures of a new... MORE&nbsp> $15.96 Regularly $19.99 Buy Now
NOTES
The title card reads: "Marion Hargrove's The Girl He Left Behind." Following the opening credits, a written acknowledgment reads: "To the United States Army...and its famous Fifth Infantry Division at Fort Ord, California... whose generous and effective cooperation made this motion picture possible...And to the future young soldiers of America...Greetings!" Voice-over narration, which is heard intermittently throughout the film, states, "This is American youth, our hope and our legacy to the future." The narrator then asks, "What are our young people like? .... How are they meeting the challenges of today? Assuming they have challenges in this golden era of prosperity and peace."
According to a February 1956 Los Angeles Examiner and October 1956 Los Angeles Times news items, Warner Bros. studio head Jack Warner suggested an idea for a film about peacetime draftees to Hargrove, whose autobiography, See Here, Private Hargrove, was the source for a 1944 M-G-M film bearing the same title and its sequel, What Next, Corporal Hargrove? (see AFI Catalog of Feature Films, 1941-50). After visiting Fort Ord as part of his research, Hargrove decided he wanted to write a novel about it. Although he was able to get permission to use Warner's idea for his novel, the studio's schedule necessitated that a second author write the screenplay. Thus Guy Trosper was hired.
Although a Hollywood Reporter news item adds Wanda Brown to the cast, her appearance in the final film has not been confirmed. Portions of the film were shot on location at Fort Ord, CA and brief footage of the Pentagon was shown.
The Motion Picture Herald review praised the film as "a lively succession of fast-moving events depicting the training of 1956 rookies in the peacetime Army." Taking a different point of view, the New York Times review asked, "what would happen to a draftee if he acted the way Mr. Hunter does?" and, noting the humor, described the film as "a plaything, which we desperately trust is a farce."