DVDs from TCM Shop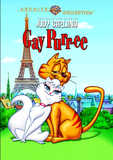 Gay Purr-ee Animated musical in which a... MORE&nbsp> $14.95 Regularly $17.99 Buy Now
Quotes
DVDs from TCM Shop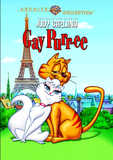 Gay Purr-ee Animated musical in which a... MORE&nbsp> $14.95
Regularly $17.99 buy now
Jeanette (to her sister)


But darling, think of Paris! Lovely, gay Paris! Have you forgotten the sidewalk cafes and how we sipped champagne?

Mewsette (thinking aloud)


Champagne? That must be what they call catnip in Paris. How nice!

Jeanette


..the button champignons sauteed in butter with tiny shreds of herbs...

Mewsette


I know what they are - mushrooms! And delicious, too!

Jeanette


And oh, my dear, the Champs-Elysees!

Mewsette


Champs-Elysees? I wonder what they taste like.

Meowrice


Evil is the root of all money... money trees!

Robespierre


Why don't you go to France? Then you can drink "sham-pahg-nee" and eat "champs ulysses"...

Meowrice


When teach can't teach you, and preacher can't preach you... the money cat can! The money cat knows where the money tree grows!

Jean Tom


Oh, it's such a big ocean, Robespierre... Bigger than the whole world...

Robespierre


You gotta look at it differently, Jean Tom. Why, it's only little drops...

Meowrice


What'll ya have?

Jean Tom


Er, uh, milk?

Robespierre


C'mon Jean Tom, let's live it up. STRAIGHT CREAM!