DVDs from TCM Shop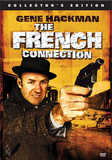 The French Connection Two New York narcotics cops... MORE&nbsp> $11.21 Regularly $14.98 Buy Now blu-ray
Trivia
Both James Caan and 'Boyle, Peter' turned down the role of Popeye Doyle
Fernando Rey was cast by mistake; William Friedkin wanted an actor he remembered seeing in Belle de jour (1967), and the casting director thought it was Fernando Rey - who was hired. Only upon arriving at the airport to meet Rey did Friedkin see that it was not the actor he had been thinking of; he also learned that Rey spoke no French. Once at Rey's hotel (the same one he stays at in the film), Friedkin called the casting director, who realized he had confused Rey's name with that of the correct actor, Francisco Rabal. Friedkin considered firing Rey, but changed his mind once it was learned that Rabal wasn't available and didn't speak any English.
The car crash during the chase sequence, at the intersection of Stillwell Ave. and 86th St., was unplanned and was included because of its realism.
The conductor on the subway train was the actual conductor. The actor who was supposed to play the conductor didn't show up on the day that scene was to be filmed. In addition, the motorman was the actual motorman. The Transit Authority refused to allow an actor to operate a subway train.
The chase sequence takes place beneath the West End subway line, whose proper letter marking is a B. When equipment for the movie was chosen, the producers insisted on clean cars, and the only available clean cars were normally assigned to the N line and did not have B signs. Consequently, they operated during the movie with an N displayed in the front slot.