DVDs from TCM Shop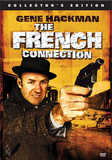 The French Connection Two New York narcotics cops... MORE&nbsp> $11.21 Regularly $14.98 Buy Now blu-ray
NOTES
DVDs from TCM Shop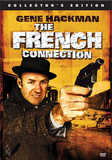 The French Connection Two New York narcotics cops... MORE&nbsp> $11.21
Regularly $14.98 buy now
The film ends with written titles superimposed over photographs relating how each criminal either escaped without harm or received a light punishment. The final titles read: "Alain Charnier was never caught. He is believed to be living in France. Detectives Doyle and Russo were transferred out of the Narcotics Bureau and reassigned."
Robin Moore's 1969 book The French Connection was based on the real-life 1961 case in which New York narcotics detectives Eddie "Popeye" Egan and Sonny "Cloudy" Grosso confiscated 120 pounds of heroin, worth over $32 million. At that time, French businessman Jean Jehan controlled a massive drug-smuggling operation into the United States, and as shown in the film through the character "Alain Charnier," although the detectives confiscated one shipment, Jehan escaped. A warrant was issued for his arrest, but the French government refused to extradite him. Director William Friedkin asserted in a modern interview that Jehan's record as a resistance fighter during World War II earned him the protection of the French government. Unlike in the film, the case took two and a half years to complete, and no one involved was killed during that time.
In January 1969, Hollywood Reporter reported that producer Philip D'Antoni had bought the film rights to the novel and made a deal with National General Pictures to co-produce it; however, a February 1969 Daily Variety news item stated that National General had first purchased the rights, then set D'Antoni as producer. Moore was announced as a special advisor in a February 1969 Hollywood Reporter news item, but received onscreen credit only as the novel's writer. Although, as noted by Hollywood Reporter in April 1969, National General hired Robert E. Thompson to write the screenplay, and Friedkin stated in a BBC documentary on the making of the film that was included as added content on the 2001 DVD release that he commissioned a version by Alex Jacobs, by September 1969 Hollywood Reporter announced that Ernest Tidyman had been set as the screenwriter. Friedkin stated in a modern interview that Tidyman was paid only $5,000.
After D'Antoni made a statement to the press estimating the proposed budget for The French Connection at $4.5 million, National General vice-president of production Dan Polier issued a retraction, announcing in a December 1969 Hollywood Reporter news item that the budget had "never been anywhere near" that amount and that "stories announcing inflated picture budgets do a disservice to all concerned." The studio dropped the production from its slate, after which, according to D'Antoni in the BBC documentary, every studio passed on the script. Finally, Richard Zanuck, Jr. and David Brown at Twentieth Century-Fox offered them a $1.5 million budget. In October 1970, several contemporary sources noted that Twentieth Century-Fox had officially taken over as the production company.
At that point, as noted by D'Antoni in the Fox Movie Channel (FMC) documentary on the film included on the DVD, the producer's option on Moore's novel had expired, and Moore had signed a cursory rights agreement with producer G. David Schine. When Fox expressed interest in the project, Schine refused to sell the rights, insisting on payment and onscreen credit. According to D'Antoni, Schine was barred from the film set.
Friedkin stated in the BBC documentary that he had never read Moore's book and disapproved of the casting of Gene Hackman. Various modern interviews with Friedkin, Hackman and Grosso reveal that the filmmakers considered Robert Mitchum, Peter Boyle, Jackie Gleason, Egan and popular New York columnist Jimmy Breslin to play the role of Popeye. Breslin was hired briefly but, Friedkin said in the FMC documentary, was fired because his acting was below par and he could not drive. Friedkin stated in many sources that he mistakenly cast Fernando Rey as Charnier, thinking instead that casting director Robert Weiner had hired Francisco Rabal.
In keeping with Friedkin's "induced documentary" technique, in which the camera would appear to capture action as it occurred, much of the dialogue in the film was improvised. Friedkin claimed in the BBC documentary that Tidyman "wrote none of the final dialogue." The actors researched their roles extensively, and Egan and Grosso, who acted as advisors on set as well as played roles in the film, provided much of the streetwise slang used by Hackman and Roy Scheider. Friedkin stated in program notes for a 1982 screening for the Los Angeles County Museum of Art that "stylistically and thematically The French Connection owes much to the [1969 French] Costa-Gavras film [Z]." The two films also share the presence of actor Marcel Bozzuffi.
As noted in the press materials, The French Connection was filmed on location in New York City, Washington, D.C. and Marseilles, France. The New York locations included Central Park, Park Avenue, the Lower East Side and portions of Brooklyn, the Bronx and Queens. The picture marked the feature film debut of actress Anne Rebbot and of documentary cinematographer Owen Roizman. Modern sources add Don Hall as sound designer, Carey Loftin and Jerry Summers as stuntmen, Gary Muller as second assistant camera, Maurice Schell as assistant editor, and the following actors to the cast: Joe Lo Grippo (Tollbooth collector), Melonie Haller (Schoolgirl), Eric Jones (Little Boy), Charles McGregor (Bar patron in drug raid), Silvano Nolemi (Dock worker) and Darby Lloyd Rains (Stripper).
The chase scene in The French Connection has been widely celebrated as one of the best in cinema history. Friedkin asserted in a modern interview that D'Antoni challenged him to make the chase better than the famed sequence in Bullitt (1968, ), D'Antoni's previous film. Although in some interviews, Friedkin stated that he shot the sequence with painstaking preparation, other sources, including Roizman in a modern interview, stated that the footage was often obtained by using shockingly dangerous and unrehearsed methods. On the BBC documentary, Friedkin reported that stunt driver Bill Hickman drove the car up to speeds of 90 miles per hour through city streets, and Hackman stated that the crash shown at the beginning of the sequence was genuine and occurred when a local resident drove his car into the scene. The final scene of the film also generated much praise and discussion for its ambiguity. In the BBC documentary, Friedkin stated that the ending gunshot "doesn't mean anything-although it might."
The picture garnered critical raves and won numerous awards, including Academy Awards for Best Actor (Hackman), Best Director, Best Film Editing, Best Picture and Best Adapted Screenplay; Academy Award nominations for Best Supporting Actor (Scheider), Best Cinematography and Best Sound; BAFTAs for Best Actor (Hackman) and Best Film Editing; the Directors Guild of America Award for Outstanding Directorial Achievement; the Writers Guild of America Award for Best Drama Adapted from Another Medium; and Golden Globe Awards for Best Director, Best Picture and Best Actor (Hackman). The French Connection was the first R-rated film to win an Oscar for Best Picture. The critical recognition contributed to the film's grosses, which, as of an April 1972 Variety article, were estimated at nearly $80 million. In 1996, the picture was voted number 70 on AFI's 100 Best Films in 100 Years list.
Zanuck and Brown were fired by Fox just before the release of The French Connection. They went on to form the Zanuck-Brown Company, producing such hits as Jaws (1974) and The Verdict (1982). In December 1971, New York Times reported that Egan had been fired from the police force, without his pension, on the day he was scheduled to retire. According to the article, the department accused Egan of having failed to make the court appearances or attorney appointments in conjunction with his cases, or to turn in contraband weapons and narcotics. After an investigation, it was revealed that the contraband charges were unfounded. Egan stated in the New York Times article that "I knew as soon as [The French Connection] came out that I better get out of this job," as it highlighted his unorthodox policing tactics, thus leading to his dismissal. Egan, who continued to act in small film and television roles, died in November 1995.
A June 1972 Variety article announced that former narcotics agent Francis E. Waters was suing the film's producers and the book's publishers for $1 million, claiming that he, rather than Egan, broke the real-life case. The suit was dismissed. D'Antoni sued Fox, CBS and Schine for $4.3 million in May 1975, according to a Daily Variety article, stating that they still owed him for his share of the film's profits to that point in addition to punitive damages. He also accused Fox and CBS of "warehousing," or conspiring to delay showing the film on television until 1978. The disposition of that suit has not been confirmed.
In 1975, Fox released The French Connection II, a sequel again starring Hackman and Rey, directed by John Frankenheimer. D'Antonio directed Scheiderin the 1973 film The Seven-Ups. That film's theme and spectacular car chase bore similarities to The French Connection. As of 2005, NBC was preparing a television series entitled NY-70 based on Egan and Grosso, to star Donnie Wahlberg and Bobby Cannavale.