DVDs from TCM Shop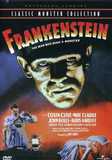 Frankenstein A crazed scientist creates a... MORE&nbsp> $10.47 Regularly $14.98 Buy Now blu-ray
Trivia
In one scene, the Monster (Boris Karloff) walks through a forest and comes upon a little girl, Maria, who is throwing flowers into a pond. The monster joins her in the activity but soon runs out of flowers. At a loss for something to throw into the water, he looks at Maria and moves toward her. In all American prints of the movie, the scene ends here. But as originally filmed, the action continues to show the monster grabbing Maria, hurling her into the lake, then departing in confusion when Maria fails to float as the flowers did. This bit was deleted because Karloff - objecting to the director's interpretation of the scene - felt that the monster should have gently put Maria into the lake. This scene is restored in the videocassette reissue.
Bela Lugosi was offered the role of the monster, but refused on the grounds that his character would not speak (though he eventually played the role in Frankenstein Meets the Wolf Man (1943)). Lugosi also insisted on creating his own makeup for the Monster, but his design was rejected.
John Carradine turned down the part of the Monster because he considered himself too highly trained to be reduced to playing monsters.
After bringing the monster to life, Dr. Frankenstein uttered the famous line "Now I know what it's like to BE God!" The movie was originally released with this line of dialogue, but when it was re-released in the late '30s, censors demanded it be removed on the grounds that it was blasphemy. A loud clap of thunder was substituted on the soundtrack. The dialogue was partially restored on the video release, but since no decent recording of the dialogue could be found, it still appears garbled and indistinct. The censored dialog was partially returned to the soundtrack in the initial "restored version" releases. Further restoration has now completely brought back this line of missing dialog.
According to the TLC network program "Hunt for Amazing Treasures", a unique six-sheet poster for the original 1931 release, showing Karloff as The Monster menacing Mae Clarke, is worth at least $600,000 US and is possibly the most valuable movie poster in the world. The only known (original) copy is owned by a private collector.