DVDs from TCM Shop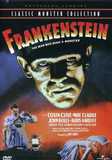 Frankenstein A crazed scientist creates a... MORE&nbsp> $10.47 Regularly $14.98 Buy Now blu-ray
Alternate Versions
In one scene, the monster (Boris Karloff) walks through a forest and comes upon a little girl, Maria, who is throwing flowers into a pond. The monster joins her in the activity but soon runs out of flowers. At a loss for something to throw into the water, he looks at Maria and moves toward her. In all American prints of the movie, the scene ends here. But as originally filmed, the action continues to show the monster grabbing Maria, hurling her into the lake, then departing in confusion when Maria fails to float as the flowers did. The removal of the girl's killing suggests a crueler death for Maria, since a subsequent scene shows her bloodied corpse being carried through the village by her father.

The above cut was made in 1937 by the request of the Hays Office when Universal applied for certification to re-release the picture. The Hays Office also requested the elimination of dialogue in which the name of "God" is used, and the shortening of the scene in which Fritz torments the Monster with fire.

In 1986, Universal restored three censored segments, including Maria's death scene, lengthening the movie to 72 minutes for videotape/laser disc release.

A few early original prints are color-tinted in green (hyped as "the color of fear" in publicity releases).

In current prints, for the first time since the film's original release, Dr. Frankenstein can clearly be heard exclaiming, "Now I know what it feels like to be God!", as the Monster first shows signs of life. In the previous "restored" version, this line was obscured by a clap of thunder, and in all prints made after 1934 up until the film's restoration to full-length, the line was cut by censors.

The scene where the monster throws Maria in the water was restored some years later.