DVDs from TCM Shop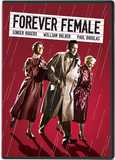 Forever Female An aspiring playwright gets an... MORE&nbsp> $14.45 Regularly $24.95 Buy Now blu-ray
NOTES
DVDs from TCM Shop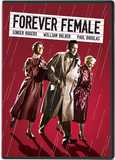 Forever Female An aspiring playwright gets an... MORE&nbsp> $14.45
Regularly $24.95 buy now
The working title of this film was Rosalind. Forever Female marked the only film in which Marion Ross was billed onscreen as "Marian." Voice-over narration, spoken by Paul Douglas as his character "Harry Phillips," is heard at the beginning and end of the picture. In a December 1951 ParNews item, Paramount announced that Audrey Hepburn would be making her American screen debut in the film, but her first American film was the 1953 Paramount release Roman Holiday .
Pat Crowley made her screen debut in the picture. In addition to her opening onscreen credit, Crowley's photograph was included at the end of the film, captioned with the words: "Pat Crowley, a future Paramount star." Although a May 1952 ParNews item stated that Burton Lane and Leo Robin would be writing a song entitled "Rosalind" for the film, no songs were used in the final film. Hollywood Reporter news items add Ronald Harnack, Jo Ann Gilbert, Suzanne Ridgeway and Philo McCullough to the cast, but their appearance in the final film has not been confirmed.
In late November 1953, Forever Female became the first feature film to have its premiere on television. According to a November 1953 Los Angeles Times item, the picture was shown in Palm Springs, CA, on Telemeters, televisions with attached coin boxes. Patrons paid $1.35 to view the film on seventy-one Telemeters, which were set up in various locations, including private homes. Barney Balaban, president of Paramount Pictures, was the main backer of the "pay-as-you-go" system.
On April 19, 1955, Ginger Rogers reprised her role for a Lux Radio Theatre broadcast, co-starring with Bill Conrad and Paul Richards. Anita Louise, Fred Clark and Anne Bancroft starred in a television adaptation, which aired on NBC's Lux Video Theatre on June 23, 1955.