DVDs from TCM Shop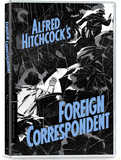 Foreign Correspondent An American reporter covering... MORE&nbsp> $19.47 Regularly $29.95 Buy Now blu-ray
USER REVIEWS
See Detailed Ratings
Acting of Lead Performers

Acting of Supporting Cast

Director

Music Score

Title Sequence

Screenplay

Cinematography

Historical Importance

Would You Recommend?

0 Member Ratings
Rate the acting of the Lead Performers

Rate the acting of the Supporting Cast

Rate the Director

Rating of the Music Score

Rating of the Title Sequence

Screenplay

Creatively uses the camera to tell the story

Importance in Cinema history

Would you recommend for fans of this genre
Submit Ratings
Cancel
Write a Review
Read Reviews
NO REVIEWS AVAILABLE
The title has not been reviewed. Be the first to write a review by clicking here to start.
Great cast

Love every time TCM shows this gem.One of few likeable George Sanders outings-almost called him Macready,both great villains.What's unbelieveable is this came out before we entered WWII!

Spoiler Alert!

Santa Claus (as determined by the NY courts) is a murderous mercenary in this film! Suspenseful scenes. Enjoyable film overall and you can watch it several times without tiring of it.

"I don't want correspondence - I want news!"

Yes, please just give us the news, unfiltered. "Foreign Correspondent" is a top notch suspense thriller, with drama, horror, romance, and a cornucopia of comic relief from several cool characters. This movie, like Hitchcock's later "North by Northwest," has it all without the typical dumbing down. It even could be said that it influenced the later classic in a few distinct ways with the wonderful windmill scene, albeit the 1940 and 1959 films differ sharply when it comes to premarital sex (huge culture change heavily influenced by hedonistic Hollywood). So many good lines here, including Day declaring that the world has had enough of well-meaning professionals and that it's time to give well-meaning amateurs a chance. Replace the words professionals and amateurs with elites and non-elites and you have the same declaration of independence in the minds of untold millions of Americans and people of the world today.

Hitchcock's trademark humor and suspense

Only noticed for the first time the hilarious line George Sanders delivers off camera after escaping from the hotel room and falling through the awning: "Call the dance academy and cancel my rhumba lesson!" Really funny!The scene inside the windmill is excruciatingly suspenseful, like several other scenes in other Hitchcock movies. I think the fight scene inside the rural cottage in "Torn Curtain", where Paul Newman and the Baddie are wrestling and trying to strangle each other, is AMAZING and also excruciating to watch. Unlike the way strangulation/asphyxiation is usually portrayed in movies (quick and almost effortless), in this movie it is slow and really physically taxing. Paul Newman's character is exhausted at the end of the scene, and it's exhausting to watch! I also thought the torture scene of the Van Meer character in "Foreign Correspondent" was very effectively done, making it very uncomfortable to watch and to hear the off-camera cries of the old man.

More Hitchcock Excellence

Hitchcock was not just a master storyteller, but he had the unique ability to create scenarios that are unforgettable. "Foreign Correspondent" clearly fits this bill. Mc.Crea's character is a bored U.S. newspaper reporter, blas about international affairs just before WW II breaks out. He is on the verge of getting fired. However, because of his tenacity in covering a criminal matter, and his newspaper-employer's dissatisfaction with its current foreign correspondent, McCrea is offered the job of traveling to Europe to report on the prospects of peace talks with the looming threat of world war. McCrea jumps at the chance and becomes acquainted with Laraine Day and her father, both of whom are involved in an organization which is supposed to promote peace, but there is more going on with the father, who is a spy. He also meets Van Meer, a Dutch diplomat who is attempting to avert war. I won't spoil the plot by providing further facts, but there are fabulous scenes inside a Dutch windmill, in a hotel in which McCrea, wearing only underwear and a robe, is forced to climb out a window onto a balcony to escape phony policemen sent to kill him. He connives a clever way to get his clothes and escape. There is also a scene on the parapet of an historic building, with a taxi driver attempting to push McCrea to his death, and a spectacular plane crash and sea rescue, all with Hitchcock's magical touch. McCrea finds a clever way to report his story, giving his newspaper a scoop, while on board the rescue ship after the plane crash. Don't miss this one!

Perfect Hitchcock Film

One of the best Pre-war films (USA pre-war).Perfect cast,great acting.Hitch at his finest.

The Best Hitchcock

Intense, Suspenseful and fun to watch. Love the clues. Hitchcock is brilliant. Love the portrait of FDR in the background as if to get FDRs attention that we must join in the fight against the Nazis and not remain neutral! Should have won Best picture.

Foreign Correspondent

Hitchcock's contribution to the British war effort. McCrea, Day and Sanders stumble upon a spy ring in Europe; Basserman was Oscar nominated for his performance as the Dutch diplomat at the center of the conspiracy. This romantic, espionage thriller contains many Hitchcock motifs, but lacks the momentum of his other works and is at times improbable. Exciting, atmospheric, entertaining and a plea for the US to join WWII. I give it a 4/5.

Cherished Favorite!

Joel McCrea portrays a reporter sent overseas for a story and he fumbles and bumbles himself into a freedom movement being used as a front to funnel money to the Nazis. With the help of an English friend, admirably portrayed by the great George Sanders, he becomes a true "Foreign Correspondent" of note and ends up reporting from Europe on the war and its attenuating stories. The final words of the film, "Hello, America. Hold on to your lights. They're the only ones left on in the world." are as true today as they were back then. Whenever a people are in trouble, you never hear them ask for help from any country but the United States! This is a really good film and one of the best of the genre of the day!

Pre-World War American Innocence Learns Truths

Disgusted by foreign correspondents' puffy non-news, the NYC Morning Globe editor assigns scrappy, crime reporter Johnny Jones to deliver detailed from pre-WW2 Europe. Johnny travels to London to interview VIP Dutch diplomat, Van Meer. He memorized a secret clause in the Allied Peace Treaty. Going to a London Peace Conference by his hotel, Johnny sees Hitchcock and Van Meer. Graciously, he offers to share a cab. Arriving at conference, Johnny sees a pretty, presumes she is press, flirts, and ironically confides to her, "What can nave amateurs contribute to a peace process?"Johnny sits at the press table, bored. He's jumping to conclusions. He sees the head of the Universal Peace Party, Stephen Fisher and presumes his plain daughter. Surprises arise. Johnny's cab companion, Van Meer fails to appear to deliver his speech. Miss Carol Fisher is introduced to give the speech. Johnny is smitten. Because the diplomat disappeared suddenly, Johnny becomes suspicious and follows him to Amsterdam. The correspondent waits in pouring rain, to greet Van Meer at the conference steps. Surprisingly, he doesn't know Johnny. A news photographer shoots Van Meer. His murderer disappears in a sea of umbrellas. Pursuing the murderer, Johnny gets a ride with Carol Fisher in British correspondent Ffolliott's car. They follow the assassin to a windmill. Mysteriously, it spins both ways. While Ffolliott drives for police, inside the mill Johnny discovers drugged Van Meer, kidnapped by Nazis, and learns the assassin shot an imposter. Language-challenged Johnny tries to get cops, while Van Meer's captors fly him away. When cops arrive, they don't believe Johnny. That night back in his Dutch hotel room, phony cops try to kidnap him. He escapes into Carol's bedroom. Eventually, she believes him. They return in love to her father's London home. Fisher is surprised, meeting with the Nazi boss from the windmill. Johnny realizes that 'pacifist' Fisher is a Nazi agent.

Superb on every count

I try to see this every time it's on. Enjoy everything about it, for reasons many reviewers have said so well already. Classic movies like this have made a fan out of me. Love Joel McCrea.

I beg to differ...

I found this movie ultra-confusing. The plot was beyond convoluted. I thought I'd love it --- great reviews and I adore Joel and George, anything they do. Except this. Not my cup o' tea.

Exceptional

Spy thrillers are my weakness, but today's scripts are riddled with sex, violence, and gore with no significant plot. This classic film reminds us if the time when a storytelling strong enough to make the movie.

wonderful movie

Theres something about the atmosphere of this movie. I love black & white film. Joel McCrea is charming & lovable. The scenes in Holland, with the windmills, are my favorite part of the movie. This is one of my all time favorite films. Everytime i see it on i watch it. I never get tired of this one.

Foreign Correspondent

It's a pity that you are showing this film, which I certainly would have loved to watch, at a time too few of us can actually tune in.Perhaps a better chance next time at a later more accessible hour.

Great atmospheric espionage

Enjoyed the foreign intrigue, the romantic, atmospheric element of uncertain events leading to war in Europe. Joel McRea was perfect in the role of an unsuspecting reporter sent to cover the European situation in the guise of "Foreign Correspondent." The sets and settings used to portray the urban scenes of London, the trolleys of Amsterdam and its torrential rain-soaked streets, along with barren Dutch landscape scenes filled with windmills made this movie a real treat. Excellent acting, and a great cast.

fforeign ffun

I am happy too that Gary Cooper turned down this role. McCrea was the perfect innocent foreign correspondent. It gives me the heebie-jeebies thinking of Cooper making moon faces at Day during her speech like McCrea did. Marshall and Sanders are also enjoyable to watch. I think it's great too that Basserman didn't speak English, but was able to say his lines phonetically. A fun movie to watch.

Fantastic Foreign Correspondant

Reluctant foreign correspondant Joel is a#1 in this.Loved Sanders,a rarity because I thought he was really like his despicable characters but quite liked him here.

Glad Cooper Took A Pass,He would've Stunk it up

No Gary Cooper Fan

5/10/12

Joel,Larraine,Herbert,Benchley,Ciannelli,Kosleck,Sanders,Gwenn a formidable cast.Bravo!

The Best Hitchcock Yet

Glad Cooper passed on this one.Joel was brilliant,George more so,Larraine Day excellent!Couldn't have done a better job showing us what happened pre-war,and once War was declared.

Outstanding ,Hitch

Not a bad performance in the lot,but most inspiring to me was a surprising honorable turn by George Sanders.Couldn't understand why he wasn't given more roles like Ffolkes.

Terrific film

This is one of those films that increasingly grabs you until you are lost in it as you nearly fall off the "edge of your seat". Somewhere along 3/4 of the way through, I reminded myself this was one of the great Hitchcock films. I say, WOW!

The land of the free and the home of the brave

"Hello, America, hang on to your lights: they're the only lights left in the world!" One of the best lines in the history of film was true 72 years ago, it is true today, and it will be true tomorrow, whether there is peace or war, for the United States of America is an exceptional nation.

McCrea Charming -- Disarming

Joel McCrea is at his charming, disarming best, combining a comedic innocence, sincerity and can-do stepping up to the plate. All in all he offers depth and just enough froth. This is probably his best film, even though he was paired with Lorraine Day, singularly unconvincing in any part. Even she comes off acceptably in this film. Foreign Correspondent shows what a genius director can do with what's offered. Well, he had a good script -- prescient and literate -- even if not a lot of production money. Enjoy it.

Outstanding suspense film!

As is true of most black and white older films, the storyline, and acting is superior compared to the typical garbage we have today-Thank goodness for TCM.

give him credit

Joel McCrea finds the perfect balance in the portrayal of Johnny Jones.James Harvey says it best in his book "Romantic Comedy in Hollywood":"McCrea evokes Hitchcock's comic-absurdist world with uncanny pitch andaccuracy, establishing just the right bemused tone at the center of thefilm" I wish reviewers would stop talking about who Hitchcock wanted inthe role and start giving McCrea credit for fantastic work.

error in preview

Great movie, but Mr Osborn stated that the term "nazi" was not used. Incorrect Joel Mcrea used the term when he spoke to Mr Van???? in the cab scene , 15 minutes into the movie. That was the only time it was used.

Great Movie

This is a great movie. If you have never seen it, you don't know movies. The cast is terrific together and play off each other so well. The dialogue is quick and witty and the twist at the end makes the movie so noteworthy. I, too, would love to own this but can't find it. TCM you need to make this available in DVD, the sooner the better! Put me down for the first one you distribute! I give this 5 stars.

Sanders

Good dark movie. Bit intense. Sanders shines

foreign correspondent

brilliant!! this picture is almost psychic when you look at the year it was made and the way it looks at the war brewing in europe. it takes a very likable character (jones) and throws him right into the fray virtually by the seat of his pants, much like the u.s. was in real life. the shadows in the windmill that are 'hitler-esque' are too too cool! be sure to watch for them! i have turned several of my friends on to this movie and i personally would LOVE to own it...unfortunately i cant seem to find it anywhere. i am always amazed that it is hitchcock as it doesnt quite fit his style; but then again, neither did he! i recommend this to anyone who wants a great ride, suspense, a laugh here and there, and a killer twist on a twist picture....all based on real life events. i dont think you can beat that! go get the popcorn and strap yourself in...i dare not say more lest i give anything away....just watch it and you WILL love it. you cant go wrong with this cast and i mean really!!

They're listening in America, Johnny.

Not the best Hitchcock film, but exciting enough as a correspondent (Western star Joel McCrea) is sent to Europe before the war to find out the truth. He stumbles upon the assignation of a diplomat (Albert Bassermann) and the hunt is on for those behind it.The suspense builds as our correspondent teams with Oscar-winner George Sanders (All About Eve) to trap their suspect (Herbert Marshall). In the meantime, our correspondent falls in love with the suspect's daughter (Laraine Day).It all comes to an end as the war starts. But, that is not the end: it is the beginning.Basserman got an Oscar nomination for his supporting role, and the film itself was nominated for Best Picture, oddly losing to another Hitchcock film, Rebecca. Rebecca also took the cinematography award. The screenplay, special effects, and art direction were also nominated.Two good films by the same director in one year. I wonder if that has happened before or since.

Hitchcock's best

This movie is absolutely amazing!It is so adrenaline pumped and it makes you so proud to be American! I love Hitchcock and I would have to say that this is his best picture.

Film Location

Was this filmed in Holland and London?

request

could anyone provide the text of Van Meer's defiant speech to Stephen Fisher and cohorts? Thanks!

Great Hitchcock movie!!!!!

I loved this movie!!!!!!! It was fantastic! I love the suspense and mystery, as well as the romance.During creepy parts, Joal McCrea and Laraine Day were falling in love with each other.I love a good mystery and romance all in the same movie! This also showed the tension in Europe before America became involved.The climatic seen was also very thrilling!This movie deserves 4 stars!!
*We protect your personal infortmation and will not provide it to anyone without your consent. For a complete explanation, please refer to TCM's Privacy Policy. By submitting your contribution, you agree to TCM's Terms of Use.