DVDs from TCM Shop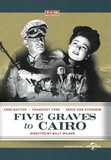 Five Graves to Cairo A British corporal goes... MORE&nbsp> $18.36 Regularly $19.98 Buy Now
NOTES
The following written foreword opens the film: "In June 1942 things looked black indeed for the British Eighth Army. It was beaten, scattered, and in flight. Tobruk had fallen. The victorious Rommel and his Afrika Korps were pounding the British back and back toward Cairo and the Suez Canal." Field Marshall Erwin Rommel, perhaps the most widely known German general of World War II, was popularly known as the "Desert Fox" after he took command of the Afrika Korps in 1941 and led his troops to decisive victories in North Africa. Rommel has been the subject of numerous books and been a character in many films, the most famous of which was the 1951 Twentieth Century-Fox film The Desert Fox, directed by Henry Hathaway and starring James Mason as Rommel.
The Paramount Collection contained at the AMPAS Library reveals the following information about the production: Simone Simon was tested for the role of "Mouche;" the filmmakers originally intended to set the story in the Egyptian town of Sidi Barani, which was the site of actual fighting during World War II, and was captured by Rommel in 1941 and recaptured by the British in 1942; some scenes were shot on location at the Salton Sea and at Camp Young in Indio CA, where, with the cooperation of the Army Ground Forces, a battle sequence was staged, and in Yuma, AZ; the British Embassy assigned Major David P. J. Lloyd of the British Army Staff to act as the picture's technical advisor, due to his "firsthand experience and knowledge of desert tank warfare in Libya."
A Hollywood Reporter news item reported that in November 1942, David O. Selznick had agreed to lend Ingrid Bergman for this film. Paramount borrowed Anne Baxter from Twentieth Century-Fox. This film was nominated for Academy Awards in the following categories: Cinematography (black & white), John Seitz; Art Direction/Interior Decoration (black & white), Hans Dreier, Ernst Fegt/Bertram Granger; and Film Editing, Doane Harrison. Lajos Biro's play was first filmed by Paramount in 1927 and 1939 under the title Hotel Imperial. The 1927 version was directed by Mauritz Stiller and starred Pola Negri (see AFI Catalog of Feature Films, 1921-30; F2.2597); and the 1939 version was directed by Robert Florey, and starred Isa Miranda and Ray Milland (see AFI Catalog of Feature Films, 1931-40; F3.2007). Franchot Tone and Anne Baxter reprised their roles in a Lux Radio Theatre broadcast on December 13, 1943. In 1951, United Artists released Hotel Sahara, which also was based on the Biro play and was directed by Ken Annakin and starring Yvonne DeCarlo.