DVDs from TCM Shop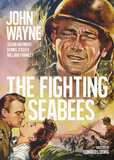 The Fighting Seabees World War II construction... MORE&nbsp> $12.97 Regularly $19.95 Buy Now blu-ray
NOTES
DVDs from TCM Shop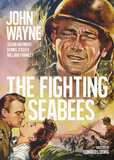 The Fighting Seabees World War II construction... MORE&nbsp> $12.97
Regularly $19.95 buy now
After the opening onscreen credits, a written prologue reads: "Proudly and gratefully we dedicate this picture to the Civil Engineer Corps and the Construction Battalions-the Seabees of the United States Navy who have fired the imagination of the world with their colorful exploits throughout the Seven Seas." The U.S. Navy Construction Battalions, known as the Seabees, was created in January 1942 to provide armed, militarily trained construction workers to erect buildings, airfields, refueling bases, etc. in support of the military during World War II. The motto of the tenacious Seabees, "We build, we fight," was echoed in the speech of "Lt. Comdr. Bob Yarrow" at the film's end, when he praises his men and states, "We build for the fighters, we fight for what we build."
Hollywood Reporter news items noted that George Reeves, who was to be borrowed from Paramount, was originally set to co-star in the film with John Wayne, but was prevented from appearing when he was drafted into the Army Air Corps. Susan Hayward was borrowed from Paramount for the production, which received full cooperation from the U.S. Navy, according to news items and reviews. Although a July 1943 Hollywood Reporter news item noted that the studio was "writing the character of Captain Needham, commanding officer of the Construction Battalions at Camp Hueneme, into the script...and Albert J. Cohen has wired for permission to have the captain play himself in the picture," Needham does not appear as a character in the completed film.
According to Hollywood Reporter news items, the parade ground scenes were shot on location at Camp Endicott, in Davisville, RI, and featured footage of real Seabees marching in review before the Secretary of the Navy. Other locations included Camp Huemene, near Santa Barbara, CA; Camp Pendleton, CA; and a camp in Virginia. Hollywood Reporter news items noted that the picture was to have its world premiere at all Seabee camps throughout the country on January 14, 1944, and that several "pre-release" showings were to be seen in different cities in January 1944. Five hundred 16mm prints of the picture were to be distributed to U.S. military camps throughout the world, according to a January Hollywood Reporter news item. The picture received an Academy Award nomination for Best Music Score.