DVDs from TCM Shop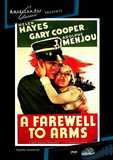 A Farewell to Arms An American serving in World... MORE&nbsp> $11.95 Regularly $10.99 Buy Now blu-ray
Home Video Reviews
Director Frank Borzage was a master at movie romances. He made a number of sweet-tough Depression-era fables (like
Man's Castle
), but excelled with bittersweet fairy tales:
7th Heaven, Street Angel, History is Made at Night
. The 1932 adaptation of Ernest Hemingway's popular WW1 novel
A Farewell to Arms
applies Borzage's considerable talents to an anti-war tragedy perfectly poised for Depression audiences.
A scandal from its 1929 debut, Hemingway's book was also recognized as good literature. It was written from his own experiences as an ambulance driver for Italy in WW1. American adventurer-volunteer Frederic Henry (Gary Cooper) risks his life retrieving wounded soldiers from the front; by night he and his drinking pal Dr. Major Rinaldi (Adolphe Menjou) visit the local cat houses. Henry meets American nurse Catherine Barkley (Helen Hayes), whose hospital unit enforces stringent rules. A nurse becomes pregnant and is sent home in disgrace. The head nurses discourage contact with officers, and Catherine's friend Helen "Fergie" Ferguson (Mary Phillips) disapproves of the relationship. Henry and Catherine fall fast in love anyway, in a relationship accelerated by the dangers of wartime. When Henry is wounded, they spend even more time together. Catherine becomes pregnant and leaves for neutral Switzerland, informing Henry by letter. Henry goes AWOL to find her, but his efforts are stymied when the meddling Major Rinaldi intercepts their love letters. If Henry's own Italian comrades capture him, he'll be shot.
The trauma of the War to End All Wars lends Borzage's
A Farewell to Arms
a fatalistic tone. The lovers' passionate affair diverts them from their duties. In addition to those pressures, there's constant condemnation from Fergie, who thinks Catherine is yet another nurse fallen victim to a worthless soldier. The cavalier Rinaldi takes it upon himself to interfere with Henry's love life. Interestingly, both friends would seem to be butting in for personal reasons. Rinaldi needs a drinking buddy, while Fergie's affection for Catherine verges on worship.
Borzage shows us a world warped by war, where the standard proprieties no longer apply. The makeshift hospitals are crowded with the suffering wounded, and the ambulance drivers perform their duties as if each day could be their last. Dinners are interrupted by bombings. Catherine meets the drunken Henry when she trips over him running for cover. He presses his affections almost immediately. Back in the states, he claims, he'd be courting her strictly by the rules. Catherine has already lost a sweetheart to the war, and says in no uncertain terms that she wishes she'd broken the rules. "They blew him to bits. If I had it to do over again I'd marry him -- or anything." Their brief romance involves cruel separations and an unexpected pregnancy, desertion from duty and an ill-fated finish in Switzerland. Henry and Catherine end up as modern echoes of classic star-crossed lovers. The realism of earlier scenes (with some rather convincing miniature battlefields) gives way to stylized montages of war frenzy, and ends on a deliriously romantic note, accompanied by the music of Wagner.
A Farewell to Arms
is often cited in studies of Pre-code productions, not because its content shocked the nation but because it points up the problems of a Production Code office that sought to determine the movie content at the script stage. Hemingway's book was so widely popular that neither audiences nor the studios would tolerate changes to its storyline. Besides breaking basic code tenets (illicit sex and a pregnancy out of wedlock) the film showed a soldier abandoning his duty and a nurse openly having an affair with her patient. Before the 1934 enforcement of the code, the studios often ganged together to vote each other a 'pass' on films in censor trouble. The code authorities held up
Farewell
until the producer made various changes, like putting more emphasis on the disapproval of Catherine's friend Fergie. But Fergie never informs on Catherine, and she eventually expresses sympathy for her friend's plight. The Code censors quickly caught on to this dodge, and let it be known that the studios couldn't get away with forbidden content simply by writing in a character that disapproves of what's going on.
Church authorities (a dominant force in the Code office) objected to the film's "fake marriage" scene. A sympathetic priest (Jack La Rue) says a prayer for the couple that resembles a wedding ceremony ... sort of, but not really. The bluenoses were incensed that audiences might assume that the marriage was legitimate. Since the Code wasn't being fully enforced, this detail was allowed to slide by, as were the soldiers' visits to obvious brothels. The most controversial aspect was the virtuous Catherine's rejection of society's rules. It wasn't enough for the censors that she and Lt. Henry are denied happiness. Catherine is unrepentant in her defiance of the sexual norm. That's exactly the sort of sentiment that makes a censor's blood run cold -- let young women think like that, and the gates of Hell might open up.
Some pre-production script changes came from political-economic necessity. Ernest Hemingway's novel expressed nothing but contempt for the Italian Army. The battles are all fiascos. After a humiliating defeat, the Italians execute random officers as "traitors", just to save face. The film's producers learned early on that Mussolini's Italy would bar distribution of the film if that content remained. All references to official incompetence were removed, and after a retreat or two the show ends in a glorious victory. This alteration apparently irked Ernest Hemingway to no end, even when Borzage mocks the victory by using pealing church bells as an ironic counterpoint to a tragedy. The final images of
A Farewell to Arms
mix over-the-top romanticism with a powerful anti-war message.
The books also tell us that United Artists panicked after a couple of distributor previews, and prepared an alternate version of
A Farewell to Arms
with a happy ending. They don't say how many theaters opted to use it in place of the ending closer to Hemingway's book.
Gary Cooper was a big star in 1932 but the even more famous Helen Hayes receives top billing for her powerful performance. In keeping with the era's rules of good taste, when Catherine is heavy with child, she purposely stays behind objects to avoid showing her abdomen. Premiered as a prestige attraction,
Farewell
was nominated for Best Picture and Best Art Direction, and took home Oscars for Cinematography and Sound. Great filmmaking sometimes happens when studios think they're working with important material.
Kino Classics' Blu-ray of
A Farewell to Arms
is an improvement on previous Public Domain releases of this early sound drama. The source is a 35mm nitrate print belonging to the Selznick estate, preserved by the George Eastman House. The print is not without scratches here and there, but overall it's a beauty - sharp, stable, with an excellent range of contrast. This release's biggest edge over earlier copies is its award-winning soundtrack, which is rich and full. The superior audio mix makes its biggest impact in the emotional climax.
Kino offers a set of trailers and a gallery of stills as extras.
Research: Hollywood Censored by Gregory D. Black, Cambridge University Press 1994
For more information about
A Farewell to Arms
, visit
Kino Lorber
. To order
A Farewell to Arms
, go to
TCM Shopping
.
by Glenn Erickson
It's no secret that Ernest Hemingway could be an ornery cuss when he wanted to, and he had little use for people who made their living in the film industry. So it's hardly a shock that he openly despised Frank Borzage's entertaining but bowdlerized version of his war novel,
A Farewell to Arms
. It
is
surprising, though, that he developed a longtime allegiance to the film's broad-shouldered star, Gary Cooper. Hemingway was known for discarding, or, worse yet, alienating even his closest friends. But he and Cooper became buddies a few years after
A Farewell to Arms
(1932) was released, and they stayed that way for nearly 20 years.
Cooper stars as Lt. Frederick Henry, a World War I officer whose world is turned upside down when he falls for a British nurse named Catherine Barkley (Helen Hayes.) Henry and Catherine are made for each other, but Henry's friend, Major Rinaldi (Adolphe Menjou) grows jealous of them, and has Helen transferred to Milan. Then, as luck would have it, Henry is wounded and ends up in the very hospital where Catherine works. Henry quickly heals, and is sent back into battle, but not before Catherine is carrying their love child. Though Catherine tries to contact Henry to tell him the news, she can't reach him due to even more treacherous maneuvers by Rinaldi.
Eventually, there's a happy or ambiguous finale, depending on which print of the film you see. Paramount actually made both endings available to theater owners, telling them to use the one that they thought would work best for their particular audience. Hemingway was less than enchanted with the idea of projectionists randomly deciding how his hard-hitting story should end, and he was livid over several other instances in which the screenplay softened his hard-hitting vision. But the $24,000 he received for
A Farewell to Arms
' film rights encouraged him to sell several more properties to Hollywood in the ensuing years.
The movie's love scenes, by the way, were no problem at all for Hayes. Although she was happily married at the time, she harbored an intense crush on Cooper. She freely admitted as much in her autobiography, when, among other Cooper-related confessions, she wrote: "My leading man was Gary Cooper, and like half the women in the world, I was, in the words of the Noel Coward song, "Mad about the boy."
The Image Entertainment DVD of
A Farewell to Arms
is probably the best version currently available of this public domain title - which is to say, it has some problems but it's also the complete cut of the film. The image quality is variable with some sections of the film much sharper than others but you'll need to monitor the volume closely - it is very low during dialogue scenes though the music score is often mixed very loud. There are also no extras on the DVD.
For more information about
A Farewell to Arms
, visit
Image Entertainment
.
by Paul Tatara