DVDs from TCM Shop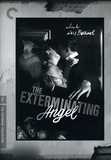 The Exterminating Angel High society guests find... MORE&nbsp> $25.97 Regularly $39.95 Buy Now blu-ray
Home Video Reviews
Now available on DVD from the Criterion Collection is Luis Buñuel's extraordinary surreal satire on the decay of wealth, privilege and culture,
The Exterminating Angel
(1962). Buñuel wrote the film, as well as directed it, with funding raised during his tenure in Mexico City, where the film is set. The story is deceptively simple, but no less challenging. A group of high-society friends gather together at a mansion for a full evening of dinner, drinks and social sparring. As the night draws to its logical close and the inebriated guests and exhausted hosts are ready to end their social contract, all find themselves inexplicably unable to leave the room. It is a scenario straight out of
The Twilight Zone
, but it works on the level of surrealist thought and social satire. Buñuel's own nightmare - that of being stuck at a crowded party- inspired the plot, such as it is. Theodore Gericault's painting "The Raft of the Medusa" also served as a reference point for the film.
At about 4 a.m., we start to see party guests try to leave with no luck. Formal wear begins to be shed. Things begin to unravel. The beginning of the night was punctuated with the sounds of polite conversation, but within a matter of hours, the guests are urinating in the vases. Brought down low by his lack of high class cushions (money, status, fame, etc.), we see one wealthy character reduced to rooting around in trash with his quality-made cane, looking for the bare essentials of human needs, food and water. Culture, manners, etiquette, ideas and social hierarchies that took generations to develop and recognize degenerate in a matter of hours. One interviewer noted to Buñuel that "there is a kind of joy in seeing how this society, which has taken centuries to reach such a high level, can completely undo itself within an hour and a half of screen time, literally self-destructing before your very eyes." [Buñuel's savage attack on Western civilization class codes heavily influenced Jean-Luc Godard's own satiric film on the bourgeois,
Weekend
(1967).] Buñuel utilized an experimental structure that jumped off from Freud's dream-work theory where the underlying images - those picked up by the subconscious - are valued as "a source of discovery and subversion", as the liner notes state. According to Buñuel, "There are around twenty repetitions in the film, but some are more noticeable than others." These repetitions - which would be marked as continuity errors in any other film - are used by Buñuel to cut into the high-minded luxury and ease of the higher-class by subjugating their dinner party story with a terribly skewed, non-linear narrative. The viewer, unsettled and uncomfortable with this story that does not obey laws of time, space and filmic language, is implicated along with the dinner party guests.
Buñuel made
The Exterminating Angel
at the end of his eighteen year tenure in Mexico when he had complete artistic control. He came to Mexico in 1946, after having been fired from New York's Museum of Modern Art for allegedly being a communist. From 1946 to 1964, Buñuel made twenty films, all intended for commercial exhibition, with very little money and time. But
The Exterminating Angel
stands apart from them as a more personal work, coming at a key point in Buñuel's career, after the scandalous reception in Spain of his previous film,
Viridiana
(1964). That film was condemned by the Vatican for sacrilege, subsequently banned in Spain, and created difficulties for Buñuel in getting projects off the ground. Landing in Mexico, Buñuel was determined to demonstrate what could be done with complete artistic freedom, even as an exile. Fortunately, that artistic freedom was bankrolled by producer Gustavo Alatriste, the husband of Sylvia Pinal, whom Buñuel had cast in
Viridiana
and in
The Exterminating Angel
. Alatriste had complete confidence in Buñuel to deliver a striking work within budget and on time and allowed him to work without interference. Buñuel said in an interview, "I had all the freedom in the world. (Alatriste) didn't take anything out or tell me to put in this or that. In fact he hadn't even seen the script. The only thing I told him was that it was about some people who, for no apparent reason, cannot leave a room. 'Go ahead,' he told me. 'Do what you want.'" Coming off the heels of the stormy reception of
Viridiana
, Alatriste's hands-off approach is remarkable. Perhaps this style was for the best, as any producer would be a bit concerned when the director is wielding firearms on the set: when Buñuel filmed the scenes involving the bear, the director was ready to take measures, should his actor not behave properly. "I was prepared with a .44 Magnum revolver. We closed all the doors. The small salon with the guests in the scene and the camera were all in front of a five-foot barrier. I told [Gabriel] Figueroa, 'Camera!' and they let the bear loose. He suddenly felt like climbing a column, and we all ran out, including me and my .44 Magnum. If the bear had jumped over the barrier and really threatened us, I would have shot. But I don't like to kill animals, so we all ran out."
Criterion's two-disc DVD includes
The Last Script: Remembering Luis Buñuel
, a 2008 documentary featuring screenwriter Jean-Claude Carriere and director Juan Luis Buñuel, the famed filmmaker's son. The feature-length documentary covers all of Buñuel's remarkable career spent in France, England, Spain, New York, Hollywood and Mexico, making films like
Un Chien Andalou
(1929),
L'age d'or
(1930),
Simon of the Desert
(1965),
The Discreet Charm of the Bourgeoisie
(1972),
The Phantom of Liberty
(1974) and
That Obscure Object of Desire
(1977). The DVD also included new interviews with actress Silvia Pinal and filmmaker Arturo Ripstein, and a booklet featuring a new essay by film scholar Marsha Kinder and an interview with Buñuel from the 1970s.
For more information about
The Exterminating Angel
, visit
The Criterion Collection
. To order
The Exterminating Angel
, go to
TCM Shopping
.
by Scott McGee