DVDs from TCM Shop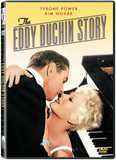 The Eddy Duchin Story The famed pianist loses the... MORE&nbsp> $14.45 Regularly $19.99 Buy Now
NOTES
DVDs from TCM Shop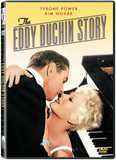 The Eddy Duchin Story The famed pianist loses the... MORE&nbsp> $14.45
Regularly $19.99 buy now
The working title of this film was Music by Duchin. Eddy Duchin (10 April 1910-9 February 1951), began his career in 1928 with Leo Reisman's orchestra at New York's Central Park Casino. Duchin's flashy style and suave demeanor quickly made him the most popular member of the group. Duchin was noted for crossing his hands and playing the lower register with only one finger. Peter, Eddy's son, was born in 1937. After Peter's mother, socialite Marjorie Oelrichs, died following his birth, the boy was placed in the custody of Mr. and Mrs. Averell Harriman, his parents' best friends, who cared for the boy until his father returned from serving in World War II. Peter lived with his father and stepmother Chiquita until his father died from leukemia in 1951. In the film, Eddy's illness is not identified as leukemia. Peter went on to become a pianist, society band leader and composer in his own right.
Nat Brandywine, who appears as himself in the film, was Duchin's fellow pianist at the casino. According to a May 1956 Hollywood Reporter news item, Brandywine coached Tyrone Power in his piano playing. According to a June 1954 Hollywood Reporter news item, M-G-M originally wanted to purchase Leo Katcher's screen treatment of Duchin's life as a starring vehicle for Edmond Purdom, but the lawyer for the Duchin estate cancelled the deal when the studio asked for releases and guarantees that the estate could not grant. According to a June 1956 Hollywood Reporter news item, George Duchin, Eddy's first cousin, sued writer Katcher for $100,000, claiming that Katcher brought the story over from M-G-M to Columbia without his knowledge or consent. The outcome of that suit is unknown. Although a December 1954 Hollywood Reporter news item states that Moss Hart worked on the scenario, the extent of his contribution has not been determined.
A July 1956 Hollywood Reporter news item notes that Jill Melford tested for the role of "Chiquita." Although a Hollywood Reporter production chart places Jerry Antes and Geoffrey Lumb in the cast, their appearance in the released film has not been confirmed. A March 1955 New York Times news item notes that location filming was done in Central Park and the Upper East Side of Manhattan and at the Waldorf Astoria Hotel in New York City. A January 1955 Daily Variety news item adds that Moss Hart was initially slated to write the screenplay, but had to bow out of the project because of illness. In addition to the titles listed in the music text, portions of the following additional songs were also included in the film: "Ain't She Sweet," "Will You Love Me in December As You Did in May," "Smiles," "On the Sunny Side of the Street," "Let's Fall in Love," Exactly Like You," "La vie en rose" and "Body and Soul."
The Eddy Duchin Story was nominated for the following Academy Awards: Best Motion Picture Story, Best Cinematography, Best Musical Scoring and Best Sound Recording. It was also nominated for an American Cinema Editor Critic's Award. The film marked the American screen debut of Australian actress Victoria Shaw. George Sidney was borrowed from M-G-M to direct the film. According to an October 1956 Hollywood Reporter news item, the Decca soundtrack of The Eddy Duchin Story was a top-selling album.