DVDs from TCM Shop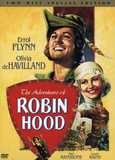 The Adventures of Robin Hood The bandit king of Sherwood... MORE&nbsp> $20.95 Regularly $26.98 Buy Now blu-ray
USER REVIEWS
See Detailed Ratings
Acting of Lead Performers

Acting of Supporting Cast

Director

Music Score

Title Sequence

Screenplay

Cinematography

Historical Importance

Would You Recommend?

0 Member Ratings
Rate the acting of the Lead Performers

Rate the acting of the Supporting Cast

Rate the Director

Rating of the Music Score

Rating of the Title Sequence

Screenplay

Creatively uses the camera to tell the story

Importance in Cinema history

Would you recommend for fans of this genre
Submit Ratings
Cancel
Write a Review
Read Reviews
NO REVIEWS AVAILABLE
The title has not been reviewed. Be the first to write a review by clicking here to start.
Minor Flaw

This was a great movie, and I enjoyed it very much. After having watched this movie several times since 1986, though not looking for a glitch, I happened to notice a minor snafu in the third to last scene of the film. After Robin Hood kills the Basil Rathbone villain in a well-staged sword fight, Robin leaps down from castle steps to the dungeon floor outside the prison cell where Maid Marian is being held prisoner. Robin Hood confronts the prison guard and forces him to open the cell door. If you freeze the frame at that point, you will notice that the sword Errol Flynn has in his hands is damaged. The end of the sword is bent at approximately a 30 degree angle off of the horizontal. A few frames earlier, in the Flynn-Rathbone sword fight, the sword in Flynn's hand is perfectly straight! In the next scene, after Robin Hood walks through the prison door to release Maid Marian, the sword in Robin's hand has miraculously straightened itself out! Why did the director not reshoot the scene outside the prison door? Perhaps the film was over budget at that point; perhaps the director thought no one would notice the minor error-who knows! Obviously, the film is not ruined because of this mistake; but, why was this comical error only noticed 32 years after the initial viewing? Eighty years after the film's release, someone finally noticed. Go figure!

The First Last And Best Robin Hood

Basil Rathbone deserved a 24-hour birthday salute,as he made many good films before he split town for Broadway and nearly achieved poverty.His performance as Sir Guy,a minor character in the Legends Of Robin Hood,is terrific,and his supposed romance of Maid Marian,a real life flirtation going on between them,mainly seems on his part,but Flynn was jealous and complained about "that Limey B__" and Basil flirting with her while David Niven acting as Olivia's escort to cover up a date between Errol & Olivia is funny.Guess Flynn didn't like the competition,but he was married,as was Rathbone,but Basil was still pretty good-looking even then,right up until mid-1940s when he seemed awful depressed,as it seemed in the 2 Sherlock Holmes movies shown this morning.No way to improve on this movie or its casting,esp with notes of Cagney or Eddy/Macdonald mention.

Incredible

After returning home from a night out with the friends, I got home to watch some tv to wind down. I turned on TCM and this was playing, but had started about thirty minutes before I got home. It looked interesting so I turned it off and wanted to watch it from the beginning. A few weeks later it was back on TCM and I heard Erich Korngold's brilliant score kick off the film. From then on, I was swept up in this adventure. Beyond the action sequences and the goregous technicolor, Flynn's performance as the legendary bandit is simply iconic.

Perfect.

One of the best films ever made, plain and simple. Hollywood at its best. Errol and Olivia as beautiful as they'll ever be, Claude at his oiliest, Basil is DOA from scene 1, art direction, cinematography, costumes, color, all the character actors etc, etc,. Particularly noteworthy for editing. I put it just behind Jaws- the pace never flags. Korngold's score is the icing on the cake. Some criticism that it is a bit lightweight are credible, but remember when it was made, and clearly the director wanted to be faithful to his sources. I can only imagine seeing this as a kid the year it was made, it would have transported me! No one ever mentions its influences, in particular the influence of the great Golden Age illustrator Howard Pyle and especially NC Wyeth, both bringing imagination and a cinematic quality to the early classic adventure books. Look at Wyeth's sun-dappled scenes before you watch the film.

Near Perfection

The Adventures of Robin Hood could quite possibly be the best movie-of any genre-ever made. Led by the rousing introductory score with the credits given in Old English lettering, the film never misses a beat. Although Mr. Curtiz was a condescending and risk-taking director, he certainly was gifted in multiple ways. Eric Korngold's score was exquisite, surely deserving its Oscar. The Oscar-winning color cinematography surpasses anything in 2018. A small fortune was spent by the usually frugal Jack Warner, but it was a shrewd investment. Unlike so many so-called modern classics, TAORH actually has a cohesive beginning, middle, and grand finale-imagine that! The casting was superb, right down to the smaller supporting roles of Much the Miller's Son, Sir Dicken the Assassin, and Will Scarlet. The presence of Miss DeHavilland as Maid Marian is a delight, beauty and understated strength of character radiate from this exceptional actor. Flynn was a remarkably talented actor, always underrated. It is regrettable that his inner demons and lack of self esteem conquered him far too early. TAORH is simply, timeless, always relevant, and a bar which in all reality will be, perhaps, impossible to surpass!

to quote..it aint love..but it will have to do.

one of the classic images of Hollywood ..a great balance between art and profit.. the mold for a heroic figure for actors to still copy to this very day.. something that still gives millions of people joy.. and brought to you in part..by a leading man who wanted to beat the crap out of his primary director in a cage match of death. there is no business like show business.

Robin Hood

Errol Flynn and his band of thieves of Sherwood Forrest in merry old England near Nottingham Palace where the villainy resides is an age old tale of greed. Put to the screen several other times but this one from 1938 directed by Michael Curtiz details the color and characters of this swashbuckling time in classic form. That Robin's men stole from the rich to give to the poor may be a fact still today in different countries. Everyone needs the hero and Robin Hood vs the Sherrif of Nottingham was a classic matchup of good guy vs bad guy.

On Target

Much has been written about this movie. But given it is Olivia de Havilland's 100 birthday let me say she is radiantly lovely in the film. Her movies with Errol Flynn have a special sparkle and warmth and playfulness that make them endure. Wonderful screen couple. Ms. de Havilland's characters are always charming and polite but they have an inner strength and spirit that makes them three dimensional. They love the roguish Errol Flynn characters but they are always endowed with as much charm, spirit, and usually more common sense. I also want to say that Basil Rathbone and Claude Rains are marvelous villains. Excellent music, excellent camera work, excellent film.

Should've Gotten Oscar As Best Picture

bazdeservesoscargoldhere

7/7/15

Was Nazi Germany and kissing up to them the reason AORH not rightly winning its well-deserved Oscar for best picture?Rathbone deserved nomination for Best Supporting for Sir Guy,than Tybalt,although he was very outstanding in that part.Without his role here,I wouldn't consider this film as being superior to Captain Blood.He excelled in a small role in CB in 1935,making Flynn really work for his meal ticket,outclassing him both times as a supervillain.Flynn too cutesy at times,thank goodness for a superb supporting cast,and beautiful heroine.

This Flick-Baz Owns It!

flynnsortaconvincing

7/7/15

Here,Rathbone as the ultimate villain makes this film soar.Yeah,Flynn's the hero,but with a lesser actor as villain I wouldn't watch.Baz was stirring in the fight scenes.He draws my attention from his first to last scene.Once Sir Guy dies,the film becomes flaccid.

One Great Classic

Bit of trivia:due to an accidental spearing of his foot during the first big fight scene in castle,Basil Rathbone had to have his foot stitched up when pierced by a lance,one of many safety hazards on a Curtiz directed film,who was famous for his disregard for his actors/stunt people,as was incident on Charge Of The Light Brigade with horses having to be destroyed due to trip wires,and a stunt person gored by a lance,who later died.Rathbone seemed to be limping around in first scene he had with Claude Rains,where they plan the downfall of the Saxons.Basil as equally athletic,even if 17-years older than Flynn,in any film he did,right through the end of 1950s.Makes you wonder if Flynn'd straightened up and lived a less hedonistic life if he could've said the same about himself.50 was too young to die of liver failure,and he'd just been diagnosed with lung cancer.He should've had a career well into his 50s if he'd been less of a playboy and more of a responsible man,which is why he's a perfect Robin in theory.Surrounded by such great character actors,they really bring this picture what should've been Best Picture Oscar.

Great Historical Fiction

Basil really makes this one of my favorites.He & Olivia don't show any love for each other here,but there was definite chemistry,unlike the back stage lust from Flynn,unable to contain it in his tights for any starlet around.Rains & Rathbone great villains,Melville Cooper plays a real bumbling High Sheriff.Well-made,even given the heavy-handed slave master directing by Curtiz!

The one and only Robin Hood

The most beautiful film i have ever seen. Technicolr may have been cumbersome but can you imagine this film any other way. Flynn is perfectly cast as Robin. He is just fun to watch . Happy go lucky irritating the Norman Nobles. All except maid marion who can't help but fall for the man. Who could resist him. This is one that hollywood got right. It's a joy to watch over and over again. It just makes you feel good even for a few hours.

A Movie for the Big Screen

One of the best movies ever. Watching in HD the colors pops!This movie should be shown on the big screen. I hope TCM considers to bring it in movie theaters as they did the Wizard of Oz. Errol Flynn is so gorgeous. Love Claude Raines.

The tinker wins!

This is absolutely one of the best motion pictures ever made !

The ONLY Robin Hood!

Hollywood can remake this film 50 times and it will never, ever be as good as this one! The casting alone is worth the price of admission but the acting - oh, my, the acting! - is nothing short of superb. Errol Flynn was gorgeous as Robin and played this part to the hilt, with his antagonist, the great Basil Rathbone as Sir Guy, matching him in the good vs. evil morality of this play. Few realize that both Flynn and Rathbone were incredible fencers in their own right and this served to make their swashbuckling scenes electrifying both here and in "Captain Blood." Claude Rains, always at his best in a smarmy role, is the perfect Prince John who tries to usurp his absent brother's throne. Una O'Connor, just one of the many great character actors in this film, has you giggling as she performs her role as Maid Marian's nurse, Bess. Olivia de Haviland, so young and beautiful, is perfection as Maid Marian. There isn't a lull in the entire film, as Michael Curtiz saw to it that this film clipped along with magic in every scene. The archery tournament is extraordinary but pay particular attention to the swordfighting scenes between Flynn and Rathbone. Some were actually choreographed by the two actors themselves and each move is daring and spectacular! Don't be afraid of allowing your children to watch this film. They will love it!

All Time Favorite.

This is one of the first movies I ever fell in love with as a kid. Its such a fun movie to watch, but it also is memorable and meaningful. The acting is absolutely spot on from Errol Flynn, Olivia de Havilland, Basil Rathbone, and Claude Rains (as well as from the entire supporting cast). The score is unbelievable, and probably my favorite of any movie. Overall, The Adventures of Robin Hood remains a classic but is also still relevant and enjoyable 70 years later.

Golden Cloud

Bob, I believe you're correct. Maid Marion's horse was named Golden Cloud. Roy bought the palomino and changed its name to Trigger. That's the story I heard.

Errol Flynn puts the biggest smile on my face :)

I just bought this movie, because I love it so much, I need to see it more often than they play it TCM!

One of the Greatest

One of the 10 greatest movies ever made. It will never be equaled. Flynn at the top of his game.

The Music of Erich Wolfgang Korngold

The magnificent original music score for "the Adventures of Robin Hood" by Erich Wolfgang Korngold, the great child prodigy of 20th Century classical music is, in the opinion of many, many serious scholars of film music arguably the greatest music score in the entire history of motion pictures. And it is easy to understand as Korngold's music isn't background music but foreground music that shapes character and mood, delineates action, and propels the narrative. Written as though it were "an opera without words", the score has at least 15 major and minor leit motifs that brilliantly delineate everything you see, everything you hear, everything you feel. This score is the Gold Standard by which all others pale and this score is why Korngold -- even though he only composed the scores for about 16 movies in total (for his movie scores were only a small part of his creative output) -- remains the most influential, most distinguished, and most respected composer in the history of the movies.

The Adventures of Robin Hood

More than a review, I have a question. Hopefully someone can answer it. Is it correct that the Palamino horse that Olivia De Havelland rode in that movie was Roy Rogers' "Trigger".Thank you.

Two Great Villains

to think that Rathbone was the King's swordsman.Claude and Bones seem to have a good time here (love when in Marian's room the way he says "castle").Or the meeting in the hall with Rains,Rathbone and Love witnessed by Olivia.The scenes with Rathbone and Rains,Rains,Cooper and Rathbone with "that bonnet" that Cooper wears after the kidnapping of Rathbone's troops in the forest,Rathbone's nudging Olivia in "Robin's hanging scene".Love these two veteran good/bad guys,too bad they weren't on screen together again.

A fun movie that has stood the test of time

Too light on drama and realism? Unchallenging and artificial? More of a cartoon than a cartoon? Do we really want to work that hard watching a movie? Sometimes it's nice to just sit back, relax, and escape for a couple of hours. This movie has delivered that over the years and continues to do so with a great cast, cinematography, and score.

Robin Hood, One of the Best Ever

One of the best films ever made in every category. Errol and Olivia as beautiful as they'll ever be, Claude at his oiliest, Basil is DOA from scene 1, art direction, cinematography, costumes, color, all the character actors etc, etc,. Particularly noteworthy for editing. I put it just behind Jaws- the pace never flags. Korngold's score is the icing on the cake.Some criticism that it is a bit lightweight are credible, but remember when it was made, and clearly the director wanted to be faithful to his sources. I can only imagine seeing this as a kid the year it was made, it would have transported me!No one ever mentions its influences, in particular the influence of the great Golden Age illustrator Howard Pyle and especially NC Wyeth, both bringing imagination and a cinematic quality to the early classic adventure books. Look at Wyeth's sun-dappled scenes before you watch the film.

Great Rathbone Turn As Gestapo-like Minion

He makes this picture a must for me.Good Flynn film,but not what it is without Rathbone.He was stagy actor,but what presence!I'd take him over Robin,even if he was evil.

The Adventures of Robin Hood (1938)

Definitely a lively and nicely filmed adaptation of the legend, but it was far too light on drama and realism for my tastes. It also lacked any sense of urgency or danger. When Robin has no problem single-handedly fending off a thousand castle guards in the first big scene you know how unchallenging and artificial the movie is going to be. Except for Marion, who all-to-quickly switches sides, there is no character development here whatsoever. They're all one-dimensional hero types who can do just about anything without much of a struggle. I can understand producers wanting to make a light-hearted adventure film to appeal to kids and families but, heck, even Disney's animated Robin Hood had scarier, more dramatic scenes, and with nastier villains. And when the romance between two anthropomorphized foxes is more developed and touching than it is between the flesh-and-blood Errol and Olivia ... well, it's a case of a live-action film being more of a cartoon than a cartoon. While I did like the occasional touches of humor between the Merry Men, and while I certainly respect the film's historical importance, I just found it all overly simplistic when it could have been so much more.

Brilliant cast,crew,film

The greatest Robin and villain,Sir Guynot just of the devil,but the Reich

The Best Robin Ever

Never ceases to delight.Ms DeHavilland can be super proud of this gem.Would love to hear her stories of all her castmates,esp Baz and Claude

Best Sword Fight Ever

One of Flynn's best known.I watch it for Rathbone's intense portrayal of a Hitler-like minnion,the real power behind the thrown.He's cool,bides his time and strikes,but the allies are ready.Hopefully,it gave hope to those in peril during the dark days of pre-WWII.

Perfect in every way

Delightful movie, beautiful score, gorgeous Technicolor. Perfect casting and acting. Unforgettable screenplay. My favourite movie of all time!

Make Way For Sir Guy

To me,this picture would not be the same without Rathbone.Not just his swordsmanship,but chemistry and even matching with Flynn.He made Flynn strive to learn more about his craft than just stunts,and flirting with Miss Olivia.And she is a lovely lady love for either.Robin is an ideal,and thank goodness for movies like this with the horrors in Europe and Asia before,during and after this film came about!

The Adventures of Robin Hood

Flynn gives the performance he was born to play in this Michael Curtiz cinema masterpiece. Even by today's standard's the film is fast- paced & exciting, added by Erich Wolfgang Korngold's score. Strong visuals and fight scenes are masterfully filmed. My only complaint is that it didn't win a 'Best Picture' Academy award. I give it a 4.5/5.

great fun

Great fun, great film.

FLAWLESS SWASHBUCKLER

Errol Flynn truly is the Robin Hood of ALL Robin Hoods! this is a spectacular technicolor adventure film (one of the greatest), with great stars like Olivia de Havilland as Maid Marian, Claude Rains as Prince John, Basil Rathbone as Sir Guy of Gisbourne, etc. great action sequences, along with Erich Wofgang Korngold's wondrous score (the Merry Men March for instance), what's not to love about this fillm?

The Adventures of Robin Hood

The best Robin Hood Movie and the best Actor Errol Flynn, you can't go wrong.

The Adventures of Robin Hood

****

The Adventure of Robin Hood rocks!

I loved this movie! It's got action, suspense and romance! Errol was brilliant as Robin. Basil Rathbone was great as Sir Guy of Gisbourne. I loved Basil as Holmes also. Basil is a great bad/good guy. The swordfighting towards the end was awesome. I could watch it over and over and never get sick of it. All of the actors were awesome. Loved it.

The Adventures Of Robin Hood (1938)

Wonderful movie! Errol Flynn is still Robin Hood. Unsurpassed!

Exuberance and Charm Personified!

The Adventures of Robin Hood starring Errol Flynn is an absolute delight. I had not watched this film in years, and viewing it afresh served to bring forth its many pleasures for a movie-lover like myself. The exuberance and charm brought to bear upon the story makes all would-be pretenders look second-rate. Errol Flynn's portrayal can't be beaten. Kevin Costner fell flat in the 1990 movie and I fear the new film starring Russell Crowe will be, while well-done in its own way, grim and ponderous (though I hope to be proven wrong!). The acting is absolutely delightful. I would imagine that Claude Rains and Basil Rathbone had a ball making this film. Olivia deHaviland glowed throughout the film, her smile proving ever heart-warming and the beauty of her clothing simply enchantingeven the most casual viewer (the fact that the technicolor was right on the money, bringing everything to a vivid clarity, provides the film with yet another boast and yet another reason to watch the film - over and over again!).The supporting cast is a veritable cornucopia of veteran members of the old Hollywood "system": Eugene Pallette, Alan Hale, Una O'Connor, Melville Cooper, and many more. Those faces and voices and body types and personalities that adorn the films of that earlier era are all here in merry abundance.And the dialogue! Where else will you find such lines as "Not so close, my ponderous one!" or "You infernal idiot!" Errol Flynn has the pleasure of sending off Rathbone's Sheriff with the line, "It will teach you a lesson in humility if not of mercy," as well as his magnanimous words to Alan Hale upon their first encounter as each tried to cross a log over the river, "I love a man that can best me!" I think that capture the of the spirit of the entire film, let alone Robin Hood. I don't see how anyone can not feel exuberant throughout and after watching thistruly great movie.

One of my favorites!

Earlier this evening I saw "The Adventures of Robin Hood" (1938) again for the first in years. It's as enjoyable and entertaining as ever. This is one of my favorite movies of all time and one of Errol Flynn's best films. When I think of Robin Hood one my images is of Errol Flynn playing the role. The other image is from the 1973 Disney animated film "Robin Hood," where the characters are animals and Robin Hood is a fox. Both images were formed when I first saw these films as a child. Thanks TCM for showing a true classic and one of my favorites!

A Swashbuckling Romantic Epic.

Frank Harris Horn

4/21/10

Errol Flynn is at his swashbuckling best in the title role of the hero of Sherwood Forest, who leads his merry band of outlaws to fight the tyrannies of Prince John and Sir Guy of Gisbourne. Olivia de Havilland is well-cast as the beautiful Lady Marian Fitzwalter. Claude Rains and Basil Rathbone are perfect for the roles of the tyrannical Prince John and the villainously cunning Sir Guy of Gisbourne. The movie's composer, Erich Wolfgang Korngold won an Academy Award for Best Original Score. The movie also won two more Oscars for Best Art Direction-Set Decoration (Color) and Best Film Editing. With Alan Hale, Patric Knowles, Herbert Mundin, Eugene Pallette, Melville Cooper, Montagu Love, Una O'Connor, Ian Hunter, Robert Warwick, Lionel Belmore, Holmes Herbert, Harry Cording & Olaf Hytten.

Perfectly Cast Movie

Perfect movie, perfect cast...the soundtrack compares to none. My all-time favorite movie with my all-time favorite actor, Errol Flynn.

The Only Robin Hood

Only Errol Flynn truly brings Robin of the Hood to life--and only Olivia de Havilland can be Maid Marian. Superb all-around.

Perfect Soundtrack

Korngold's wonderful music is used almost perfectly in this great example of Hollywood entertainment. Watch and listen, and enjoy perfection from beginning to end!

Robin Hood (1938) The best

One of my all time favorites ! Olivia DeHaviland and Errol Flynn have the right chemistry to make this award winner that it is.I have been watching this version since I was 10 years old. It is still as spectacular today as it was then!

Errol Flynn as Robin Hood

Flynn defines Robin Hood more than any actor ever has or ever will. His performance in "The Aventures of Robin Hood" have stood the test of time and will forever remain the perfect definition of this cinematic character.Flynn was Hollywood's greatest swashbuckler and, in my opinion, one of Hollywood's most underrated actors. His performances in films such as "Too Much Too Soon", "Gentleman Jim", "Objective Burma" and others never receive the recognition of his swashbuckling roles. If you ever get the chance to watch his other roles, I urge you to do so.

The BEST swashbuckler of all

I first saw this movie on TV, (in B & W...what a shame) with my dad when I was about 6 years old. I thought it was great then, and 40 years later I like it better every time I see it. The cast is perfect, the photography is perfect, the scipt is a hoot, and the music is wonderful and rousing...the absolute very best of the genre. The verval jousting is as sharp as the rapier duels. A great movie from a year that brought lots of great movies.

A classic that never gets old!~

The moment the score by Erich Korngold begins and the Warner Bros shield appears on the screen... you are transported to a lush Technicolor spectacle of chivalry, adventure, drama, and love.Errol Flynn is the dashing, hero... and Olivia DeHavilland as the lady fair, Maid Marian. With a wonderful stellar cast of character actors... chief among them, Claude Rains as Prince John, and Basil Rathbone as the sly and evil Sir Guy of Gisbourne... this 1938 film outshines them all.Never a dull moment...always light, with shots of comedy wit... and drama that always hit's the bull's eye.Never to be outdone... the original is the best by far!~Errol Flynn at his zenith!~

Perfectly Cast Movie...

No one, and I mean no one, could ever outdo Errol Flynn as Robin Hood or asany swashbuckler! The perfect movie from start to finish.
*We protect your personal infortmation and will not provide it to anyone without your consent. For a complete explanation, please refer to TCM's Privacy Policy. By submitting your contribution, you agree to TCM's Terms of Use.