DVDs from TCM Shop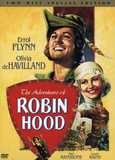 The Adventures of Robin Hood The bandit king of Sherwood... MORE&nbsp> $20.95 Regularly $26.98 Buy Now blu-ray
NOTES
A news item in Hollywood Reporter reports that in 1935, M-G-M paid $62,500 to the estate of Reginald de Koven for film rights to the music he composed for the operetta Robin Hood. It was the largest sum ever paid by a studio for music rights. M-G-M had previously purchased the book and lyrics of the operetta from Warner Bros., which had owned the rights since the silent days. Despite plans to star Jeanette MacDonald and Nelson Eddy, the operetta was never filmed by M-G-M. In 1936 Republic announced a Robin Hood film which was to be filmed in Magnacolor. Wells Root was scheduled to write and direct it. Warner Bros. made The Adventures of Robin Hood for $2,000,000, their biggest budget to date. When Michael Curtiz replaced William Keighley as director halfway through the production, Sol Polito came with Curtiz, replacing photographer Tony Gaudio. Hollywood Reporter notes that Keighley directed the location scenes at Chico, CA, while Curtiz directed the rest of the film. According to his autobiography, Hal Wallis replaced Keighley because he felt the action scenes shot by him were ineffective. The cast and crew were on location in Chico's Bidwell Park for six weeks and the archery contest was staged at Busch Gardens in Pasadena, CA. Second unit director B. Reeves Eason was sent to Chico near the end of October to film action scenes not involving the principal players in order to shorten the shooting schedule, according to Wallis' autobiography. According to Motion Picture Daily, the voice of Floyd Gibbons was used in the film's trailers. Motion Picture Daily also notes that Warner Bros. planned a sequel to the film, which was to have starred Errol Flynn with Michael Curtiz directing. Film editor Ralph Dawson, art director Carl Weyl and composer Erich Wolfgang Korngold each won an Oscar for their work on this film, which was itself nominated for Best Picture and was named as one of Film Daily's and New York Times's ten best films of 1938. It was also a top moneymaking film that year, breaking the opening day record at Radio City Music Hall by earning $14,000.
Modern sources add the following information about the production: In 1936, when Warners was first developing the project, James Cagney was originally intended to star as Robin Hood with Guy Kibbee as Friar Tuck. Jack Warner considered Anita Louise for the part of Marian, while Donald Crisp turned down the part of the Bishop of the Black Canons. Art director Carl Weyl augmented the forest at Bidwell Park in Chico with plaster of Paris trees and rocks. Because grass and brush had been removed as fire hazards, artificial grass was used to replace it. Robin's meeting with Friar Tuck was filmed along Big Chico Creek in the park. Additional outdoor shots were filmed in the nearby Sherwood Lake and Sherwood Forest areas, so named because they were the forest location for the 1922 Robin Hood. Other exteriors were filmed at the Warner Ranch in Calabasas, CA. The crew left Chico on November 8, 1937 and shooting finished January 15, 1937. Belgian fencing master Fred Cavens and his son Albert tutored the cast in sword and quarterstaff routines. Archery expert Howard Hill did the actual trick shooting. The studio paid stunt men and bit players $150 per shot for letting Hill hit them with arrows. Flynn did most of his own stunts except for a leap with his hands tied behind his back, another leap unto the back of a horse, his swing up the Nottingham gate and his drop to the other side. Although modern sources often refer to this film as Warner Bros. first three-strip Technicolor release, this honor actually goes to Gold Is Where You Find It, which went into production and was released several months earlier. Alan Hale played Little John in the 1922 version of the film and went on to play him again in Rogues of Sherwood Forest, released by Columbia in 1950.
The story of Robin Hood has been the basis for numerous films. The earliest was a one-reel film made in the United States in 1908 by Kalem about which very little is known. A British film, Robin Hood and His Merry Men, was made the same year. Another version was made by Thanhouser Film Corp. in 1913, starring William Russell (see AFI Catalog of Feature Films, 1911-20; F1.3752). A fourth version was directed by Allan Dwan for United Artists in 1922, starring Douglas Fairbanks (see AFI Catalog of Feature Films, 1921-30; F2.4663). RKO and Walt Disney British Productions co-financed The Story of Robin Hood in 1952. This production starred Richard Todd and was directed by Ken Annakin. In 1961, Columbia released Sword of Sherwood Forest, starring Richard Greene, who also starred in the television series Robin Hood, which was broadcast on the CBS network from 1955-58.
In 1964, Warner Bros. produced Robin and the Seven Hoods, directed by Gordon Douglas and starring Frank Sinatra, Dean Martin and Sammy Davis, Jr. A British production A Challenge for Robin Hood, was made by Hammer in 1967 and starred Barrie Ingham and Gay Hamilton. This production was directed by C. M. Pennington-Richards. Another film based on the Robin Hood character, The Ribald Tales of Robin Hood, was produced by P.B.S. Co-Mondo in 1969. It was directed by Richard Kanter and starred Ralph Jenkins and Dee Lockwood (see AFI Catalog of Feature Films, 1961-70; F6.4839, F6.4139, F6.0730 and F6.4039.) Robin and Marian made by Columbia in 1976 starred Sean Connery and Audrey Hepburn as the aging lovers. In 1991, Morgan Creek released Robin Hood: Prince of Thieves starring Kevin Costner and directed by Kevin Reynolds. An American television version entitled The Adventures of Robin Hood and starring Patrick Bergin and Uma Thurman was released theatrically overseas by 20th Century Fox.