DVDs from TCM Shop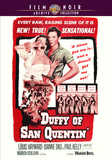 Duffy of San Quentin A biography of the experiences... MORE&nbsp> $15.95 Regularly $17.99 Buy Now
NOTES
DVDs from TCM Shop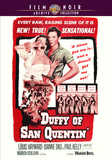 Duffy of San Quentin A biography of the experiences... MORE&nbsp> $15.95
Regularly $17.99 buy now
The working title of the film was The San Quentin Story. Voice-over narration of Paul Kelly as "Warden Clinton T. Duffy" is heard intermittently throughout the film. Duffy reminisces about his relationship with prisoner Edward Harper, which he claims best exemplifies his tenure there. Paul Kelly's opening credit reads: "Paul Kelly as Warden Clinton T. Duffy."
Duffy, who was born in 1898, the son of a San Quentin guard, worked in several positions at the prison before 1940, when he was asked to fill a thirty-day appointment as warden after a major staff turnover. He began immediately to abolish inhumane practices and make the prison more bearable for the inmates, whom he believed needed an opportunity to turn their lives around. Shortly after taking the assignment, Duffy fired the cruel captain of the guards, arranged for better food and fresh water, and forbade the use of the "Dungeon," an unfurnished, unlit cave used for solitary confinement. Although he insisted on discipline from the inmates, the changes he made won their respect and cooperation, thus noticeably altering the explosive atmosphere of the prison and earning him permanent status as warden. With the assistance of his wife Gladys, whose father, another prison guard, once told Duffy that men could not be reformed with a whip, Duffy pushed for greater innovations, such as educational opportunities, in-house entertainment and religious services for the men. In 1951, he retired as warden, but remained active in penological pursuits; both he and Gladys wrote books about their experiences.
According to a December 1952 Daily Variety news item, the film was to be released by United Artists, but by November 1953, a Hollywood Reporter news item reported that Warner Bros. had acquired distribution rights. The film marked writer Walter Doniger's directorial debut. According to a February 1954 Variety news item, actress Joanne Dru sued Swarttz-Doniger Productions, Inc., Warduff Productions, Inc., and Warner Bros. for ten percent of the producers' gross of the film, claiming that, although her contract stated that she would be paid $1,000 in cash and a percentage for her performance in the film, she was paid only the cash. The outcome of the dispute has not been determined.
Modern sources state that Kelly, a former child actor for Vitagraph silent films, spent two years in San Quentin Prison in the 1920s for manslaughter. Kelly and, briefly, Maureen O'Sullivan reprised their roles in The Steel Cage, a 1954 United Artists release of three vignettes originally planned as a television serial. For more information, see the entry for The Steel Cage below.