DVDs from TCM Shop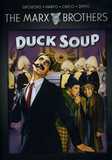 Duck Soup When he's named dictator... MORE&nbsp> $10.65 Regularly $14.98 Buy Now
Articles
SEE ALL ARTICLES
Duck Soup (1933)
SYNOPSIS

Mrs. Teasdale is a wealthy widow who will donate $20 million to the cash -strapped country of Freedonia, but only if the nation's elected leaders will agree to make Rufus T. Firefly the nation's dictator. Firefly is duly appointed, but instead of managing Freedonia's affairs, he attempts to woo the wealthy Mrs. Teasdale into an affair of their own. Meanwhile, a rival suitor and the ambassador from neighboring Sylvania, Ambassador Trentino, hires the sultry Vera Marcal to seduce Firefly so that he himself will have a shot at wooing and marrying Mrs. Teasdale, thereby annexing Freedonia for Sylvania. To aid his romantic espionage, Trentino hires Chicolini, a peanut salesman, and his mute friend Pinky as spies, a move that precipitates a war breaking out between Freedonia and Sylvania.

Producer: Herman J. Mankiewicz
Director: Leo McCarey
Screenplay: Bert Kalmar, Nat Perrin, Harry Ruby, Arthur Sheekman
Cinematography: Henry Sharp
Film Editing: LeRoy Stone
Original Music: Harry Ruby, Bert Kalmar
Cast: Groucho Marx (Rufus T. Firefly), Chico Marx (Chicolini), Harpo Marx (Pinky), Zeppo Marx (Bob Rolland), Raquel Torres (Vera Marcal), Margaret Dumont (Mrs. Teasdale), Louis Calhern (Trentino), Leonid Kinskey (Agitator), Edgar Kennedy (Street Vendor).
BW-69m. Closed Captioning.

Why DUCK SOUP is Essential

Let's get something straight: If a school that taught you how to be funny in the movies existed, Duck Soup would be one of the textbooks. With that said, what makes this Marx Brothers picture so different from all the others, such as A Night at the Opera (1935)? Why is Duck Soup the essential Marx Brothers comedy?

When making Duck Soup, the Marx Brothers had no other intention than making their usual anarchic comedy picture. Groucho Marx attributes the film's strong satire on war to director Leo McCarey. And with the rise of fascism in Europe, the release of Duck Soup did seem well-timed, given that Hitler had just come to power about two months before the film's general release. But to say that Duck Soup is essential because of its satire on war would be shortchanging other aspects of the film.

Duck Soup is a crucial chapter in the Marx Brothers' oeuvre because it marked the best and last opportunity for them to be at their most outrageous. But more than them running amok in front of the camera (and they had plenty of experience being let loose in front of an audience in vaudeville and Broadway), the Marx Brothers made a comedy that was cinematic. Their comedy avoided the stagey aspects of their early pictures like Animal Crackers (1930). The Duck Soup plot was absurd, but it was not so ridiculous that you didn't care what was going to happen to the characters. This was one aspect of that Irving Thalberg did not abandon when he produced their next picture, A Night at the Opera (1935), at MGM.

Even more important to the production was the presence of a grade A director by the name of Leo McCarey, whom Groucho described as the Marxes only first-class director. More than a "supervisor," McCarey actually directed the picture, in the sense that he helped to shape it creatively. He came up with Harpo's slyly snipping scissors, as well as the lemonade seller sequence, a nearly wordless exchange, for which McCarey drew upon his experience directing silent comedians like Laurel and Hardy. McCarey was confidant enough in his abilities to allow the lemonade sequence to take shape through improvisation, a process that took four days to shoot. It was also McCarey's idea to film the mirror sequence, based on an old vaudeville routine. It reportedly took only two hours to film.

Finally, Duck Soup is an example of the professionalism that the Marxes brought to their work, both on the stage and in front of the camera. Look at the mirror sequence: instead of breaking the sequence up with one of Groucho's humorous asides, the Brothers shoot the wordless sequence in nearly one take. Groucho could have easily gotten away with just one joke, but it would have disrupted what makes the gag so great, and that is the perfect timing. Their professionalism is also found in the way the Brothers approach music in the picture. While it may seem a trivial tidbit at first glance, the fact that Duck Soup is the only film in which the four perform musically together is not unimportant. Having been trained in the musical arts by their mother, the four took their music very seriously. The final musical number is carefully choreographed with them front and center, instead of the number being staged with just an army of scantily-clad women, a l a Busby Berkeley dance sequence. Overall, the number was not placed in the picture for any romantic leads to come together, as is usually the case, but rather as a part of the comedy and satire. While some musical comedies, like the Marxes' earlier Paramount films, would use the music as an interlude from the comedy, in Duck Soup the music, the dancing, and everything but the kitchen sink are tossed into the comic stew.
back to top
---
Duck Soup (1933)
Apparently, Duck Soup was a popular title, as it appeared no less than three other different times between 1927 and 1944. Stan Laurel and Oliver Hardy featured in one Duck Soup (1927), while Chico and Harpo's lemonade peddler nemesis, Edgar Kennedy, starred in another Duck Soup in 1942. Their duel with Kennedy is very reminiscent of the types of standoffs Kennedy had with Laurel and Hardy in their comedies together. Daffy Duck and Porky Pig also piped in with Duck Soup to Nuts in 1944.

They say imitation is the highest form of praise, right? Well the Marx Brothers were smart enough comedians to know that their best comedy bits should be based on proven traditional gags. Case in point: the hilarious mirror sequence in Duck Soup was not an original piece of comic business. Leo McCarey adapted it from an old vaudeville routine. The gag sequence also showed up in an early picture called The Floorwalker (1916), but not before French comedian Max Linder used the gag in Seven Years Bad Luck (1921). While this gag was used many times on vaudeville, it was the first time the Marxes had performed the routine.

A long-time "Marxist," Woody Allen has paid homage to the Brothers Marx in many of his films. He makes a nod to Duck Soup in his 1986 film, Hannah and Her Sisters (1986).
back to top
---
Duck Soup (1933)
In case you were counting, during the final battle scene, Groucho wears five different uniforms: A Union soldier's uniform, a Confederate general's uniform, a boy scout troop leader's uniform, a Revolutionary War-era British general's uniform, and a Davey Crockett outfit. That is, just in case you were counting...

And just in case you were trying to tell who is who in the mirror sequence, good luck. The physical similarities between Chico, Harpo, and Groucho, (and even Zeppo, even though he isn't in this sequence), make it nearly impossible to tell who is the real Groucho in the scene. Go ahead and try. We dare you...

By the time Duck Soup was in production, Harpo Marx was the critical darling of the intellectual community, particularly around the famed "Algonquin Round Table" in New York City, made up of several of the notable literati of the day, like Dorothy Parker and Robert Benchley. Alexander Woolcott considered Harpo to be the greatest pantomime since Charles Chaplin. Always considered to be the most congenial Marx brother, Harpo nevertheless let the attention go to his head, just a bit. One day on the set, Harpo, in an unusually pretentious gesture, asked producer Herman Mankiewicz to explain the motivation of his character. (As if Harpo was playing anyone else but Harpo...) Mankiewicz, the brilliant writer who in only a few years would co-write Citizen Kane (1941), replied, "You're a middle-aged Jew who goes around picking up sh**."

The surprising sight gag of the live dog barking out of a tattooed doghouse on Harpo's arm was originally a little different. Possibly because of censorship reasons, the sight gag was changed from a tattoo of an outhouse on Harpo's chest, whereupon Groucho slaps him on the back, causing the door of the outhouse to swing open and a little hand to reach out and shut it again.

Famous Quotes from DUCK SOUP

Rufus T. Firefly: I got a good mind to join a club and beat you over the head with it.

Rufus T. Firefly: I'd be unworthy of the high trust that's been placed in me if I didn't do everything in my power to keep our beloved Freedonia in peace with the world. I'd be only too happy to meet with Ambassador Trentino, and offer him on behalf of my country the right hand of good fellowship. And I feel sure he will accept this gesture in the spirit of which it is offered. But suppose he doesn't. A fine thing that'll be. I hold out my hand and he refuses to accept. That'll add a lot to my prestige, won't it? Me, the head of a country, snubbed by a foreign ambassador. Who does he think he is, that he can come here, and make a sap of me in front of all my people? Think of it - I hold out my hand and that hyena refuses to accept. Why, the cheap ball-pushing swine, he'll never get away with it I tell you, he'll never get away with it!
(Trentino enters) "So, you refuse to shake hands with me, eh? (he slaps Trentino with his glove).

Bob Rolland: Trentino is a very sensitive man. Why I told him something once and he slapped my face!
Rufus T. Firefly: What did you tell him?
(Rolland whispers it in his ear. Firefly gasps and slaps him)
Rufus T. Firefly: You ought to be ashamed of yourself. Who told you that?
Bob Rolland: Why, you did.

Rufus T. Firefly: You're a brave man. Go and break through the lines. And remember, while you're out there risking you're life and limb through shot and shell, we'll be in be in here thinking what a sap you are.

Rufus T. Firefly: He may look like an idiot, and talk like an idiot, but don't let that fool you. He really is idiot.

Rufus T. Firefly: But there must be a war. I've paid a month's rent on the battlefield.

Rufus T. Firefly: We're fighting for this woman's honor, which is more than she ever did.

Chicolini: Now I aska you one. What has a trunk, but no key, weighs 2,000 pounds and lives in a circus?
Prosecutor: That's irrelevant.
Chicolini: Irrelephant? Hey, that'sa the answer! There's a whole lot of irrelephants in the circus.

Rufus T. Firefly: I suggest we give him ten years in Leavenworth, or eleven years in Twelveworth.
Chicolini: I tell you what I'll do. I'll take five and ten at Woolworth.

Rufus T. Firefly: Excuse me while I brush the crumbs out of my bed. I'm expecting company.

Rufus T. Firefly: Well, that covers a lot of ground. Say, you cover a lot of ground yourself. You better beat it -- I hear they're going to tear you down and put up an office building where you're standing. You can leave in a taxi. If you can't get a taxi, you can leave in a huff. If that's too soon, you can leave in a minute and a huff. You know, you haven't stopped talking since I came here? You must have been vaccinated with a phonograph needle.

Minister of Finance: Here is the Treasury Department's report, sir. I hope you'll find it clear.
Rufus T. Firefly: Clear? Huh! Why a four-year-old child could understand this report!
(To Bob Roland) "Run out and find me a four-year -old child, I can't make head or tail of it."


back to top
---
Duck Soup (1933)
The genesis of Duck Soup, known under various working titles, such as "Cracked Ice" and "Grasshoppers," was influenced by two other projects that tangentially involved Marx Brothers alumni. Herman Mankiewicz, the producer on Duck Soup, had just supervised the shooting of another Paramount comedy, Million Dollar Legs (1932), starring W.C. Fields. Herman's younger brother Joe had written that film's original story about a fictional country, Klopstokia, beset by chaotic foreign intrigue, nutty spies, and internal political strife. Sound familiar? The cast even featured a young actress named Susan Fleming, playing the President's daughter, who was to become Harpo Marx's betrothed two years later. While there are no definite connections between the two projects, Herman Mankiewicz's involvement in both can not be easily dismissed.

The other influence on Duck Soup was a political play called Of Thee I Sing, by George S. Kaufman (who wrote two of the Marxes' stage plays) and Morrie Ryskind, which took satirical swipes at French and U.S. relations. The Marxes briefly flirted with the idea of adapting the play for the screen. Instead, they incorporated many of the same themes into early drafts of "Cracked Ice," soon to be renamed Duck Soup.
back to top
---
Duck Soup (1933)
Leo McCarey put his directorial spoon into Duck Soup because he had impressed the Marx Brothers with his direction of their fellow vaudevillian Eddie Cantor's musical The Kid from Spain (1932). As flattering as their approval might have been, McCarey did not warm up to the project, as he told Cahiers du cinema in 1967:

"I don't like (Duck Soup) so much...I never chose to shoot this film. The Marx Brothers absolutely wanted me to direct them in a film. I refused. Then they got angry with the studio, broke their contract and left. Believing myself secure, I accepted the renewal of my own contract with the studio. Soon, the Marx Brothers were reconciled with (Paramount)...and I found myself in the process of directing the Marx Brothers. The most surprising thing about this film was that I succeeded in not going crazy, for I really did not want to work with them: they were completely mad."

Screenwriters Harry Ruby and Bert Kalmer were standing on the set of one day when an extra standing next to them said, "I don't know who wrote this stuff but they ought to be arrested...they should be in a different business." Kalmer, who was known as a rational and calm man, said to Ruby, "I'm going over to hit him. Who does he think he is? He's just an extra!" But before fisticuffs erupted, Kalmer and Ruby were informed that Chico Marx had paid the extra to rib the screenwriters, just for the hell of it.

Some screenwriters did not survive the Marx Brothers long enough to be ribbed at all. Two Paramount contract writers, Grover Jones and Kean Thompson, were both eager and willing to be assigned to Duck Soup. They were each hired at different intervals, but both had disappeared from the production after two weeks' work. They simply did not have the stamina and perseverance in dealing with the Marx Brothers.

As far as Groucho Marx was concerned, Margaret Dumont, playing the matronly Mrs. Teasdale, was practically the fifth Marx Brother. She always played her scenes with Groucho and the boys in Duck Soup and their other pictures as if they were the most serious and dignified scenes ever put to film. Her ramrod straight and sincere acting make the picture's madcap humor and satire that much more effective. Just look in the final scene: Dumont truly sings her heart out as the Brothers pound her mercilessly with custard pies. Groucho later said of her, "She was a wonderful woman. She was the same offstage as she was on it -always the stuffy, dignified matron. She took everything seriously. She would say to me, 'Julie, why are they laughing?'" Apparently, Dumont truly did not get most of the Marx Brothers' brand of humor.

To help sell Duck Soup to theater exhibitors and the public, the Paramount press department featured a number of contests to get the word out about the newest Marx Brothers laughfest. In addition to "Name the Four Marx Sisters," there was also a proposed duck-hunting contest, in which hunters across the fruited plain would bring back their catch to be cooked in one big duck dinner, beginning with duck soup, of course. And then there was the duck parade. Just imagine, to paraphrase the Paramount press materials, after you round up four ducks (preferably from a poultry market or a farmer), dress them as the Brothers, and let them lead the parade, you, the faithful theater manager, could then create more nonstop hilarity by tying the ducks together with a long string. "The ducks will not stay in line but that will only add to the confusion and the excitement," the press materials helpfully added.

In the original script, there was to be a romance between Raquel Torres and Zeppo Marx, but it was cut before the picture's release. In fact, after the premiere of Duck Soup, Zeppo cut himself from the comedy team altogether, citing a dissatisfaction with movie acting overall, and a weariness with being the butt of jokes regarding him as the "unfunny" Marx brother. But contrary to the commonly accepted story, Zeppo did not leave to represent his brothers as their showbiz agent. In fact, the only deal Zeppo ever spearheaded for his brothers was with RKO Pictures, for the 1938 movie, Room Service. Upon making his exit from the cameras, Zeppo, and another Marx brother, Gummo eventually represented a number of talented writers and actors, including George S. Kaufman, Dorothy Parker, Lucille Ball, Fred MacMurray, Barbara Stanwyck, Jean Harlow, and Lana Turner. It was Gummo, not Zeppo, who became the Marx Brothers' formal agent.

Shortly before Duck Soup premiered in November 1933, the city of Fredonia, New York, complained about the use of its name with a missive from the town mayor that read, "The name of Fredonia has been without blot since 1817. I feel it is my duty as mayor to question your intentions in using the name of our city in your picture." Groucho replied in writing, "Your Excellency: Our advice is that you change the name of your town. It is hurting our picture. Anyhow, what makes you think you're Mayor of Fredonia? Do you wear a black moustache, play a harp, speak with an Italian accent, or chase girls like Harpo? We are certain you do not. Therefore, we must be Mayor of Fredonia, not you. The old gray Mayor ain't what he used to be."

Another "state" objected to Duck Soup in a big way. Benito Mussolini, the fascist Italian dictator, took the film's parodic assault on war and dictatorships quite personally, so he banned the film in Italy completely. Naturally, the Marx Brothers were quite happy to hear that their film was being received so vociferously in fascist Europe. All their films were already banned in Germany, not because of their satirical jabs against fascism, but because the Marxes were Jewish.

Irving Thalberg, the production chief at MGM, felt that the Brothers' Paramount films were lackluster box office performers because their characters were mostly "unsympathetic." He felt that if the characters were motivated by helping the two romantic leads of the picture, then audiences would be more pleased overall. The failure of Duck Soup at the box office gave some credence to Thalberg's argument. Indeed, the Marxes' biggest moneymakers, A Night at the Opera (1935) and A Day at the Races (1937), were made under Thalberg's supervision and with the understanding that the boys were not to be uninhibited anarchists, but rather Cupid's helpers. On the other hand, Duck Soup features no sappy romantic interludes that you would want to fast forward through, something that mars the MGM pictures.

Duck Soup will probably leave you with one question: what's with that title? While their Paramount films all had enigmatic titles, such as Horse Feathers (1932), the Duck Soup title actually had an explanation behind it. Groucho explained: "Take two turkeys, one goose, four cabbages, but no duck, and mix them together. After one taste, you'll duck soup the rest of your life."
back to top
---
Duck Soup (1933)
Overall, Duck Soup received a critical drubbing upon its November 17, 1933 release, a reputation that has since turned 180 degrees in the opposite direction.

Motion Picture Herald took a chance when it praised Duck Soup, calling it "another truckload of hilarious nonsense from the irrepressible comedy four," while Variety noted that "practically everybody wants a laugh right now and Duck Soup should make practically everybody laugh."

Alas, the Variety critic's prediction did not prove true. The New York Times thought Duck Soup was "extremely noisy without being nearly as mirthful as their other films." Time said it was no different from their other films, while Nation informed the reader, "Pretty near everyone seems to have agreed that in Duck Soup the Four Marx Brothers are not quite so amusing." Nation elaborated by saying that Harpo comes off as "tiresome," Groucho is "badly provided for," and Chico and Zeppo have "less excuse than usual for their existence." Ouch. New Republic and New Statesman, intellectual publication that supposedly embraced the Marx Brothers' anarchic brand of comic mayhem, were painfully silent about Duck Soup.

Meanwhile, the Los Angeles Times declared "the same tricks can't be worked over and over again. The comedy quartet has a rather set routine." And as the New York Sun bluntly put it, the Marxes had taken "something of a nose dive" with Duck Soup.

As for the film's 180 degrees about-face, Duck Soup started to generate a cult following after college campuses, film festivals, and museums, such as the Museum of Modern Art, started to show it and other Marx Brothers in revival screenings. It is now considered to be the Marx Brothers' masterpiece.

British critic Patrick McCray has said that "as an absurdist essay on politics and warfare, Duck Soup can stand alongside (or even above) the works of Beckett and Ionesco."

Comedian and filmmaker Woody Allen, who owes more than his fair share of debt to the Marx Brothers, said at one time, "If you were asked to name the best comedies ever made, and you named The Gold Rush (1925) and The General (1927) and a half dozen others, Duck Soup is the only one that doesn't have a dull spot."

In 1990, Duck Soup got the last laugh on all of its dullard contemporary critics when it was placed on the revered list of preserved treasures from the National Registry of Historic Films.
back to top
---
Duck Soup (1933)
I will not stand for anything that's crooked or unfair
I'm strictly on the up and up
So everyone beware
If anyone's caught taking graft
And I don't get my share
We stand 'em up against the wall
And pop goes the weasel.
- Rufus T. Firefly

The fifth and final film in the Marx Brothers' five-picture contract with Paramount, Duck Soup (1933) is considered by many to be the Marx Brothers' singular achievement in film. On its release, however, the picture was a critical and commercial failure. The film is notable in that it contains no harp solo for Harpo, no piano solo for Chico and no romantic subplot for Zeppo. These familiar elements, while entertaining in the other films, often took away from the atmosphere of general anarchy, and it is their absence in Duck Soup that has helped make it the most critically praised of all the Marx Brothers' films. Nevertheless, the absence of such elements disappointed moviegoers. A theater owner in Pierre, South Dakota said that Duck Soup was an example of "how dumb smart people can be. Would any exhibitor have made a picture with the Marx Brothers in it and kept the harp and piano out?" This many years later, however, we can see the film as an example of how smart smart people can be.

The film was directed by Leo McCarey, the only top-notch comedy director to take control of the Marx Brothers. He first worked as an assistant for Tod Browning and then established himself as one of Hollywood's best comedy directors. McCarey was instrumental in bringing together Stan Laurel and Oliver Hardy and had recently directed Eddie Cantor in The Kid From Spain (1932). McCarey would go on to direct The Awful Truth (1937), Going My Way (1944) and An Affair to Remember (1957), a remake of McCarey's earlier film, Love Affair (1939). In addition to his classical directing style, McCarey also borrowed the film's title - Duck Soup - from an earlier Laurel and Hardy two-reeler he directed in 1927.

Duck Soup marked the return of Margaret Dumont as the eye in the Marx Brothers storm and it features the only musical number with all four brothers - "Freedonia's Going to War." Many of the film's gags and routines were recycled from Flywheel, Shyster & Flywheel, Groucho and Chico's radio show from 1932-1933, and some critics have found traces of old Laurel and Hardy routines, which McCarey, assumedly, brought along. One of the great gags in Duck Soup is also one of the most uncharacteristic, in that Groucho barely speaks. It is, of course, the famous mirror sequence, which Harpo reenacted with Lucille Ball on her TV show many years later.

The film's depiction of the absurdities of two-bit dictators was so insulting to Mussolini that he banned the film in Italy. American critics were also dissatisfied with the film, saying it was either "impossible to follow" (the New York Times) or that it provided no "social comment" (New York Herald-Tribune). In later years, though, the critics saw the film's anarchic strain, its satiric take on politics and war, and absurd, almost surreal ending as a scathing criticism of fascism and nationalism. One needs to be careful, though, in ascribing too much (or too little) to the film. As Arthur Sheekman, one of the screenwriters, said, "Comedy works best when you upset stuffy people or notions, but that doesn't mean that you start out with social criticism." Groucho's quip as Harpo is going off to battle: "While you're out there risking life and limb through shot and shell, we'll be in here thinking what a sucker you are," is best thought of as a criticism of politics and government in general and not as an attack on a specific ideology. As Groucho later said, "We were trying to be funny, but we didn't know we were satirizing the current condition. It came as a great surprise to us."

So why was Duck Soup such a flop with the public? According to Andrew Bergman, after a "year of Roosevelt's energy and activism, government, no matter what else it might be, was no absurdity. The New Deal would breed its own myths in film, but in 1934 it seems to have utterly cut the ground from under Groucho as prime minister." In The Comic Mind, film critic Gerald Mast writes that "The Marxes' Paramount writers and producer enjoyed destroying the very conventions of their craft and the aesthetics of their employers, creating films with deliberately irrelevant plot twists, incongruous sight gags, inconclusive conclusions, red herrings, faceless and forgettable supporting players." If Bergman is right, in 1934, people were still enamored with Roosevelt's "Happy Days are Here Again," and weren't in the mood to have all their conventions destroyed.

After Duck Soup, Zeppo retired from acting and became a Hollywood agent while the other brothers moved on to MGM. There, under the watchful eye of Irving Thalberg, the Marx Brothers went on to their biggest commercial successes, but they were achieved, in part, by reining the brothers in and giving them more likable personas. Ranked Number 5 on the American Film Institute's "List of the Funniest Films," Duck Soup is one of the greatest and most influential comedies ever made (to see its impact on Woody Allen, see Hannah and Her Sisters, 1986).

"I could dance with you till the cows come home. On second thought, I'd rather dance with the cows when you came home."

Producer: Herman J. Mankiewicz
Director: Leo McCarey
Screenplay: Bert Kalmar, Nat Perrin, Harry Ruby, Arthur Sheekman
Cinematography: Henry Sharp
Film Editing: LeRoy Stone
Original Music: Harry Ruby, Bert Kalmar
Cast: Groucho Marx (Rufus T. Firefly), Chico Marx (Chicolini), Harpo Marx (Pinky), Zeppo Marx (Bob Rolland), Raquel Torres (Vera Marcal), Margaret Dumont (Mrs. Teasdale), Louis Calhern (Trentino), Leonid Kinskey (Agitator), Edgar Kennedy (Street Vendor).
BW-69m. Closed Captioning.

by Mark Frankel
back to top
---