DVDs from TCM Shop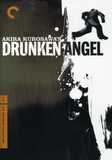 Drunken Angel An alcoholic doctor builds a... MORE&nbsp> $29.95 Regularly $39.95 Buy Now
Home Video Reviews
Now available from the folks at Criterion is Akira Kurosawa's 1948 film
The Drunken Angel
, making its Region 1 debut on DVD. In this absorbing film noir-influenced drama, Dr. Sanada (Takashi Shimura) is the titular hero, a boozy, beaten-down doctor tending to the sick and to the poor in a slum-ridden Tokyo neighborhood. In the first scene, a violent, tempestuous gangster named Matsunaga (Toshiro Mifune) bursts into Sanada's office, seeing help in tending to a bullet wound. Upon treating the gangster, Sanada discovers that the cocky Matsunaga is also suffering the late stages of advanced tuberculosis, a common malady in postwar Tokyo, but aggravated by a sump of filthy water and toxic garbage that stagnates in the middle of the bustling neighborhood. Sanada and Matsunaga's relationship is hostile at first. "I make it a policy to rip-off deadbeats," the doctor growls to Matsunaga. But the doctor also recognizes Matsunaga's need for human warmth and care, and the fact that his future is sadly all used up, much like Orson Welles' rotten Hank Quinlan in 1958's
Touch of Evil
. In the process of treating even a hated gangster, a character indicative of the moral decay of postwar Japan, Sanada recognizes his own humanity and his prevalent need to step away, if only for a little while, from his own alcoholic abyss.
The Drunken Angel
was not Akira Kurosawa's first film. It was his eighth. But it was the first film that is unmistakably an "Akira Kurosawa" picture. It bore the authorship of the Emperor only. His earlier pictures were met with censorious scrutiny from the Japanese government and American occupation forces, as well as critical changes from Toho Studios and unionist demands. "In (
Drunken Angel
) I finally found myself," he said. "It was my picture. I was doing it and no one else." According to Japanese film historian and cultural expert Donald Richie,
Drunken Angel
remains, for most Japanese, "Kurosawa's 'first picture' and its evocation of the early postwar years, both their misery and their freedom, has made it one of the director's most revived films."
Kurosawa and co-writer Keinosuke Uekusa built the story around a pre-existing film set built for Kajiro Yamamoto's
The New Age of Fools
(1947), a film that portrayed the squalor that Japan had fallen into after its humiliating defeat in World War II. Kurosawa said in his 1983 book
Something Like an Autobiography
, "(Toho) had built a huge open set of a shopping street with a black market for this film, and later they came to me asking if I couldn't use it to film something too. Yama-san's film had been about the black markets that sprang up everywhere like bamboo shoots after a rain in postwar Japan. Included in this phenomenon-and in his film-were the yakuza gangsters who put down roots in the black-market environment. I wanted to pursue these figures even more intensely than Yama-san had-I wanted to take a scalpel and dissect the yakuza." While Kurosawa wanted to severely criticize the gangster code, his co-writer Uekusa nursed a more sympathetic point of view towards the yakuza, mainly because he was meeting regularly with a real-life yakuza member, and was becoming rather fond of him. Kurosawa discussed this in his autobiography and admitted that he and his collaborator later "quarreled" over the clashing perspectives. "Perhaps he was simply overcome by his natural feeling of sympathy for the weak, the wounded, and those who live in the shadows of life. In any event, he began to object to my attitude of opposition to the yakuza system."
However, they were of one mind when it came to the other lead character, Dr. Sanada. At first, Sanada was an idealistic, inexperienced doctor, possibly fresh out of medical school. It was a character more similar to the intern doctor who studied under Toshiro Mifune's wiser physician in
Red Beard
(1965). But both writers recognized that this Sanada could not hold a candle to Matsunaga, even on the written page. The disparity would be even more pronounced once cameras started to roll on Mifune's performance as Matsunaga. To shore up the Sanada character, the screenwriters decided to base him on a real character they met when "script scouting." Kurosawa wrote, "In a slum in the port city of Yokohama we had come across an alcoholic doctor. This man fascinated us with his arrogant manner, and we took him with us to three or four bars and listened to his stories while we drank...Every so often he said something bitterly sarcastic about human nature that gleamed with aptness...There was a strange feeling of raw humanity." [It should also be noted that the wonderful Takashi Shimura based his performance as Sanada on Thomas Mitchell's drunken doctor in
Stagecoach
(1939), directed by John Ford, one of Kurosawa's major influences.] Although Kurosawa's original intent was to chastise the power of the yakuza,
Drunken Angel
became the story of the relationship and begrudging friendship between these two radically different characters, the doctor and the gangster, both suffering from a sickness in their souls and in their bodies.
Pre-production on
The Drunken Angel
began in November 1947, with a hastened shooting schedule begun later that month. Toho pressured Kurosawa to finish the film as soon as possible before the start of a threatened union strike. Kurosawa did indeed finish the film on time, despite the death of his father in February 1948 at the age off eighty-three. "I received a telegram that he was failing quickly," Kurosawa wrote," but I was so pressured to get the picture done for the fixed release date that I couldn't go to be at his side in Akita Prefecture."
Drunken Angel
was released in April 1948 to rave critical reviews. When an American release finally materialized in 1960,
Variety
wrote "
Drunken Angel
...is certainly one of the most effective and searching views of contemporary Japanese life to reach these shores...In technique and style,
Drunken Angel
would seem to owe a lot to some of the great neo-realist films which came out of postwar Italy. The sharp eye of the camera delights in catching the details of squalor, of oppressive heat and creeping disease, but the details are carefully selected and integrated to contribute to the single overall theme, which is one of human nobility in a chaotic, amoral world." Donald Richie also took note of the shared neo-realist aesthetic. He wrote, "Japanese critics have agreed that (
Drunken Angel
) is to Japanese cinema as
Paisan
(1946) or
Bicycle Thieves
(1948) is to Italian, that it perfectly epitomizes a period, its hopes, its fears; that it marks the major 'breakthrough' of a major directorial talent who has finally 'realized' himself." But Kurosawa was reluctant to say that the neo-realist influence alone brought out his art. He said he experienced "no major change" since before making
Drunken Angel
, neo-realist or otherwise. "The only difference is that in earlier films I was never allowed to express myself properly."
Drunken Angel
was not just the Emperor's first film in which he had true authorial control. It was also the first time in which he worked with the great Toshiro Mifune. Kurosawa would direct Mifune in a staggering total of 16 films, which included some of the greatest motion pictures ever made, including
Rashomon
(1950) and
Seven Samurai
(1954). (In comparison, John Wayne starred in only 14 films for John Ford, not including un-credited parts.) Kurosawa first met Mifune at Toho studios when Mifune was there for an open audition that Toho was conducting to recruit new contract actors. Kurosawa was too busy to watch the auditions, but actress Hideko Takamine insisted "There's one who's really fantastic. But he's something of a roughneck...won't you come have a look?" Kurosawa did and as he wrote in his autobiography, "I opened the door (to where the auditions were held) and stopped dead in amazement...a young man was reeling around the room in a violent frenzy. It was as frightening as watching a wounded or trapped savage beast trying to break loose. I stood transfixed." If it were not for Kurosawa's championing of this young actor who used a radical, almost offensive, primal acting style, Toshiro Mifune would not have made Toho's cut. But he did and was soon bringing this animal magnetism to two Toho films,
To the End of the Silver Mountains
(1947) and
The New Age of Fools
. Kurosawa wrote, "I became deeply fascinated by the acting abilities Mifune showed in these two films and decided I wanted him to play the lead in
Drunken Angel
. I realize that many people think I discovered Mifune and taught him how to act. That is not the case...All I did was...take Mifune's acting talent, and show it off to its fullest in
Drunken Angel
." Mifune's performance is stylish and suave when he's playing the yakuza gangster in full control, furious when overcome with his own physical weaknesses, and tragically afraid when confronted with his own mortality and the truth of how little his life has added up to. It was a performance that took Japanese audiences completely off-guard. This ferociousness was not something Japanese audiences were used to seeing. The animal magnetism Mifune displayed, and the reaction to it, is similar to how American audiences responded to Marlon Brando in
A Streetcar Named Desire
, released in 1951.
Criterion's supplementary material for
The Drunken Angel
is drunk with riches. There is a segment of the documentary
It is Wonderful to Create
that deals with the production of
Drunken Angel
. (Most of Criterion's editions of Kurosawa film include the respective chapter from this same documentary.) Also included is a fine featurette that discusses Kurosawa and Toho's troubles conforming to the strictures of censorship, as set forth by the Japanese government and the American Occupation.
Drunken Angel
was not adversely affected by censorship, but it was something to work with and around nonetheless. Most useful and illuminating though is Donald Richie's commentary over the film. Not only is Richie the foremost authority on Japanese film and culture, but also he was actually on the set during the making of
Drunken Angel
and knew Kurosawa for many years. It is Richie's invaluable insights into a most mysterious culture (at least for Western audiences) and his personal experiences with Kurosawa that makes listening to his commentary a must.
For more information about
The Drunken Angel
, visit
The Criterion Collection
. To order
The Drunken Angel
, go to
TCM Shopping
.
by Scott McGee