DVDs from TCM Shop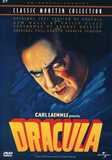 Dracula The legendary bloodsucker... MORE&nbsp> $10.47 Regularly $14.98 Buy Now blu-ray
USER REVIEWS
See Detailed Ratings
Acting of Lead Performers

Acting of Supporting Cast

Director

Music Score

Title Sequence

Screenplay

Cinematography

Historical Importance

Would You Recommend?

0 Member Ratings
Rate the acting of the Lead Performers

Rate the acting of the Supporting Cast

Rate the Director

Rating of the Music Score

Rating of the Title Sequence

Screenplay

Creatively uses the camera to tell the story

Importance in Cinema history

Would you recommend for fans of this genre
Submit Ratings
Cancel
Write a Review
Read Reviews
NO REVIEWS AVAILABLE
The title has not been reviewed. Be the first to write a review by clicking here to start.
The Great Dwight Frye

If he'd only been given studio support and appreciation he deserved,Mr Frye would not have taken a job at a defense plant,and probably would've had a richer,longer life!He was set to be a major part of WILSON,but died before beginning his role.My sincere regrets to his family.Read his bio LAST LAUGH,he really was underrated as an actor,playing maniacs,but that's called acting,too.He did what was required,and did it well,and he deserves to stand tall alongside the other cedited stars,Lugosi,Manners,Van Sloan.

DRACULA REVIEW

A CLASSIC LUGOSI IS GREAT AS THE COUNT

BELA!

For me Bela is Dracula.

the very definition of a classic

What a perfect dark horror film from the Golden Age of Hollywood. Bela Lugosi is outstanding. The lighting, the melodrama, the creepy set, the actors--all of it works to create one of Hollywood's most imaginative scary tales. It's a perfect movie for a dark night or a rainy afternoon.

Dracula 1931

Dracula 1931 is my #2 horror movie on my list. Frankenstein is my number #1. This movie is great, you have to have this in your collecting of horror movies.

I Don't Drink...Wine...

Slow but it's a classic. Try Hammer Films' version, in the 60's, much juicier.

Dracula

There are only a couple of films about vampires I can think of that compare or come close to Dracula 1931. Salems Lots, all to brief vampire scenes, still a great film that should be restored. Lon Chaney Seniors, London After Midnight. Chaney was supposed to do Dracula, but died of throat cancer. The Hammer films put a whole new twist on Draculas character, a nasty s.o.b. with no redeeming qualities, pure evil. And my New all time favorite, Shadow Of A Vampire. this one takes us right back to the roots, of what a Vampire is all about. Willam Defoe s make up is right up there with Boris karloffs/Jack Pierce masterpiece Frankenstein.

TOD BROWNING'S DRACULA

Indiana Jones is cinema's beloved archaeologist who put life at risk to rescue artifacts. Facing skeptics, naysayers, and heavy opposition, Dr. Jones searched through historical archives and parts unknown in an attempt to set the historical record straight while unknowingly, or unwilling to admit in Raiders of the Lost Ark (1981), searching for the truth. As Dr. Jones is to cinema storytelling, Gary Rhodes is to cinema history; a badly needed cinema archaeologist. Refusing to simply repeat often heard stories about the much maligned film, Dracula (1931), and it's director, Tod Browning, Dr. Rhodes goes on his own journey which takes him to archives and parts unknown to often ignored sources by historical revisionists in search of historical facts in an attempt to set the historical record straight. In his quest for truth, Dr. Rhodes manages to rediscover information previously lost to history as well as information which has been languishing in vaults. As he allows the historical record to point him in the right direction, he makes new discoveries which will reshape how honest, ethical film historians and fans look at Tod Browning's Dracula. Yet at the same time, Dr. Rhodes makes it clear that historians and fans are still entitled to their opinion about the film and director.Issues addressed in the book include Tod Browning. Was he an absent, incompetent director that Universal chanced with such a production? Or was he active and calculating? What does the historical record tell us? Dr. Rhodes offers answers including that curious piece of cardboard on the lampshade.What about casting? Was the studio saddled with Bela Lugosi due to Lon Chaney's death? What about the originally intended casting of other principles? How about script development and alternate versions of the film itself? This book offers new and insightful details which help frame the narrative of that time. TOD BROWNING'S DRACULA is available through Amazon and Tomahawk Press.

dracula

buena actuacion de maid y fried.

Top 10 horror movies of all time

This movie gets the number 2 slot for my top 10 horror movies of all time. It is only beaten out by 1953's War of the Worlds. Bela Lugosi is and always will be the Prince of Darkness, the ultimate vampire. If you are putting together a " Creature Features " list of scary movies then you must include Bela Lugosi as Dracula.The man was so at home with himself and his portrayal of Dracula he even portrayed Dracula in a parody in later years that starred Bud Abbot and Lou Costello.

Lugosi's Dracula is the best!

Dracula starring Bela Lugosi shows Bela was the best Dracula ever on screen. I know the movie is slow for our fast paced culture but that is good for life doesn't always happen fast! Lugosi with his Hungarian accent creates Dracula anew compared to Stoker's Dracula! As Boris Karloff made the monster anew in Frankenstein,different than Shelley's creature. In my opinion Universal's Lugosi Dracula is the best ever as it gives the impression of a cursed man who has lived through centuries and despite his grotesque need for Human blood partially laments his condition. Why Universal didn't use Lugosi as Dracula more is a filmatic mystery to a degree even today!?! Of course in our impatient culture Christopher Lee's Dracula may be preferred or Francis Copulla's as these Dracula's are more sensual and violent. I prefer Lugosi along with John Carradine although not as good as Lugosi.Lugosi and Carradine are more ghostly as is Francis Ledereer in "The Return of Dracula". They also have more classthan the later interpretations. This film is a spooky one,good especially for Fall and while your at it watch Lugosi in "The Return of the Vampire",Mark of the Vampire" and Abbot and Costello meet Frankenstein.-Sincerely,Ed Lutheran

One Of My Favorite Films

1931's Dracula Is One Of My Favorite Films, I Like It Because It Came Out The Same Year As Another One Of My Favorite Films Frankenstein With Boris Karloff Which Was 1931.

The Original Dracula !

I love all classic HORROR movies of the 30s and 40s they are the BEST !!! Bela lugosi is magnificant as Count Dracula from 1932. Very creepy for back then and still today Lugosi's eerie menacing appearence with those hypnotic eyes will send CHILLS down peoples spines even today ! Look forget "twighlit" this is THE REAL KING OF VAMPIRES and this is how vampires are suppose to be !

Dracula

A good interpretation of the stage play that was adapted by Bram Stoker's novel. Lugosi gives life to the title character who does more with a eerie stare than with his body. The story is weak & the climax isn't as terrifying as it should be. Lugosi's performance & the sets are creepy enough to have you view this again, even if the story falters. I give it a 3/5.

great stuff

Bela is so creepy in this film... classic.

Bela Lugosi IS Count Dracula

If you are a fan of horror films you have to view Universal's 1931 'Dracula' at least once; you may not return to it, but you certainly won't forget Bela Lugosi's performance. I've heard some people argue his performance is over rated; I disagree completely as his interpretation is the standard by which all Count Dracula's are gauged. When you take into consideration there is no blood, no fangs and very little action it makes me appreciate the creepiness of this movie more and more with each passing year. Filmed in 1930 and released on Valentine's Day 1931, the absence of a music sound track only adds to the nightmare aspect of this spooky film. Although James Whales' 'Frankenstein', which was released later the same year, is leaps and bounds a more enjoyable movie I keep returning to 'Dracula'; I must have watched this movie 30 times and I never grow tired of it...and the Lugosi is the reason! Do yourself a favor and screen this classic Universal fllm.

Classic horror movie

My all time favorite classic horror movie. Tod browning chose the perfect actor, Bela Lugosi to play the famous count Dracula. No body does it better than Lugosi. Bela, has the look & the voice. Love everything about this movie. TCM should air Dracula, every Halloween.

Great stuff

(crazy) carl allen

5/29/10

this movie put bela lugosi on the map in my opinion

Still scary!

I just watched this at 2:00 a.m. this morning and really enjoyed it. Of course, I have seen it many times before but it still fascinates me. This is film noir in the horror genre. Bela Lugosi is the only Count Dracula that matters. It did seem almost like a stage play and I had never realized there was hardly any background music until I read the other reviews. It didn't hurt the movie at all.

Good stuff!

This is the best Dracula, in my opinion. It's also the first supernatural-horror sound picture. Camera-man Karl Fruend uses some very innovative shot and camera movement as well! The first half is really creepy and well done, but the second half, I feel, drags a bit. Also, there is a relative lack of music, which in this case, I feel actually helps, because without the music, you pay attention to every little sound in the talking-free scenes, which makes it more otherworldly! All in all, it's a great classic of Universal horror, and one of the best, and most important horror pictures of all time! Also, enjoy the great performances by Bela Lugosi(in his signature role), Dwight Fry(in his signature role), and Edward Van Sloan(in what could arguably be his signature role)!

Flawed yet still Classic

Even though this movie has it's flaws I can't help but be amazed by it's rewatch-ability

An Epic

For the first sound horror picture it was damm good movie. This is a scary and great movie for halloween

the look

there is one scene when renfield is dining at dracula's table when the lights are on bela's eyes and he's smiling at renfield, his prey--he looks like the devil himself!! that one look is enough to give one nightmares forever!! i get gooseflesh just thinking about it. watch for it-a great scene in a movie that is largely pedestrian, stagey,and that misses wonderful opportunities!!

A triumph for Lugosi, Chandler, Frye and Van Sloan

John Howard Reid

11/23/06

At times, this version of Dracula seems very much like a filmed stage play. An engrossing play, but a work of theatre nonetheless. Other than skillful glass work enhancing some sets, there are no special photographic effects to speak of. The bat does not turn into Dracula before our eyes. Instead the inanimate creature dangles around very obviously on wires. Worse, the dialogueespecially in the less capable mouths of Manners and Bunstontends to be stiff and stilted. Other critics have rightly objected to the considerable alterations made to Stoker's novel. Only the principal characters and the basic outline of the plot itself (plus of course all the legendary vampire lore) have been retained. However, production values are otherwise first-class and the movie actually looks much younger than its age. Browning's direction has tremendous drive and force, thanks in part to the powerful performances delivered by Lugosi, Chandler, Van Sloan, Frye and Dade; and thanks also to Freund's frighteningly atmospheric photography and Hall's superlatively moody, gothic sets. Astute film editing helps increase an already sharp pace, and it's a tribute to Browning's concentrated direction (and some forceful sound effects) that the absence of background music is not particularly noticed.

An obvious "Must"

More serious, moodier, better than your remember. Quietly and atmospherically set the standard for all horror films to follow.

I bid you welcome!

This is a true classic movie. Bela Lugosi is the Greatest Vampire of all time. I have seen this movie perhaps 10 times in the last 5 years. I always watch it around Halloween, to celebrate the changes in the season.I have the original version and the newer version with the Philip Glass Score. With or without the music it is a chilling tale. This movie gives you the feeling of being swept away to another time and place. Todd Browning certainly did justice to Bram Stokers' work.
*We protect your personal infortmation and will not provide it to anyone without your consent. For a complete explanation, please refer to TCM's Privacy Policy. By submitting your contribution, you agree to TCM's Terms of Use.