DVDs from TCM Shop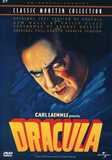 Dracula The legendary bloodsucker... MORE&nbsp> $10.47 Regularly $14.98 Buy Now blu-ray
NOTES
Bela Lugosi created the role of Dracula onstage in the October 5, 1927 American premiere of Hamilton Deane's adaptation of Bram Stoker's novel. Lon Chaney was originally cast for the title role in this film, but died in 1930 before production began. According to modern sources, Conrad Veidt, William Courtenay, Paul Muni, Ian Keith and John Carradine were also considered for the role of Dracula. Film Daily news items note that Lew Ayres was originally cast in the film, but was taken out to appear in another Universal feature, and was to be replaced by Robert Ames. Ames was later replaced by David Manners. A studio shooting schedule indicates the picture was completed for a total cost of $341,191.20, which was under the original estimate of $355,050.
Universal simultaneously produced a Spanish-language version, Drcula, which was directed by George Melford and starred Carlos Villaras and Lupita Tovar. Some sources erroneously credit Karl Freund, who photographed the English-language version, with shooting the Spanish version also. A Motion Picture Herald review notes that when first released, the English-language version included an afterword performed by Edward Van Sloan, in which he warned audiences that vampires do indeed exist. According to modern sources, this ending was deleted in 1936, at the same time that the soundtrack was cut in the scenes in which Renfield and Dracula are killed.
Modern sources add the following information about the production: Universal bought the rights to the play and novel for $40,000, from which Frederick Stephani wrote a treatment. Louis Stevens, Louis Bromfield and Dudley Murphy were also contributing writers to early scripts. Herman Rosse and John Hoffman contributed artwork for the sets. The opening scene of the horse-drawn carriage was photographed by Frank Booth, and other scenes were filmed at Vasquez Rocks, Chatsworth, CA. Other modern crew credits for Dracula include Scen supv, Charles A. Logue; Mus cond, Heinz Roemheld; Set Decoration, R. A. Gausman; Costumes, Ed Ware and Vera West; Casting, Phil M. Friedman; Research, Nan Grant; Art titles, Max Cohen. Modern source cast includes Michael Visaroff (Innkeeper); Daisy Belmore (English passenger); Nicholas Bela (Transylvanian passenger); Carla Laemmle (Girl); and Donald Murphy (Passenger).
Many films have been based on the Dracula legend. A partial listing includes the following: The 1921 German production Nosferatu-Eine Symphonie des Grauens, which was unofficially based on Bram Stoker's novel, directed by Friedrich Wilhelm Murnau and starring Max Schreck; the 1932 German-French film Vampyr, directed by Carl Theodor Dreyer and starring Julian West and Henriette Grard; the 1956 Italian film I Vampiri, directed by Riccardo Freda and starring Gianna Maria Canale and Antoine Balptr; the 1958 British film Dracula, directed by Terence Fisher and starring Peter Cushing and Christopher Lee; the 1973 British television production of Dracula, directed by Dan Curtis and starring Jack Palance; the 1979 American Dracula, directed by John Badham and starring Frank Langella, Laurence Olivier, Donald Pleasance and Kate Nelligan; the 1979 German film Nosferatu: Phantom der Nacht, directed by Werner Herzog and starring Klaus Kinski and Isabelle Adjani; and the 2004 Universal production Van Helsing, directed by Stephen Sommers and starring Hugh Jackman and Richard Roxburgh.