DVDs from TCM Shop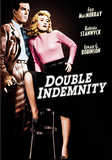 Double Indemnity An insurance salesman gets... MORE&nbsp> $11.21 Regularly $14.98 Buy Now blu-ray
Trivia
Director Billy Wilder originally filmed an ending where Keyes watches Walter Neff go to the gas chamber.
The character Walter Neff was originally named Walter Ness, but director/writer Billy Wilder found out that there was a man living in Beverly Hills named Walter Ness who was actually an insurance salesman. To avoid being sued for defamation of character, they changed the name.
The scene where Neff and Dietrichson can't get their car started after the murder was added by Wilder after his car wouldn't start at the end of a shooting day.
'Powell, Dick' wanted the role of Walter Neff, but he was under contract to another studio and they wouldn't allow it. He was enraged and tore up his contract. The role went to Fred McMurray.
In the scene where Phyllis is listening at Neffs's door as he talks with Keyes: As Keyes exits into the hallway and Phyllis hides behind the door, the door opens into the hallway which isn't allowed by building codes even back then, but it does give Phyllis something to hide behind and increases the tension.
Contributions
Holz (2009-02-18)

Source: not available

The story was based on a 1927 crime perpetrated by a married Queens woman and her lover. Ruth (Brown) Snyder persuaded her boyfriend, Judd Gray, to kill her husband Albert after having her spouse take out a big insurance policy—with a double-indemnity clause. The murderers were quickly identified and arrested.

Holz (2009-08-04)

Source: not available

"Double Indemnity" refers to a clause in certain life insurance policies where the insuring company agrees to pay twice the standard amount in cases of accidental death.