DVDs from TCM Shop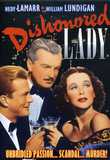 Dishonored Lady Madeleine Damien is the... MORE&nbsp> $6.95 Regularly $6.98 Buy Now
NOTES
DVDs from TCM Shop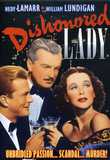 Dishonored Lady Madeleine Damien is the... MORE&nbsp> $6.95
Regularly $6.98 buy now
Edward Sheldon and Margaret Ayer Barnes's play was inspired by an actual 1857 murder case involving a twenty-one-year-old Glasgow woman named Madeleine Smith, who was accused of poisoning her lover, Pierre Emile L'Angelier, and was acquitted. The 1932 M-G-M film Letty Lynton was originally planned as an adaptation of the Sheldon-Barnes play, but because of complications with the Hays Office, the acknowleged source of the film was Marie Belloc Lowndes's 1931 novel Letty Lynton, which was also inspired by the Smith trial. Hunt Stromberg also produced the 1932 film. (For more information, see entry for Letty Lynton in AFI Catalog of Feature Films, 1931-40; F3.2472.) Also based on the Smith trial was the 1949 British film Madeleine, directed by David Lean and starring Ann Todd and Leslie Banks.
Plans for an independent production of Dishonored Lady were first announced in mid-1942. According to an early July 1942 news item in Hollywood Reporter, Greta Garbo and Bette Davis both expressed interest in playing the lead. Hunt Stromberg announced in March 1944 that production on the picture would begin in mid-May 1944. At that time, Andre De Toth was set to direct and was reportedly working on a draft of the screenplay. Pedro Armendriz and Betty Caldwell were announced as cast members in July 1944, but did not appear in the completed film. A March 14, 1944 Hollywood Reporter news item reported that Hedy Lamarr had purchased a story by Paul Schiller titled "Madeleine." It is not known if any part of Schiller's story was used in Dishonored Lady.
Although Stromberg intended to start the picture no later than January 1945, problems with the Hays Office delayed production until May 1946. According to a memo from PCA director Joseph I. Breen to Stromberg, as found in the MPAA/PCA Collection at the AMPAS Library, screenwriter Ben Hecht submitted an early draft of the script that the Hays Office found unacceptable because it was "a critical discussion of a nymphomaniac." According to a July 28, 1944 memo from Breen to Stromberg, the protagonist in the original script to Dishonored Lady was, in Breen's words, "a girl of gross, loose sexual conduct," who had love affairs in New York, as well as in Mexico City, with a dancer, and later fell in love with a soldier. The story was altered to answer Breen's request that some voice in the story condemn the protagonist's immoral life. In early June 1945, Stromberg submitted to Breen a revised treatment that removed the act of premeditated murder and made Madeleine not triumphant at the end of the film. As the treatment reads: "Madeleine" breaks off her relationship with "Moreno" [the Mexican dancer, who was droppped from the script and evolved into the character of "Courtland"], but he overpowers her, and there is a night of sordid passion between them. She later wakes up degraded, and after Courtland belittles her love for David, she shoots him-or thinks she does-and goes home in a daze. She later confesses all to the judge with no regard for self-preservation, but her father investigates and finds her innocent. She plans to marry David, "but when the moment comes for her to abide by this resolve, she cannot go through with it."
The Hays Office responded to the new treatment by insisting that two affairs-one in Mexico and one in New York-might be "overloading" the picture, and also objected to the "night of sordid passion." A memo dated April 25, 1946 from Breen to Hunt stated that, despite revisions, the script was unacceptable because of its gratuitous sex and its references to Madeleine's unsavory family secrets. In the released version of the story, references to Madeleine's parents were omitted completely. The character of Moreno and the affair in Mexico City were completely excised, and the "night of sordid passion" was not shown. All suggestions that Madeleine was a murderer, or had even contemplated murder, were also removed from the film. In a final studio synopsis in the Code file, Madeleine goes away on a trip hoping the time will come when David and she can be together; the reunion at the film's closing was added later. According to Screen Achievements Bulletin, Hecht waived all credits.