DVDs from TCM Shop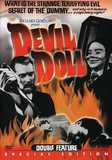 Devil Doll Vorelli is a ventriloquist... MORE&nbsp> $7.95 Regularly $9.99 Buy Now
Home Video Reviews
Forget about Chuckie. Hugo is the original
Devil Doll
(1963). Not to be confused with Tod Browning's 1936 fantasy thriller,
The Devil Doll
, starring Lionel Barrymore as a revenge-crazed scientist who uses doll-sized humans as assassins, this creepy little British thriller is the missing link between the nightmare ventriloquist segment of
Dead of Night
(1945) and the diminutive, homicidal star of
Child's Play
(1988).
Produced and directed by Lindsay Shonteff,
Devil Doll
is now available in a special edition DVD from Image Entertainment and, if ventriloquist dummies give you the creeps, you ain't seen nothing yet! Hugo is one ugly hunk of carved wood with bad hair, big thick lips and swollen cheeks. His master is the Great Vorelli (Bryant Haliday) and every night after their stage performance Hugo is locked up in a steel cage. Why? Because he's alive and capable of the most terrible things....Well, wouldn't you be if you found yourself trapped inside a ventriloquist's dummy? The great thing about
Devil Doll
is that it's not just about a possessed stage prop. Instead, it veers off on some strange tangents involving soul transference, hypnotism and black magic while tantalizing us with some pretty tawdry burlesque acts. And even though the possessed doll theme would later be exploited for black humor in the Chuckie series, here it's much more disturbing, thanks to the noir-like visual treatment of the story and an ingenious screenplay by George Barclay and Lance Z. Hargreaves (based on the original story by Frederick E. Smith).
The special edition DVD of
Devil Doll
is a real find for fans of this fairly rare cult chiller and contains two new digitally remastered versions of the film - the original U.K. release and the "hot" continental version. If you've only seen the U.K. version before, you'll get a kick out of the continental release which has several jarring and rather hilarious scenes of female nudity inserted at strategic points in the narrative such as a striptease number which follows the Great Vorelli's act on stage or the scene where Hugo creepy-crawls the blonde stage assistant, sleeping topless in her bed. Just as much fun are the wonderful feature-length commentaries provided by the executive producer of
Devil Doll
, Richard Gordon, and film historian Tom Weaver, both of whom share some incredibly bizarre anecdotes and trivia about the film's production.
Other DVD extras on this special edition of
Devil Doll
include the original U.S. theatrical trailer, poster and promotional artwork, a gallery of publicity and production photos, and an illustrated booklet with liner notes by Tom Weaver featuring his interview with Frederick E. Smith, the author of the original story. Smith is probably best known for his novels, two of which were adapted for the screen -
633 Squadron
(1964) and
Waterloo
(1970) - but the author's personal favorite is
The Tormented
(1973) which has yet to be made into a movie. In the liner notes, Smith recalls, "The idea for "The Devil Doll" grew from my seeing a ventriloquist on the stage in my home town Hull in Yorkshire, England, when I was a child. Perhaps it was also influenced by the two years I spent in India during World War II when, in unusual circumstances, I met an Indian Yogi who took me under his wing and helped to cure me of a serious illness I had contracted out there.....Oddly enough, he did talk about soul transference although, being a very young man in those days, I did not take too much notice of this aspect of his conversation at that time. I feel almost certain those were the influences that later led me to write "The Devil Doll."
For more information about
Devil Doll
, visit
Image Entertainment
. To purchase a copy of
Devil Doll
, visit
TCM Shopping
.
by Jeff Stafford