DVDs from TCM Shop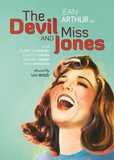 The Devil and Miss Jones A department store owner goes... MORE&nbsp> $14.45 Regularly $24.95 Buy Now blu-ray
USER REVIEWS
See Detailed Ratings
Acting of Lead Performers

Acting of Supporting Cast

Director

Music Score

Title Sequence

Screenplay

Cinematography

Historical Importance

Would You Recommend?

0 Member Ratings
Rate the acting of the Lead Performers

Rate the acting of the Supporting Cast

Rate the Director

Rating of the Music Score

Rating of the Title Sequence

Screenplay

Creatively uses the camera to tell the story

Importance in Cinema history

Would you recommend for fans of this genre
Submit Ratings
Cancel
Write a Review
Read Reviews
NO REVIEWS AVAILABLE
The title has not been reviewed. Be the first to write a review by clicking here to start.
Wonderful movie!

I, too, recently purchased the DVD of this great film. It's easily one of my family's top ten favorite classic movies--maybe even top three! A must-see comedy gem--don't miss it! :)

Fantastic!

I came back to this page to check on one of the actors and I'm so glad I did! Thank you SO MUCH, Scooter, for announcing that this movie is now available to buy! I picked up the DVD, watched it, and absolutely LOVED it. It looks better than it's ever looked on TCM! Thank you, Olive Films, for the restoration and release of this wonderful RKO film--it is already a much-cherished addition to by home library. To everybody who loves this film or has always wanted to see it, go out and buy a copy now! You'll never regret it! :)

YAYYYYY!!!!!

Thanks for the head's up, Scooter!! After chancing to see your comment, I immediately went out and purchased this movie on DVD! Just watched it today and it looks better than I've ever seen it!!! I recommend that every classic film fan buy this movie while it's available! It's wonderful!!!! :)

Awesome movie

I've seen this movie only once, but I search for it everywhere. Any social or political overtones are completely overshadowed by the "feel good" mood of the movie. The casting was superb! I don't believe this movie could ever be remade with today's actors. Please release it as a DVD!

Finally available on Blu-ray!

Finally, this gem of a film is available in a good print on Blu-ray from Olive Films. Don't hesitate to snatch it up. It's an essential movie for any serious film library. Jean Arthur is her sparkling self, and Charles Coburn is very funny as the owner who goes undercover.

THE BEST!!!

Please, please, please someone remaster this movie and put it out on DVD a.s.a.p! It's a crime not to! This is an incredible piece of filmmaking and flawless acting and it is just as funny and timely today as it was then ... maybe more so! I would buy this on DVD in a heartbeat!!! JUST DO IT!!! :)

Love this Film!

I saw this picture for the first time on late night television over thirty years ago. I absolutely fell in love with it! It is so funny, warm and touching; it is completely enchanting. The fact that this wonderful gem gets so little attention has begun to make me a little paranoid; is it being "black-balled" because of its light socialist theme? With so many lesser films getting so much acclaim why is this one so little known?It aired recently on TCM and I was horrified how badly it has deteriorated since I saw it last. I hope it is just an inferior copy that TCM aired and not all that is left of it. When I saw it thirty years ago it was in excellent condition. The quality was so poor that the actors looked like ghosts. I deeply hope that this treasure of a film will be lovingly restored and preserved; its destruction would be a loss to history, to art and to humanity.Please, please, please make this film available for purchase!

The Devil and Miss Jones

This is my all time favorite movie!!!! I've been waiting a long time for this to be released on DVD and I'm hoping it happens before I'm dead. I love movies but the black and whites have my heart, I rarely stray away from TCM and buy the movies I want so please somebody out there pay attention to your customers and put this movie on a small piece of plastic so I can rest in peace!!

The Devil and Miss Jones Starring Jean Arther

Please Show more on TCMWonderful movie.

An awesome comedy and timely too!

This movie is laugh out loud hilarious and it is shocking that it is NOT available for purchase. This is Jean Arthurs best comedy hands down. TCM - help get this movie to production NOW!!!!

One of Arthur's Best

Lawrence Jagdfeld

10/26/11

I am fortunate to have this movie on video tape, but I would snap it up in a minute if it were offered on DVD. I revisit it frequently as I believe it is one of Miss Arthur's best comedies. I also love the roles played by Charles Coburn and Spring Byington. Given the times and the recent protests by the 99% (Occupy Wall Street), the theme of this movie is particularly appropriate as the common working man struggles with management. While Jean Arthur's movies are all favorites of mine, this is the one that I go back to most often.

One of the best films ever!

Arthur, Cummings, Coburn, Byington, and Gwenn are all brilliant in this charming and delightful film that will have you cheering at the end. So well-written and so well-acted, this hear-twarming and hilarious movie is an endearing and enduring classic.

Excelente

Um dos melhores filmes de Robert Cummings e Jean Arthur. O filme um dos melhores filmes que mistura comdia , drama e romance. Um filme muito precioso e clssico dos anos 40 dirigido por Sam Wood. Com toda certeza este filme deve estar em DVD e fiquei chocada por ainda no fazer parte do acervo de filmes do TCM. Isto faz com o telespectador perca o direito de ver o filme que um dos melhores.

Should Be on DVD

Why isn't this film on DVD? It is so relevant to today's corporate interests. I hope there are no legal difficulties/patent rights to keep this film from being released on home video. Please let's try to get this one on DVD; it certainly deserves to be. The script is terrific and the actors are so great!!!

Funny

This reminds me of the new television series, Undercover Boss.

Vote for this to be released on DVD!

One of the finest and cleverest comedies ever made!

the devil and miss jones

even though this film was released in 1941 it still holds great relevance in todays corporate world. I think this should be mandatory for every CEO who sits in their golden towers not realizing there is a human cost to corporate profits. humanity should be first , profits second.

The Devil and Miss Jones

I loved the portion I was able to see of this film. It is filled with talented actors. Unfortunately, there was a storm the night this film was shown, and my satellite reception went kaput! I would love to order the home video when it becomes available. Barbara

The Devil and Miss Jones

I typically don't like Black & White movies, but the movie trailer piqued my interest, so I thought I'd give it a try.This was a very cute movie, full of endearing moments. So if you're tired of the usual sex & violence that seem to be in most movies today...and want to be entertained with a light hearted, whimsical funny movie, you'll want to watch this. In fact, I laughed out loud a couple of times.

The Devil and Miss Jones

This movie first introduced me to the wonderous acting talents of Jean Arthur and Charles Coburn. I became a die-hard fan and have watched every movie of hers shown on TCM since. This movie is truly a TCM classic and it is a travesty that it has not been allowed to be put on dvd home video. I don't know what the criteria or process is, but hopefully these reviews are read by TCM brass and sympathize with the plight of avid movie fans in this situation of being denied access to these classics at our discretion. This movie brought tears to my eyes with laughter and if it created a laugh line, it was well worth it in this era of Botox. This movie ranks top rating in my book and TCM rules as a master within the realm of excellence in films.

The Devil and Miss Jones

Absolutely adorable and hilarious!

The Devil and Miss Jones

The cast selected for The Devil and Miss Jones is wonderful! They play so well together it's a joy to watch. This movie is a wonderful gift for someone who loves to laugh and become involved with a very entertaining plot line.

The Devil and Miss Jones

I love this movie! Why is it not available on DVD? Please show it again TCM!!!!!!

Another wonderful Jean Arthur movie!

This is a very funny and charming movie with an all-star cast. I can't believe it is not available on DVD yet! I love Charles Coburn and he is just wonderful in this movie. Don't miss this!

The Devil and Miss Jones

I just loved this movie. I discovered Charles Coburn for this first time, yesterday. He is wonderful in this movie. I would so much love to have this movie DVD. It is very well done and very sweet.

A Wonderful Movie!

This movie is wonderful! I can't believe that it's not available on DVD. I especially loved the scene on the beach at Coney Island. Was it ever really that crowded there? Charles Coburn and Jean Arthur are great comedic actors.

Another Treasure Found

Woderfully delightful. Thank You TCM for bringing us such treasures over and over again. Can't wait to see it again.

Don't miss it!

Jean Arthur and Charles Coburn at their best. One of the finest comedies ever! If only they made films today like this--with substantive plot, characterization, poignancy and humor. Exceptional film needs to be made available on DVD.

CANNOT BELIEVE IT

I was born in the year of 1941 & that I cannot believe that 68 years has gone by & that a movie great such as this comedy classic with such splendard stars,Has yet to be releaced in either VHS or the newer modern DVD version. Please help to get this movie done in DVD now.

A Welcome Suprise

I really enjoyed this movie. Jean Arthur and Charles Coburn were wonderful together. I watched "Summer Under the Stars" and saw some great films. However, this film was a pleasent suprise.I can't wait until this film is available on DVD. I laughed the whole time. Thank you TCM for such a wonderful time.

Clever opening credits

Right from the start I was laughing with the funny interaction of the side by side images of the Charles Coburn and Jeann Arthur. All of the actors are great, but I especially enjoyed Charles Coburn's performance, what a great sense of comic timing he has! I love his facial expressions as he is forced to listen to Jean Arthur describe him as practically penniless and homeless--priceless!!

Excellent Depression comedy

For anyone who thinks capitalism needs to be unfettered, watch this and see that the issues of the 1930s still resonate today. Spring Byington underplays to perfection, and all the leads display a deadpan realism that's very funny. It's a shame Cummings' later work squandered the freshness and vitality he shows here; but he and Jean Arthur are quite adorable together.

Funny and Clever

A simple plot executed wonderfully, with wit and wry humor. A police station scene with Cummings is priceless. As always, Jean Arthur plays a budding independent feminist cleverly dodging Cummings old fashioned notions. Also, a very 1940s sexy scene on the beach.

I can't stop laughing!

Byington: "You were wonderful!"Coburn: "I didn't do anything!" A classic setup for laughs galore! Brilliantly directed and acted. Bravo to TCM for showing this. I'd never seen it before, and I only watched it because of recently discovering - by way of TCM - how fabulous an actress Jean Arthur was and how little she's been considered a top comedienne of the times. I never see her name in a top ten list. She needs to be considered as part of someone's top ten list! Okay, as of this moment, she's in MY top ten list! And Robert Cummings is quite pleasing as her boyfriend. I love Coburn's inter-eactions with customers. Thank you, TCM!

Great comedy!

The Devil and Miss Jones is one of the funniest movies I've seen. There are so many hilarious scenes. Jean Arthur was a wonderful actress. This movies needs to be on DVD for all to enjoy.

Classic!

It's sad to think that although 95% of the movies that are on DVD are not even in the same league as The Devil and Miss Jones - this great film has yet to make it to home video.This is one of the best comedies of the 1940s!

This is Where it All Began...

This is the first movie I saw on TCM that drew me into the world of movie classics. That being said it was a very good movie and I enjoyed it very much. I saw this film when it was on TCM sevreal years ago and it is ever delightful. The stars are great and it is a really nice story. Catch this one you wont regret it.

Great movie!

This movie should be on DVD! It's one of Jean Arthur's best and Charles Coburn is excellent in it!

NOT ON DVD ??

FUNNY AND VERY ENTERTAINING. CAN NOT BELIEVE THIS IS NOT OUT ON DVD! PLEASE RELEASE THIS CLASSIC TO SHARE WITH THE WORLD. THIS IS MOVIE MAKING AT IT'S BEST!

Funny Movie...

This was a good movie I try to find out when it shows so, I could see it again. A DVD needs to be made so I can watch over and over again.....

Excellent Movie

I hope we can find this movie in DVD. I want to have it , it is really a great movie with a great cast....

Funny, sad, and political too!

My husband and I happened upon The Devil and Miss Jones last Sunday, happily, from the beginning.What a wonderful film. Even though I consider myself a forties film aficianado, I must admit I had never seen "Miss Jones". The working man vs the wealthy elite, the sharp, witty dialogue, the perfect performances from the top four performers, really, it was like an early cinema Christmas present. I ADORED seeing what a department store used to look like...Please help put this on DVD for this aging Baby Boomer!

Available on Charles Cobourn 4 Film DVD Set

Whatta movie! JEAN ARTHUR at her delightful BEST! Why this gem of a movie doesn't appear on television more often is a mystery... A timeless storyline that's relevant even today.A great FAMILY film that incorporates political humor, witty dialogue, tender romance and slapstick comedy. FOUR STARS! And what a FUN ending!I saw the DVD Set sitting in a movie bin at Wal-Mart! I could kick myself for not buying it! Still available though on e-bay. Used, of course.

Classic and Clean humor

This movie was great. Loved every minute of it. I hope it will soon be avaliable on home video. I would love to share this classic with the whole family.

Gem of a movie

What a surprising little gem of a movie. I was just intending to watch for a few minutes but ended up watching the whole movie!

Please show this movie in Canada.

This movie is soooo cute. I'm not sure why it isn't aired in Canada, but I wish TCM would.TCM is the best but there is always room for improvement.
*We protect your personal infortmation and will not provide it to anyone without your consent. For a complete explanation, please refer to TCM's Privacy Policy. By submitting your contribution, you agree to TCM's Terms of Use.