DVDs from TCM Shop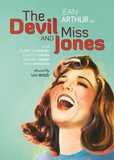 The Devil and Miss Jones A department store owner goes... MORE&nbsp> $14.45 Regularly $24.95 Buy Now blu-ray
NOTES
In the opening credits, a title for "The Devil" features an evil-looking Charles Coburn enveloped by a background of flames, and a title for "Miss Jones" pictures an angelic Jean Arthur wearing a halo. The credits contain the following foreword: "The richest man in the world: We made up the character in the story out of own heads. It is nobody, really. The whole thing is make-believe. We'd feel awful if anyone was offended. Thank you, the Author, Director and Producer. P. S. Nobody sue. P. P. S. Please."
According to a pre-production news item in Hollywood Reporter, producers Norman Krasna and Frank Ross made a deal with RKO whereby Krasna and Ross furnished the financing for the film and RKO handled the distribution. A New York Times article adds that Krasna, director Sam Wood and star Jean Arthur worked under a profit-sharing arrangement in which they received no salary. An article in Los Angeles Examiner notes that this was the first production made under the banner of Frank Ross-Norman Krasna Inc. Krasna was a well-known screenwriter and Ross an established producer who was married at the time to Jean Arthur. A pre-production news item in Hollywood Reporter places Edward Fielding and Frank O'Connor in the cast, but their participation in the final film has not been confirmed. News items in Hollywood Reporter note that RKO negotiated with Warner Bros. to borrow Jeffrey Lynn to play the male lead. The studio finally borrowed Robert Cummings from Universal. In late January 1941, production was suspended for a week to enable Cummings to return to M-G-M for retakes on Free and Easy , according to a January 1941 news item in Hollywood Reporter.
A March 1941 Hollywood Reporter news item notes that a new ending was filmed based on the reactions of a sneak preview audience. Scripts contained in the RKO Archives Script Files at the UCLA Arts Library-Special Collections reveal that in the film's original ending, Merrick, not Mary, rallied the store employees over the public address system. Afterward, at the Merrick mansion, Merrick's advisors, still unaware that their boss is the agitator, inform Merrick that they have photos of the troublemaker and have identified him as a jailbird from Seattle. After dismissing his advisors, Merrick completes plans for an elaborate party in which he intends to present his employees with new contracts. He then joins Mary, Joe and Elizabeth on the picket line outside the mansion and accepts the effigy of "Merrick." As they march past the mansion's windows, they all boo.
Charles Coburn was nominated for an Academy Award as Best Supporting Actor and Norman Krasna was nominated for Best Original Screenplay for their work on this film. Lionel Barrymore starred with Lana Turner, in her Lux debut, in a January 19, 1942 Lux Radio Theatre broadcast of the story. A 1966 news item in Variety notes that Jean Arthur planned a remake of this picture, titled The Devil and Mr. Jones, in which she would star as the "Devil."