DVDs from TCM Shop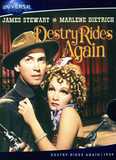 Destry Rides Again A deputy who''s... MORE&nbsp> $11.21 Regularly $14.98 Buy Now
Quotes
DVDs from TCM Shop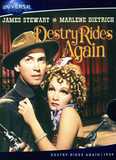 Destry Rides Again A deputy who''s... MORE&nbsp> $11.21
Regularly $14.98 buy now
Tom Destry Jr.


Oh, I think I'll stick around. Y'know, I had a friend once used to collect postage stamps. He always said the one good thing about a postage stamp: it always sticks to one thing 'til it gets there, y'know? I'm sorta like that too.

Washington Dimsdale


Here's your badge. Don't let anybody see it.

Tom Destry Jr.


Well, you will fool 'em, Wash. We'll fool 'em together.

Washington Dimsdale


The only way to do that is fill 'em full of lead.

Tom Destry Jr.


No, no, no, what for? You shoot it out with 'em and for some reason or other, I don't know why, they get to look like heroes. But you put 'em behind bars and they look little and cheap, the way they oughta look.

Tom Destry Jr.


I'll bet you've got kind of a lovely face under all that paint, huh? Why don't you wipe it off someday and have a good look--and figure out how you can live up to it.

Tom Destry Jr.


He reminds me of a little kid I used to know. He done in both his pa and ma with a crowbar. The judge said to him, he said, "Do you got anything to say for yourself?" and the kid said, "Well I just hope your honor has some regard for the feelings of a poor orphan."

Washington Dimsdale


Oh, Tom! Look here! Look at this post! Soaked through and through with the blood of Sawtooth McGhee. Yeah, he objected to a petticoat a neighbor's wife was wearing...and they fit to a draw. Both are buried in the same grave.

Tom Destry Jr.


Sawtooth and the petticoat?

Washington Dimsdale


No! Sawtooth and the neighbor! And four innocent bystanders!