DVDs from TCM Shop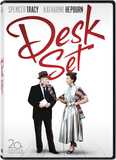 Desk Set A computer expert tries to... MORE&nbsp> $7.95 Regularly $14.98 Buy Now
NOTES
DVDs from TCM Shop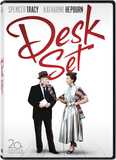 Desk Set A computer expert tries to... MORE&nbsp> $7.95
Regularly $14.98 buy now
The working title of this film was His Other Woman. The film's opening credits are depicted as being spewed out by a computer. They are followed by a written acknowledgment thanking the International Business Machines Corporation (IBM) for their assistance. A 1986 obituary in Park LaBrea News notes that William Marchant's play was loosely based on the experiences of Agnes E. Law, the former CBS librarian who established the network's research library. According to a November 1955 Hollywood Reporter news item, Shirley Booth, who starred in the stage version, was to repeat her role for the film and Marchant was signed to write the screen adaptation.
In the play, the librarian's interactions with the efficiency expert were brief and somewhat hostile. Screenwriters Phoebe and Henry Ephron built up the role of the efficiency expert and tailored the interactions between him and the researcher to fit Spencer Tracy and Katharine Hepburn.
Desk Set was the first picture that Hepburn and Tracy made together outside M-G-M. According to a March 1957 Los Angeles Times news item, Hepburn chose Dina Merrill, Sue Randall, Merry Anders and Diane Jergens for their roles in the picture, which marked Merrill's screen debut. Harry Ellerbe reprised his stage role of "Smithers" for the film. Although Hollywood Reporter news items add Wilmot Donald, Buzz Barbee, Henry Hollins, Terry Terrill, Joseph Gilbert, William Janssen, Wanda Barbour, Ann Gardner, Lorraine Bond, Dee Sharon, Evelen Ceder, Alena Murray and Bopeep Karlin to the cast, their appearance in the released film has not been confirmed.