DVDs from TCM Shop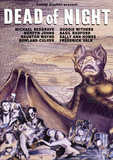 Dead of Night Guests at a country estate... MORE&nbsp> $7.46 Regularly $8.99 Buy Now
Home Video Reviews
Anchor Bay Entertainment's recent DVD release of
Dead of Night
(1945), one of the most famous psychological horror films ever made, would be noteworthy enough, but to find the film paired with
The Queen of Spades
(1949) makes this a package truly worth celebrating. Based on the Alexander Pushkin novella which also inspired Tchaikovsky's opera
Pique Dame
,
The Queen of Spades
is one of the most underknown, underseen British film masterpieces of all time, and the DVD is a revelation. The picture's intensely beautiful lighting, atmospheric shadows, creepy production design and hypnotic overall look are well-served by DVD.
The gorgeous visuals are not the whole story, however. They rightly serve a narrative of a 19th century German engineer (Anton Walbrook), working in the Russian army, who envies his comrades' wealth. When he learns of a countess (Edith Evans) who years earlier sold her soul to the devil in exchange for the secret of winning at cards, he seeks out the old woman and becomes obsessed with learning her secret. To get into the countess's household, he feigns a romantic interest in her pretty young ward. And all the while, his obsession brings him closer to insanity.
Director Thorold Dickinson is not a well-known name, even among film aficionados. He directed, wrote, and/or produced only a handful of British films before leaving the business to work for the U.N. and then become a film professor at University College, London. Probably his most famous films were
The Queen of Spades
and the original 1940 version of
Gaslight
, which also starred Anton Walbrook. (The actor actually recommended Dickinson to producer Anatole de Grunwald when
Queen of Spades
ran into production trouble.) Dickinson clearly made the most of a limited budget in this picture, and the film is full of imaginative visual tricks, compositions, and flourishes. It's hard to think of another film with as much black in each frame. The shadowy lighting was designed partly to hide the cheapness of the sets, but it also serves as an appropriate comment on Walbrook's state of mind and the eerieness of the story in general. Nearly every scene is set at night.
The Queen of Spades
is full of other talented cast and crew members, too. Associate producer Jack Clayton, for instance, went on to produce and direct
The Innocents
, another classic British shocker. Composer Georges Auric scored
Roman Holiday
,
Orpheus
,
Lola Montes
, and
The Innocents
. Cinematographer Otto Heller, who started in the silent era, went on to shoot
Peeping Tom
and
The Ipcress File
. Anton Walbrook was just coming off one of his most famous roles, Boris Lermontov in Powell-Pressburger's
The Red Shoes
. And 61-year-old Edith Evans, a grande dame of the British stage, was making one of her first movies in the role of the aging countess. Her scene with Walbrook, in which he tries to pry the secret of the cards out of her, is extraordinary; Evans doesn't say a word, yet she uses her eyes and facial expressions so powerfully that she all but steals the scene - and the movie. Dickinson's use of a ticking clock in this sequence is also highly imaginative.
Dead of Night
is not nearly as underknown. An anthology film, it's the tale of an architect who arrives at a pleasant English farmhouse to find five people whom he has dreamt about many times before ¿ always in this very house. When he reveals this strange experience to them, the others take turns relating their own macabre, ghostly experiences that they have never been able to explain. These stories are enacted via flashback and directed by four different directors (Alberto Cavalcanti, Charles Crichton, Basil Dearden, and Robert Hamer). The ventriloquist's dummy sequence, starring Michael Redgrave in one of his finest performances, is justly famous and genuinely scary, but the haunted mirror sequence is in some ways even more frightening and compelling. As a whole, the film is just as imaginative as
The Queen of Spades
, if not as stylized visually.
Each disc boasts a decent transfer (the notoriously bad sound of
Dead of Night
is much better here) and features an attractively-designed menu as well as selections of poster art and behind-the-scenes stills. But best of all are the films themselves. They are "horror" movies in the sense of the word before graphic gore became part of the genre. They are frightening not so much on a visceral level as on an emotional and intellectual level. Because of that, their power lingers.
For more information or to order
Dead of Night/The Queen of Spades
, go to
TCM Shopping
.
by Jeremy Arnold