DVDs from TCM Shop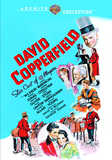 David Copperfield Charles Dickens' classic... MORE&nbsp> $18.95 Regularly $21.99 Buy Now
NOTES
The Charles Dickens novel on which this film is based was published in London in twenty monthly installments between May 1849 and November 1850. Although the title of the film was often abbreviated to David Copperfield in contemporary reviews and news items, the full title, as it appeared on the screen, was The Personal History, Adventures, Experience, and Observation of David Copperfield, the Younger. According to the correspondence of producer David O. Selznick between March and April 1934, Selznick originally wanted to film the entire picture in England, and later wanted to make two complete pictures out of the story. Releasing two pictures instead of one was estimated to cost an additional $100,000. According to production information furnished by the studio's publicity department, over the course of a year, seven scenarios were written and discarded before one was finally considered ideal for the story. Three unacceptable scenarios were written before Cukor and scenarist Howard Estabrook decided to travel to England to become better acquainted with the Dickensian scene.
Contemporary Hollywood Reporter news items indicate that the film was previewed in a short version (perhaps 110 minutes, as listed in Daily Variety) and a long version (133 minutes). A biography of Selznick notes that studio head Louis B. Mayer requested that the film be cut following a negative audience response to the first preview, which was held in Bakersfield, CA. Selznick cut two reels from the picture by eliminating Lionel Barrymore's role. At a Santa Ana, CA, preview of the cut version, Selznick reportedly interviewed four women, all schoolteachers who had seen the film, and based his decision to retain the longer version on their objections to the omission of the Peggotty character.
According to a Daily Variety pre-production news item, as an exploitation stunt, M-G-M asked Dickens societies throughout the world to suggest actors and actresses whom they would like to see in the picture. Similarly, in May 1934, the News Chronicle, a London newspaper, assembled a panel of Dickens experts from the Dickens Fellowship to confer with a group of film experts for the purpose of judging the paper's 550 David Copperfield Contest. The contest, which was presided over by the president of the Dickensians, Alfred Noyes, invited readers of the journal to submit their choices for the ideal casting of the film. The nominated players were then debated by the judges and voted upon. Among the ten judges on the film panel were David O. Selznick and George Cukor. Hugh Walpole, a Dickens Fellowship vice-president, served on the eight member literary panel. Of the 161,000 entries, the jury selected the following ideal cast: Leslie Howard as David Copperfield; Cedric Hardwicke as Micawber; Donald Calthrop as Uriah Heep; May Robson as Aunt Betsy; Gordon Harker as Barkis; Elizabeth Allan as Dora; Diana Wynyard as Agnes; Victoria Hopper as Little Em'ly; Mrs. Patrick Campbell as Mrs. Micawber; Fredric March as Steerforth; and Edmund Gwenn as Mr. Peggotty.
Daily Variety and Hollywood Reporter pre-production news articles spoke of the enormous effort M-G-M undertook to find four children to play David Copperfield and Little Em'ly at various ages. Studio ads led to the recruitment of over three hundred children, of whom M-G-M found only six who could speak with the required cultured accent. Though the second prerequisite, that the child be of British birth, was met by none of the applicants, the studio announced that it would assign the six finalists to bit parts. Among the many boys who were considered for the title role were David Holt, who was to be borrowed from Paramount, and an English boy named Peter Trent. Two days prior to the start of production, Daily Variety reported that the studio was unable to confirm that Freddie Bartholomew would play the young David because Bartholomew's father refused to sign the boy's permit to leave England. In case the Bartholomew deal fell through, M-G-M kept David Holt available for the part and continued to teach him how to speak with an English accent. Some contemporary sources claimed that between nine and ten thousand young boys from America, Canada, England and every English-speaking colony were interviewed for the title role. According to a modern biography of Selznick, after failing to dissuade Selznick from making the picture, Louis Mayer asked that American child actor and M-G-M contract star Jackie Cooper be cast in the title role. An advertisement placed in the September 1, 1934 issue of Hollywood Filmograph stated that Jackie Morrow was being considered for the lead in the picture. For the remaining parts, more than 15,000 actors were interviewed and over 2,000 screen tests were made.
Charles Laughton played Micawber for two days before the studio released him from the part. Sources conflict, however, as to the details surrounding the release of Laughton from the picture: According to Hollywood Reporter pre-release news items, Laughton expressed his desire to "turn over his role to another" because he felt he could not do the part justice. In contrast, a September 27, 1934 Selznick memo suggests that it was a combination of the cost incurred from Laughton's delay on his Paramount picture due to his illness, and "certain difficulties" M-G-M was having with him that led to his dismissal. A biography of George Cukor notes that Laughton had "a terrific prejudice concerning Jews and needed strange off-stage noises to get him in the mood for acting." According to a biography of W. C. Fields, before replacing Laughton with Fields, the studio had considered M-G-M contract player Wallace Beery for the part, but Beery was unable to take it because his wife was gravely ill at the time. Although Selznick, in his letters, expressed his concern that Fields might not have as much commercial appeal as Laughton, the producer said that "Fields would probably make a better Micawber." A Hollywood Reporter news item notes that following Laughton's release, Paramount asked M-G-M to pay for the delay on Ruggles of Red Gap, which had to be held up because Laughton, the film's star, was returned to the studio with a shaved head.
According to Hollywood Reporter, filming on David Copperfield began with three units, the main one directed by George Cukor; the other two by John Waters and Slavko Vorkapich. Daily Variety notes that a fourth unit, directed by Leontine Sagan, a female director from Germany, was added later. Hollywood Reporter production charts and pre-release news items list actors Forrester Harvey, Edith Kingdon, Dallas Welford, Barlowe Borland and J. M. Kerrigan in the cast, but their appearance in the released film has not been determined. The Variety, New York Times and Motion Picture Herald reviews erroneously list Ivan Simpson's character at Limmiter, perhaps the result of a misspelling of the character in the M-G-M publicity material. A biography of W. C. Fields claims that the actor had such great difficulty memorizing his lines that they had to be "written out for him on a great gazebo so that he could glance at them." Also, Fields apparently had difficulty maintaining a strictly dramatic role (his first), and was known to ad-lib comedic touches, most of which ended up on the cutting room floor. A Hollywood Reporter pre-release news item indicates that Cukor shot four and one half days of retakes of scenes involving Una O'Connor, who was out of production for three weeks due to a horse riding accident.
Although onscreen credits list only Herbert Stothart as the composer of the musical score, Dr. William Axt, who is incorrectly credited in the M-G-M publicity material as the sole composer of the musical score, is credited with Stothart in various scenes in M-G-M's cutting continuity in the copyright files. A November 6, 1934 Daily Variety news item notes that Dr. William Axt was hired to find one hundred year old English tunes for the film. Although a Hollywood Reporter news item credits the Western Costume Company with the costumes, M-G-M publicity material notes that the costumers were L. and H. Nathan, the same London costuming company that made the costumes under Dickens's personal supervision nearly one hundred years earlier. A contemporary news article in Picturegoer magazine, entitled Bringing Dickens to Life, notes the creation of seventy-three different locations for the action of the story, and states that the original sketches of the set details, drawn by the artist Phiz., were viewed under a microscope and duplicated by the studio foundry. The Phiz. drawings were also consulted for wardrobe and casting purposes. Nathalie Bucknall, head of M-G-M's research department, was assisted in her task by ten researchers stationed in England, as well as a team of photographers, both still and camera, who were dispatched to various English locations, including Yarmouth, Blunderstone, Dover, Canterbury and London. Large quantities of photographs, old books, costumes, sketches and other items gathered in England for research purposes, were shipped to California.
Following the film's release, a Daily Variety article reported that the Hays Office planned to send out two thousand postcards to women's clubs and religious leaders, plugging the film. The postcard mailing was related to the Hays Office's ongoing campaign to promote filmgoing as an institution. The plan was aimed at publicizing this picture and all subsequent pictures that might "help the industry as a whole." In a biography of George Cukor, the director recalled that only one sequence, a second-unit shot of David walking to Canterbury, was filmed in England, and that the Dover scenes were filmed in California, near Malibu.
Assistant director Joseph Newman and film editor Robert J. Kern both received Academy Award nominations for their work. The film itself received a nomination for Best Picture. David Copperfield was one of the top ten grossing films of 1935 and was named one of Film Daily's Ten Best Pictures of the Year.
Previous David Copperfield films include a 1911 Thanhouser three-part short directed by Theodore Marston and starring Flora Foster, Ed Genung and Anna Seer, and a 1923 Nordisk Film Corp. of Norway feature directed by A. W. Sandberg and starring Buddy Martin and Gorm Smidd. Subsequent adaptations include a British television movie directed by Delbert Mann and starring Laurence Olivier, Robin Phillips and Michael Redgrave, which aired on the NBC television network on March 15, 1970; and a BBC/Masterpiece Theatre five part teleplay produced and directed by Terrance Dicks and Barry Letts and starring Colin Hurley and Simon Callow, which was broadcast begining March 27, 1988. In addition, a radio dramatization of David Copperfield, featuring Boris Karloff, Cyril Ritchard and Richard Burton, aired on December 24, 1950.