DVDs from TCM Shop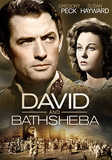 David and Bathsheba King David'''... MORE&nbsp> $7.46 Regularly $9.98 Buy Now blu-ray
Home Video Reviews
David and Bathsheba
tells the story of forbidden love and falling away from God, which would lead David (Gregory Peck), King of Israel, to forget his kingdom and his duties and bring him to the brink of disaster. At a dinner for a handful of David's most reliable soldiers, a brave but not-too-bright warrior named Uriah (Kieron Moore) talks about not caring one way or the other about dying in battle. When David asks about family and friends, Uriah tells him of being married for a mere six months, and though his wife is beautiful it is a loveless, arranged marriage. After the soldiers have gone back to battle, David stands one evening on his highest balcony and below sees a gorgeous woman being bathed by her servants. He asks his second in command to identify the house, and of course it belongs to Uriah.
David sends for the woman, who is Uriah's wife, Bathsheba (Susan Hayward at her most luscious). Although the invitation is for dinner, they find a strong mutual attraction and immediately begin an affair, though adultery is against the law, and the punishment (for the woman) death by stoning. David excuses his affair with Bathsheba, speculating that their relationship is all right because her marriage is loveless on both sides -- but even the King can't defy the law. Keeping their affair a secret becomes impossible when Bathsheba discovers she's pregnant. David decides the only thing to do is get rid of Uriah so that they can marry, and orders him sent to the forefront of battle where he is promptly dispatched. But this murder brings down the wrath of God, not just on David but on his kingdom as well. And the result is draught and famine. When the people demand the life of Bathsheba to fulfill law and appease God, it is only through an act of unspeakable bravery and atonement that David is able to redeem himself and save his beloved.
The film's strongest asset is a beautiful script by Philip Dunne that perfectly captures the nuances of a pair of star-crossed lovers trying to fool themselves. Gregory Peck gives one of his finest performances as David, conveying both his stiff-backed stoicism as the King (with whom you would not disagree) and his passion (for Bathsheba). The scene in which he walks through the angry mob to the Ark of the Covenant is amazing. Susan Hayward has never been lovelier than she is here, and rarely more effective. Her playful seductiveness fully explains David's attraction, and her later acquiescence when the situation blows up in their faces and she accepts her fate is truly moving. They are ably assisted by Raymond Massey as Nathan, the voice of God who delivers God's direct messages to the King.
The new disc from Fox features a gorgeous transfer that augments Leon Shamroy's flawless cinematography. With a film where many of the scenes take place at night, Shamroy shows a remarkable talent for getting the most out of light and shadow. But it's little more than one would expect from the man who shot everything from
Cleopatra
to
Snow White and the Three Stooges.
The colors are deep and richly saturated, and the source itself is in excellent condition, clean and free of damage. Unfortunately, the audio is showing signs of deterioration (and a sort of hollow sonic quality) that are noticeable but don't seriously impact the listening experience. The disc includes a potentially interesting featurette called "Once in 3000 Years." I say 'potentially' because it was made to promote the film, and appears to have been a short subject or extended short promo (a la the promo for
The Bishop's Wife
), but it abruptly snaps off at three minutes, virtually mid-sentence. It's a shame, because what there is of it is quite fun. There is also two trailers, one in color and one in black and white, and a television spot.
To order
David and Bathsheba
, go to
TCM Shopping
.
by Fred Hunter