DVDs from TCM Shop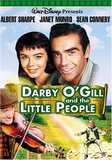 Darby O'Gill and the Little... An Irishman enlists help from... MORE&nbsp> $10.25 Regularly $14.99 Buy Now
NOTES
The opening credits include the following statement, signed with Walt Disney's signature: "My thanks to King Brian of Knocknasheega and his leprechauns, whose gracious co-operation made this picture possible." The film contains many notable special effects, including those of the spirit horse, banshee and costa bower, all of which appear luminous and ghost-like; and the combination within the same frame of regular-size actors with those who appear to be two-foot-tall leprechauns.
According to a November 1946 Atlanta Constitution news item, Walt Disney, who was half Irish, originally considered producing a film in Ireland about leprechauns to be entitled The Little People. That film was to star Barry Fitzgerald and feature a combination of live action and animation. Studio press materials note that in 1947 Disney hired Lawrence Edward Watkin to write the film's script, based on the many "Darby O'Gill" stories written by H. T. Kavanagh. A July 1949 NYNews article stated that in that year Disney was still working on The Little People and planned to cast Bing Crosby as Fitzgerald's co-star.
As noted in studio press materials, Disney made four pre-production trips to Ireland, during which he perfected the story, backgrounds and casting of the film. He concocted a story about meeting the real King Brian and bringing him and his complement of leprechauns to Hollywood for the film. The story was widely quoted by contemporary sources and Disney remained faithful to it.
Although the final production of Darby O'Gill and the Little People, begun on March 17, 1958, featured mostly Irish actors, it was shot entirely in California, on the Disney lot and on location at the Albertson Ranch in Agoura, CA and the Rowland V. Lee Ranch in San Fernando Valley, CA. The studio borrowed Scottish actor Sean Connery from Twentieth Century-Fox for his role as "Michael McBride." Darby O'Gill and the Little People marked the first film Connery made in the United States.
According to a July 3, 1958 Hollywood Reporter news item, the leprechaun's palace set measured 240 x 230 feet, large enough to accommodate 40 horses in a circular dance routine. The Variety review noted that the effect of leaping leprechauns was produced with the use of trampolines. A studio report found in the file for the film at the AMPAS Library relates the following special effects information: The mixture of regular-size actors with 21-inch-high live-action leprechauns within the same frame was achieved by blending two shots, one in which actors worked with huge props, according to mathematically determined perspective lines. The banshee and costa bower effects derived from shooting the original in black-and-white against a black background, then printing the negative, which was enlarged and kept out of focus.
Modern sources note that Stevenson considered dubbing another singer over Connery's voice for the song "Pretty Irish Girl," but eventually decided against it. The song was released as a single in April 1959; later, a wider-selling version was cut for Columbia Records by Ruby Murray and Brendan O'Dowda.
As noted in a June 26, 1959 Hollywood Reporter news item, Darby O'Gill and the Little People had its world premiere in Dublin, Ireland on June 24, 1959. The day was dubbed "Walt Disney Day" and was proclaimed a school holiday, and the screening raised funds for the country's St. Vincent de Paul Society. The American premiere on June 26, 1959 took place at Grauman's Chinese Theatre in Hollywood, and marked the first time a Disney feature played there.