DVDs from TCM Shop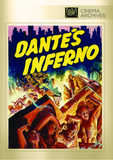 Dante's Inferno A carny builds a gambling... MORE&nbsp> $12.95 Regularly $19.98 Buy Now
NOTES
DVDs from TCM Shop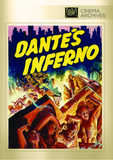 Dante's Inferno A carny builds a gambling... MORE&nbsp> $12.95
Regularly $19.98 buy now
This film includes some scenes that were based on the poem Inferno by Dante Alighieri, part of his Divina commedia, which was begun ca. 1307. In the first outline for the film, included in the Twentieth Century-Fox Produced Scripts Collection at the UCLA Theater Arts Library, writers Philip Klein and Rose Franken stated their intent in using the poem: "In bringing a version of Dante's Inferno to the screen, we wish to apply its symbology-as the Bible is symbolic-to the everyday life of the present age. As Dante revealed the journey of the soul in its development, so we will attempt to follow the progression of those who encounter today the fundamental experiences of life and death." A treatment in the Produced Scripts Collection dated October 15, 1934 indicates that the cruise ship fire sequence was suggested by the recent fire on the steamship, the S.S. Morro Castle, off the New Jersey coast on September 8, 1934, which claimed 133 lives.
According to a New York Times article, some 14,000 persons worked on the film, including 4,950 technicians, architects, artists, carpenters, stone masons and laborers, 250 electricians and 3,000 extras in the "Inferno" scene, and 300,000 feet of film was shot. Hollywood Reporter noted that the film was delayed because of "the necessity of manufacturing several thousand small but vital articles of attire for devils, so that they May not shock the purity squad." Correspondence in the MPAA/PCA Collection of the AMPAS Library reveals that Joseph Breen, the director of the "purity squad," otherwise known as the Production Code Administration, suggested to producer Sol Wurtzel, in March 1935 after preliminary shooting was completed, that additional scenes be shot for the ending to show that "Jim" is repentant and that he should confess that "Pop" and his wife were right and that he was wrong, and that he should appeal to his wife to take him back again. The final film does include these scenes.
After the studio showing of the film on April 16, 1935, Spencer Tracy agreed to have his name eliminated from advertising and publicity regarding the film and from the opening screen credits. His name does appear with other cast members in the end credits. Although Tracy acted in one Fox film following this, It's a Small World (see below), Dante's Inferno was his last released film for the company. According to modern sources, Tracy later said about this film that it was "one of the worst pictures ever made anywhere, anytime."
According to a March 1935 New York Times article, Rita Cansino, who later changed her name to Rita Hayworth, danced at the Mexican night spot Agua Caliente to attract attention so that she could launch a film career. Film Daily reported that she was "discovered" by Fox officials there, and after the filming of her scenes for this film, she was signed to a seven-year contract. Her contract for Dante's Inferno is signed "Margarita Cansino." Under the Pampas Moon (see below) and Charlie Chan in Egypt, in which she appeared, were shot subsequent to Dante's Inferno, although they were released before it. Modern sources note that Cansino, in reality, danced on a gambling ship off Long Beach, as she does in her scene in the film, that the Fox official who saw her at Agua Caliente was Winfield R. Sheehan, that her father, Spanish dancer Eduardo Cansino, who was also her dancing partner at Agua Caliente, choreographed her dance in the film, that her dancing partner, Gary Leon, broke his ankle during shooting and that she appeared in a couple of uncredited bit roles before Dante's Inferno.
Variety greatly praised the "Inferno" scenes, commenting that audiences "are not likely to see a better example of photographic and set-building technique in a season of pictures than in these 10 minutes. At its conclusion it brought a burst of applause at the Rivoli, although the audience seemed to issue a sigh of relief when the inferno dissolved back to the story once more. Likelihood is that reaction in general to the magnificent screen spectacle will be one of fatigue as well as enthrallment." According to modern sources, Ben Carr, although not given screen credit, designed much of the "Inferno" sequence. According to information in the Twentieth Century-Fox Records of the Legal Department, also at UCLA, technical advisor Hubert Stowitts agreed that his name would not be included in the screen credits, because the inferno sequence "is not to include any choreography." The legal records note that two enlargements of illustrations by Gustave Dor from an edition of the Inferno published in 1861, were used in the set, along with the painting "Salome," by Georg Papperitz, "Pollice Verso," by Jean Lon Grme, "Cleopatra," by Alexandre Cabanel, and "Alexander Cutting the Gordian Knot," by Castaigne, but that they had been altered "so as to get as far away from a reproduction of the original as possible."
Modern sources give the following additional credits: Makeup Supervisor Ern Westmore; Chief sd eng E. H. Hansen; Cast Yakima Canutt, Ray Corrigan, Angelo Rossitto, Paul McVey and Cliff Lyons. Other films based on Dante's poem include a 1909 Italian film entitled Inferno and a 1924 Fox film, entitled Dante's Inferno, directed by Henry Otto and starring Lawson Butt, Howard Gaye and Ralph Lewis. Some modern sources state that some scenes of the "Inferno" from the 1924 film were used in the 1935 film, but no contemporary information to verifiy this has been located.