DVDs from TCM Shop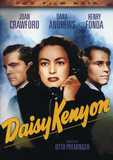 Daisy Kenyon On the rebound from a married... MORE&nbsp> $11.21 Regularly $14.98 Buy Now blu-ray
Home Video Reviews
Fox Home Entertainment's great "Fox Film Noir" series recently resumed after an unwelcome hiatus with three new-to-DVD titles:
Dangerous Crossing
(1953),
Black Widow
(1954, in color and CinemaScope), and
Daisy Kenyon
(1947), which is perhaps best described as a sophisticated adult melodrama with some atmospherically noir overtones.
The picture is full of heavy hitters. Its three stars are Joan Crawford, Dana Andrews and Henry Fonda, and its producer/director is Otto Preminger, whose most recent film,
Forever Amber
(1947), had opened just two months earlier. While
Daisy Kenyon
is far from Preminger's best work, or even best noir (see
Laura
[1944],
Where the Sidewalk Ends
[1950] or
Angel Face
[1952]), it's still of significant interest to fans of Preminger and Crawford in particular.
Essentially,
Daisy Kenyon
is about a romantic triangle, with Crawford's Daisy, a successful magazine illustrator, unable to pick between Andrews (married businessman with two kids) and Fonda (socially awkward soldier). Why she is stuck with this particular choice is never explained. Daisy is getting too old to remain single - which here means she's in her thirties - and presumably these just happen to be the two guys in her life at the moment.
The problem with the movie is, they're both pretty lousy choices. Fonda is a schlub, and Andrews is a jerk. Fonda is strangely unemotional and psychologically unstable, not really over the death of his wife, and he's also just plain weird; when he proposes to Crawford at one point, he says "you have such nice ears" in the same breath. Andrews is an operator who calls all women "honeybunch," treats his wife like dirt, and is a poor, absent father to his adoring daughters. The script does draw out some complexities in the men, but nonetheless the impression of schlub/jerk remains to the end. It's not really the fault of the actors, though neither one (especially Fonda) really wanted to make this film.
By comparison to the men, the character of Daisy comes off as sympathetically lonely and relatable. "I can't wander all my life. I've got to be going somewhere," she tells Andrews. The story is grounded largely through Daisy's dilemma and uncertainty, which saves the movie because Crawford acts the part so very well (no overacting here), and because the nature of the story so perfectly suits Preminger's naturally "objective" style of filmmaking. His visual presentation asks audience members to consider the characters equally and to decide for themselves what to think of them. Ambiguity in a story is inherently appropriate for a storyteller like Preminger.
The tone of the picture takes something of a shift to "domestic noir" territory late in the game, when Fonda suffers from a nightmare and Andrews physically attacks Crawford. Leon Shamroy's beautiful black-and-white cinematography throughout also injects some noir style. It's been well transferred to DVD, though the print quality is a bit uneven.
Fox has supplied the DVD with its usual generous extras, including a 21-minute documentary on Preminger's career at Fox, which uses good clips and knowledgeable film historians (Robert Osbourne, Eddie Muller, Rudy Behlmer, Alan Rode), though it could have delved more deeply into Preminger's unique visual style and what that brought to his noir films in comparison to others of the movement. There's also a commentary by Preminger biographer Foster Hirsch, a trailer, stills, and an interactive press book. Finally, there's a featurette on the making of
Daisy Kenyon
itself. One interesting fact is that Crawford had a clause in her contact stipulating that the temperature on set be maintained at a constant 50 degrees F. due to her hot flashes. The actress was 43, portraying a character aged 32 (the age is specified in the novel), and she was eager to play the role as a way of proving to her home studio, Warner Brothers, that she could still play young romantic leads.
Fox Home Entertainment excels at presenting its catalogue titles on DVD, from big star-powered films like this one down to its popular "B" movies, like the Charlie Chan series. (The recent
Charlie Chan Volume 4
is another exceptional release.) The care Fox puts into these titles makes them a real pleasure to watch and discover.
For more information about
Daisy Kenyon
, visit
Fox Home Entertainment
. To order
Daisy Kenyon
, go to
TCM Shopping
.
by Jeremy Arnold