DVDs from TCM Shop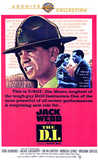 The D.I. A tough drill sergeant has... MORE&nbsp> $15.96 Regularly $19.99 Buy Now
USER REVIEWS
See Detailed Ratings
Acting of Lead Performers

Acting of Supporting Cast

Director

Music Score

Title Sequence

Screenplay

Cinematography

Historical Importance

Would You Recommend?

0 Member Ratings
Rate the acting of the Lead Performers

Rate the acting of the Supporting Cast

Rate the Director

Rating of the Music Score

Rating of the Title Sequence

Screenplay

Creatively uses the camera to tell the story

Importance in Cinema history

Would you recommend for fans of this genre
Submit Ratings
Cancel
Write a Review
Read Reviews
NO REVIEWS AVAILABLE
The title has not been reviewed. Be the first to write a review by clicking here to start.
The D.I.

I went through USMC boot camp at MCRD San Diego November 1966 through January 1967. The movie the D.I . is the absolute best movie ever made about Marine Corps boot camp. The only thing missing is the bad language and the physical assaults we endured from our drill instructors including punches, etc. I understand that now the drill instructors are not permitted to beat on the boots. Boot camp is survival training for combat. I am a firm believer that Marine Corps boot camp must be as tough as possible physically, mentally, and emotionally to prepare the boots for war.

the DI

I am a 4F and I love this film.

training

Micahel Young/AF nam vet

5/31/15

This movie is what one needs to watch before going into the service...any branch. I have watched this movie ( in the late 60's), when it was shown on TV, it helped me get through boot camp. I was so prepared for ever situation that came up. Even the yelling in my face. I wanted to laugh at him. I would love to watch see it again on TCM.

Great Movie

I love this movie so ,it was one reason I join the NAVY instead .

Boot.

Yup,I did BOOT @ MCRD in June of '57, Platoon 283-396 (Injury).The rifle range stories I can tell were unbelievable.Any of you remember "Little Agony" @ Camp Mathews?The movie, in my experienced opinion is spot on!!!1685168

Swabee says......

One of my favorite movies. I was Navy 68-73. The only thing missing is the boot camp "language of that time" which the sensors would not have allowed. Marines I served with aboard ship said this movie was the real deal. Fair Winds..........

Dead On!

I graduated MCRD Parris Island, September 1979, Platoon 3065, H company, 3rd Batt. This movie was done very well, bringing back all kinds of memories to me. I found it to be authentic, and realistic. Marine Corps forever, Semper Fi my Brothers.

Sgt. Paul E. Prutzman Jr.

I graduated from San Diego in 1956. Platoon 2056 Sgt. Paul E. Prutzman was my Senior D.I. One squared-away Marine!As I understand, Jack Webb had heard Sgt. Prutzman call cadence at MCRDNo body could call cadence like Sgt. Prutzman. He is Jack's Jr. D.I. in the movie.Lisen closely...you can hear the man in one scene call cadence. Makes you want to snap to...I believe he may have gone on to OCS.I am proud to have served under Sgt. Pau E.Prutzman Jr.

Marines should know the words.

The song goes,If the Army and the Navy ever look on Heavens scene,not shores,A marine should know that.

Been there done that.

Sgt. Robert Snyder

1/30/12

I am a former marine that attended bootcamp at MCRD. Was a platoon leader in Honor Platoon 202. Trained between January and March 1955. No wood barricks for us. Quanset huts with dirt for grass that had to be mowed each day using our bannits as mower. The movie was the best and most complete as I remember it and none of us will ever forget it. The greatest trainning available at the time. Jack Webb and for that matter the whole cast protrayed the real thing right down to the wash rack experience. I have attended two marine graduations resently and was moved to tears while watching the same display of displine and precision. I was proud to have served and still proud of this younger generation that is charged with maintaining the high standards and loyalty of the marine corps. God bless them all.

Authenticity of the DI

I've seen the DI over the years, as a teenager in Los Angeles, as a Marine Poolee in 1980 prior to Marine Boot Camp and this week after my eldest son graduated Marine Boot Camp as I did 30 years ago. The Marines in the movie have transformed from "Old Heads" to young men as I get older. But even so the movie and the men in it remain timeless. I have a few issues with the authenticity of junior Sergeant with less than 6 years of service giving a hard time to a Gunnery Sergeant with multiple combat tours although I do understand dramatic license but, the "I told her I didn't think you could read." scene is spot on. Particularly when I was an old 38 retread Sergeant and one of my good friends was the same age and a Marine "Gunny".I hope my son and I can watch this some time later, after his Boot Camp experience has worn off.

The DI

As a former Marine I believe this is an excellent movie. The uniforms were worn properly, and Jack Webb portrayed the DI with great professionalism just like a real DI. Although, as a graduate of the MCRD in San Diego, I believe that Parris Island gets too much press. So it's surrounded by swamps. Big deal! California has the mountains and in the summer, when I went through boot camp, it got into the 100's. Try humping a pack up Mount Mother in that heat, or in the middle of the night. Parris Island is flat. It has sand, so does California. People have a way of inflating Parris Island's reputation. Good marketing!

The D.I.

The D.I. is as close as it gets tothe real deal, I kn ow i was A DI at MCRD San Diego during the 80's.

Homage To The USMC

Excellent film dealing with the making of marines. Jack Webb used actual US Marines as supporting actors and extras.

The D.I.

The movie is one of the greatest movies that I happened to see almost as a mistake. Since then I have searched for the movie and can only hope that it is shown as many times as possible. Although I never made it to boot camp I know a few good men who are marines and the film does them honor.

Found this movie on DVD.

This movie is now on DVD for those interested. I found it at www.animefirst.com . Type in the search box, "The Drill Instructor".

A great movie ans it should be available.

One of many reasons I joined the Marines. This movie is a hidden/forgotten classic. For awhile if not still it was shown to all DI classes at Parris Island and San Diego. It also put the Marine Corps in a better light after the "Ribbon Creek" incidnet. It should be required viewing for all young men.If watched carefully it shows many important things about growing and reaching goals and the "Leadership" provided by the Drill Instructor.

release "the di" on dvd

great display of marine corps training.

I Was There

I joined the Marines in 1966. I was in the wooden barracks of the 2nd Battalion. The D.I. shows Paris Island and the instructors as they really are; tough perfectionists who succeed in bringing out the best in Marine recruits. Jack Web captures this experience. When my platoon graduated our D. I. said "that as long as we live we'll be Marines. When people hear you're a Marine they'll know you are one of the best".Marine Hymm:If the Army and the Navy get to heavens shores they will find the streets are guarded by United States Marines.Sempi Fi

Great Movie!

Robert E. Pratt Sr

1/12/08

I joined the Marine Corps in 1955 and after 13 weeks we graduated as the Honor Platoon. And our DI who was a Gunny Sergeant at the time was promoted to Master Sergeant because of our hard work to become Marines. As a last time honor he had them show this movie to us and we all thought that our DI looked liked Jack Webb's brother. Incredible. I spent almost 8 years in the Corps and I think that Movie was why. And I loved the Corps. Hope to see this out on DVD, sure would like to see it again, have only seen it once on TV and that was years ago when I lived in California. Have been looking for it to come out ever since. One of the actors in there was a guy that I went through boot camp with at San Diego. William Smith, we were great buddies until we were seperated when I was sent over seas.

Lived the experiance

I joined The United States Marine Corps in 1959, and still remember the wooden barracks of 1st Battalion. ( Ptl. 112 ),and the Quonset Huts of Third Battalion.(Rifle Range). Of all my memories, I will never forget our three Drill Instructers, espescially our senior Gunnery Sgt. from New Jersey ( we were all " toids" , and also least we forget,"House Mouse".

A "Gung Ho" flick

Bill Hillgaertner

10/24/07

I saw this movie when it came out in 1957. I entered Marine Corps boot camp in January of 1958. The movie is excellent and a bought of VHS tape of it some years ago (after being told it wasn't available) and review it when I get down. The only criticism would be that the "love scenes" drag the movie down, but you need something for everyone. My Senior DI was not in the movie, but had been asked. I have met, and served with, some of the Marines who are in the movie. As for the impact of this movie on me; I went from PVT, USMC to 1st LT, USMC in a 10 year period, primarily because of my DIs. Thank you.

Nostalgia for former Marines

A truly realistic look at "boot camp" at Parris Island. Motivational, informative and timely. When you can incorporate humor in boot camp but have serious motive ( sand flea) you have accomplished many things that today movies lack. Think about making a point or plot in todays movies without the special effects and gore. As a former Marine, I personally think withholding this movie from the public is a marketing mistake!

Basic training at its best

A great inspirational movie. I saw it, and 11 years later started a 21+ year career in the Air Force. The scene where they have to locate the sand flea for burial and the recruits try to pull a fast one on the DI is excellent. He asks them whether it was male or female, they choose and obviously it's the wrong choice, and have to keep on digging and searching for the right sand flea. I still remember that scene today.

Hollywood Marine

OK, so I didn"t go to P.I. But (Hollywood) Marine MCRD, San Diego, Ca. But we would still identify with the Movie the D.I. with Jack Webb, the experience and with Jack Webb as the DI. I went through Boot Camp in 1959 and we expected our DI be be like Jack Webb.

The DI, and Jack Webb

There are alot of people that have brought honor and have honored the Marine Corps. This is from a SeeBee. R.Lee Ermey and Jack Webb would have made a great pair as Marines. Not enough honor is given!

Was there (P.I.) in'57

Jack Webb, made that movie so real it was perfect in all aspects, the interior barracks secnes were exact, a bit of history really as the WWII wooden barracks that were featured in the movie are now all gone. What you seen was what happaned, much more profanity was used at Parris Island in those days, but I guess it never would have gotten pass the censors in '57 otherwise accurate, only thing missing was the smell of the swamp.

Reliving the transformation

H Company 3rd Battalion Parris Island 1981. The D.I. is as close as it gets to being there when I was there. I wish this movie was available on DVD so my family could get an idea of what it was like for real. Thank you TCM for hours of GREAT viewing pleasure.

The D.I. and me

Although I did not join the Marines, this movie inspired me to join the Army, where I served proudly as a paratrooper in the 82nd Airborne Division. I'm sure that many young men (in the 60's) also were inspired my this film, which could account for the high induction rates during the Viet Nam era. Some of the "love scenes" are hokey, but the military training aspects of this film are classic and should still inspire all young people. I especially like the way this film showed military training without using obscenities to get results.
*We protect your personal infortmation and will not provide it to anyone without your consent. For a complete explanation, please refer to TCM's Privacy Policy. By submitting your contribution, you agree to TCM's Terms of Use.