DVDs from TCM Shop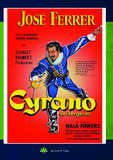 Cyrano de Bergerac A swordsman and poet helps... MORE&nbsp> $10.95 Regularly $14.99 Buy Now blu-ray
NOTES
DVDs from TCM Shop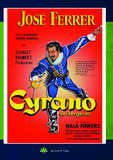 Cyrano de Bergerac A swordsman and poet helps... MORE&nbsp> $10.95
Regularly $14.99 buy now
[Although Cyrano de Bergerac opened in New York and Los Angeles in November 1950, it was not released nationally until July 20, 1951. This entry has been reprinted from AFI Catalog of Feature Films, 1941-50.] Edmond Rostand's play was inspired by the French author Cyrano de Bergerac, Savinen (1619-1655), who was known for his satirical writings, swordsmanship and prominent nose. Hollywood Reporter news items report that both Evelyn Keyes and Arlene Dahl were originally sought for the role of "Roxane." Mala Powers, who was given the role when Keyes and Dahl's conditions could not be met, was borrowed for the production from RKO.
According to information contained in the production files on the film in the AMPAS Library, Stanley Kramer obtained the rights to Brian Hooker's translation of the play from British producer Sir Alexander Korda, who had planned to make a film version of Cyrano de Bergerac with Orson Welles. Kramer's $40,000 purchase price included a screenplay that Korda had previously commissioned from Ben Hecht, but Kramer and his associate producer, George Glass, opted to have Carl Foreman write a new screenplay. According to Hollywood Reporter news items, prior to Kramer's involvement, Universal-International announced plans to acquire the rights from Korda in order to produce a film version starring Laurence Olivier and Vivien Leigh.
According to information in the file on the film in the MPAA/PCA Collection at the AMPAS Library, the Breen Office requested that dialogue invoking the name of God as an exclamation, including the French expression "mon dieu," be changed in over ten places. In a June 7, 1950 letter to Kramer, Joseph I. Breen expressed concern that in some of the sword-fighting scenes, most notably the duel with "Valvert" at the theater, "Cyrano comes dangerously close to being little less than a murderer." Breen's letter went on to say that he had discussed the matter with Glass, who assured him that the problem could be handled by making it clear that Valvert was only wounded. In the final film, however, Cyrano kills Valvert. Cyrano de Bergerac was actor Ralph Clanton's first American film. Jos Ferrer won an Academy Award for Best Actor for his performance as "Cyrano."
Kramer's production marked the first time that Rostand's play was adapted for the American screen, although France and Italy had already produced several film versions. In January 1949, NBC's Philco Television Playhouse aired a sixty-minute version of Cyrano de Bergerac, featuring Claire Bloom, Christopher Plummer and Ferrer, who made his television debut in the title role. On October 17, 1955, these actors repeated their roles on NBC's Producers' Showcase. Subsequent television versions include a 1962 Hallmark Hall of Fame production with Christopher Plummer as Cyrano, and the American Conservatory Theater's stage production, which was broadcast on PBS in 1973. Plummer also starred in a musical theater adaptation, Cyrano, which opened on Broadway on May 13, 1973. Other films based on or inspired by Rostand's play include the 1990 French film Cyrano de Bergerac, starring Grard Depardieu; the 1987 Steve Martin contemporary romance Roxanne; and Abel Gance's 1963 film Cyrano de Bergerac and D'Artagnan, which departed from Rostand's plot but starred Ferrer as Cyrano. In 1969, Kramer announced plans to remake his film as a musical for Columbia, possibly with an entirely African-American cast, but that project was never realized.