DVDs from TCM Shop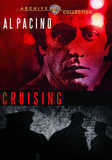 Cruising A police detective hunts a... MORE&nbsp> $15.96 Regularly $19.99 Buy Now
Home Video Reviews
William Friedkin's
Cruising
(1980) was the first Hollywood film to boldly throw a hardcore gay lifestyle in the face of mainstream America, including mainstream gays. It's also the last of a kind. The sexual abandon in its leather bar group gropes came to a screeching halt soon after the 1979 filming with the onslaught of the AIDS epidemic, concurrent with Reagan Era squelching of the boldness in American film of the '70s. Riding the kind of cred you earn in Hollywood after you've made
The French Connection
(1971) and
The Exorcist
(1973), Friedkin in several ways rode it into the ground here. Time capsule aspects notwithstanding,
Cruising
still has something to offend everyone, including gays who felt stigmatized by its lurid equating of homosexuality with murderous psychosis.
In one of the two featurettes accompanying its DVD release, Friedkin describes it as a murder mystery that just happened to have a gay leather bar as its background. Is he kidding? Or is the use he makes of the in-your-face gay subculture tied to some ongoing denial of a film that's homophobic, tabloid in its exploitation, muddled in its conception? To be fair, it's at least not boring. Friedkin cites his background as a documentary filmmaker, saying he photographed what he saw in the bondage, leather and s&m bars he visited – including, it must be said, smiles on the faces of a lot of the participants in the orgies. But
Cruising
, tied as it is to shock theater, seems no more insightful about gay life than Brian De Palma's
Dressed to Kill
was about rape.
Inspired – if that's the word – by Gerald Walker's novel about an undercover NYC cop assigned to smoke out a serial killer of gays, it's informed as well by real cop Randy Jurgensen, who went undercover to get the goods on shakedown specialists victimizing gays. Al Pacino plays the cop sent in by a mournful-looking superior (Paul Sorvino) because Pacino's Steve Burns resembles the physical type of the victims. Certainly he throws himself into his work, insinuating himself into the gay world until he finds himself smack in the middle of a sexual identity crisis. As his plunge into the world of the gay clubs continues, he keeps running back to his girlfriend (Karen Allen) for sex, not so much out of lust, but to reassure himself about what he has always believed is his heterosexuality.
If his confusion deepens as the case proceeds, so does ours. The one thing you insist on in a film that its maker calls a murder mystery is learning the identity of the murderer. We don't mind waiting until the end, but we do want to know who did it. This Friedkin denies us. When, during one of the two featurette interviews as DVD extras, Friedkin speaks of deliberately blurring the identity of the killer, that the killer in one scene is the victim in another and so on in a deranged daisy chain, then adds that we can't be sure if Pacino's conflicted cop is the one who butchered his gay next door neighbor because he was terrified that he might have been falling for the guy, we don't know whether to throw something at the screen, or regard Cruising as a laughable anticipatory metaphor for AIDS, in which contact with what may be your gay side infects you with sexual psychosis.
The stereotyping deepens with the introduction of Richard Cox's Columbia grad student, laboring through a thesis on American musical theater, twisted out of shape by daddy issues. It's a waste of a compelling performance, just as Don Scardino is wasted as the cop's chatty, sunny-dispositioned neighbor. Ditto for Gene Davis' leather-clad streetwalking transvestite in flowing blond wig, balancing toughness and style. Most of the rest you just feel sorry for – especially Allen, whose expression of nonstop bewilderment is entirely understandable and Leland Starnes, who manages to avoid embarrassment during his park bench scene as the musical theater student's dead father, whose unmet expectations, we are asked to believe, unhinge his grown son. Real cops Jurgensen and Sonny Grosso blend in expertly as screen cops.
If Friedkin's sensationalizing excesses, lurid color baths and repeated hammerings of the penetration metaphor make the film seem like
Halloween
, the staging of it in cold light in – where else? – the Meat Packing District, is the final nail in the coffin of its credibility (
Fatal Instinct
shamelessly borrowed the same ambience to great success years later).
Cruising
remains more millstone than milestone of gay cinema – much of which merely reflects hysterical mainstream attitudes toward homosexuality. Ironically, it's another reminder that when it became acceptable for mainstream films to drag homosexuality out of the closet, it mostly was in ways that, if not okaying the murder of gays, reinforced negative perceptions. About the only thing
Cruising
got right was to find itself on the right side of a free speech issue.
When it was being filmed in 1979, gay protests flared up around it. Not just the usual march, either. There were demands that NYC withdraw its support of the film. Some activists went as far as disrupting the sound on the shoot by blasting stereos and whistles nearby. Others stood on rooftops with reflecting mirrors, disrupting the lighting. Friedkin and Warner Bros. tried to take the sting out of the charges of homophobia with a statement saying, "This film is not intended as an indictment of the homosexual world." In the spirit, one assumes, of feebly tacking the meaningless "Shame of a Nation" title addition to
Scarface
(1932) to disarm criticism of that film. In today's era of
Brokeback Mountain
and Larry Craig,
Cruising
remains more bomb than bombshell. But its Dionysian moments are as potent as its guignol is hokey, and you can understand what all the fuss was about.
For more information about
Cruising
, visit
Warner Video
. To order
Cruising
, go to
TCM Shopping
.
by Jay Carr