DVDs from TCM Shop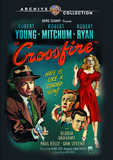 Crossfire A crusading district attorney... MORE&nbsp> $14.95 Regularly $17.99 Buy Now
NOTES
The working titles of this film were The Brick Foxhole and Cradle of Fear. In Richard Brooks's novel, the character "Montgomery" kills "Samuels" not because he is a Jew, but because he is a homosexual. PCA director Joseph I. Breen described the novel in a July 17, 1945 letter to RKO executive William Gordon, contained in the MPAA/PCA files at the AMPAS Library, as "thoroughly and completely unacceptable, on a dozen or more counts." In February 1947, however, after screenwriter John Paxton had completely eliminated the homosexual plot line from the story, Breen endorsed the project, but cautioned that the final film should contain "no suggestion of a 'pansy' characterization about Samuels or his relationship with the soldiers."
Contemporary news items add the following information about the production: In March 1946, Dick Powell, who had previously starred in two successful Edward Dmytryk/Adrian Scott/John Paxton pictures, Murder My Sweet and Cornered (see entry above), was announced as the film's probable star. Robert Young eventually agreed to do the picture on condition that it be shot on a twenty-four day schedule, which it eventually was. RKO borrowed Gloria Grahame from M-G-M for the production.
A March 1947 New York Times article described Crossfire as one of the first Hollywood films of the 1940s to "face questions of racial and religious prejudice with more forthright courage than audiences have been accustomed to expect." While RKO was producing Crossfire, Twentieth Century-Fox was making Gentleman's Agreement (see below), another story about antisemitism. RKO raced to beat the much "ballyhooed" Fox picture to the theaters, releasing Crossfire several months before Gentleman's Agreement. In July 1947, RKO screened Crossfire for representatives of various Los Angeles religious groups. In addition, several surveys, which were designed to gauge the audience's prejudices, were conducted before and after screenings of the film. Crossfire received both praise and criticism for its depiction of antisemitism in America and was the subject of many editorials. Some Jewish leaders protested Montgomery's extreme brand of antisemitism, which they felt could be too easily dismissed by the audience.
Crossfire was Dmytryk's and Scott's last film for RKO. In October 1947, the House Committee on Un-American Activities (HUAC) called the filmmakers as "unfriendly" witnesses before their Congressional hearings. HUAC, which was formed by Congress in 1938 to investigate a variety of political extremists, had dedicated itself solely to exposing Communist and left-wing activities after World War II, and, in late 1947, turned its attention specifically to the film industry. Scott and Dmytryk became the first two members of the infamous "Hollywood Ten," a group of producers, writers and directors who were indicted for contempt of Congress when they refused to state whether they were or had been Communists. Other members of the Hollywood Ten included screenwriters Alvah Bessie, Lester Cole, John Howard Lawson, Dalton Trumbo, Ring Lardner, Jr., Samuel Ornitz and Albert Maltz and producer-director Herbert Biberman. In April 1948, the Hollywood Ten were tried at the Federal Court in Washington, D.C. and were convicted of contempt of Congress. All ten served prison terms and, for many years, were blacklisted from the film industry. Some, including others who were implicated in later years, continued to write using pseudonyms.
In January 1948, Dmytryk, whose contract at RKO was dropped after the indictment, sued the studio for $1,783,425, claiming anguish, loss of salary, screen fame and artistic reputation as well as personal humiliation due to his firing. The disposition of that lawsuit has not been discovered. In September 1950, however, the imprisoned Dmytryk broke his silence, stating that he was once a member of the Communist Party, and was released early from jail. When Dmytryk testified a second time for HUAC in 1951, he implicated others, including Scott, as Communists, and thereby removed himself from Hollywood's blacklist. His next American-made film was the 1952 picture Mutiny. Scott, however, continued to be blacklisted and never produced another picture.
Because of its modest $589,000 budget, Crossfire was touted as a model "sleeper" hit. According to modern sources, it grossed $1,270,000 and was RKO's biggest hit of 1947. Crossfire received an Academy Award nomination for Best Picture, but lost to Gentleman's Agreement. It was also nominated for Best Supporting Actor (Ryan), Best Supporting Actress (Grahame), Best Director and Best Screenplay (Adaptation). In September 1947, Crossfire was named Best Social Film at Cannes. In December 1947, Ebony magazine, an African-American publication, gave the film its annual award for "improving interracial understanding."