DVDs from TCM Shop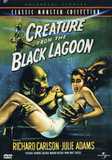 Creature from the Black Lagoon Scientists track a prehistoric... MORE&nbsp> $10.47 Regularly $14.98 Buy Now blu-ray
NOTES
The working title of this film was Black Lagoon. The film begins with a voice-over narration describing the Earth exploding into being, cooling down over millions of years and developing the first forms of life. According to a September 1953 Los Angeles Times news item, Frank Lovejoy was originally cast as "David Reed," but Richard Carlson took over the role. The film marked the second collaboration between star Carlson, producer William Alland, director Jack Arnold and writer Harry Essex, who were behind the hit science-fiction film It Came from Outer Space, produced by Universal in 1953 (see below). Creature from the Black Lagoon was shot in black-and-white 3-D. According to a Hollywood Reporter news item, underwater scenes were shot in Wakulla, FL. Modern sources add that some scenes were also shot on location in Crystal Springs, FL.
Modern sources report that Alland and Arnold based their design for the Gill Man on the Academy Awards Oscar statuette. Modern sources also state that Glenn Strange turned down the role of the Gill Man, which was filled, in the underwater scenes, by Ricou Browning. A September 1953 Hollywood Reporter news item adds Richard Webb to the cast, but he was not identified in the viewed print. Modern sources add Ned Le Fevre to the cast and the following names to the crew credits: Creature des Millicent Patrick; Makeup Chris Mueller; Double for Julia Adams Ginger Stanley; Music Robert Emmett Dolan, Henry Mancini, Milton Rosen, Hans J. Salter, and Herman Stein.
At the time of its release, Creature from the Black Lagoon enjoyed critical and popular success, and has since gained status as one of the most important science-fiction films of the era, with the Gill Man emerging as one of the genre's most iconic monsters. Universal produced two sequels to the picture: In 1955, Revenge of the Creature was again directed by Arnold, while John Sherwood directed the 1956 picture The Creature Walks Among Us (see below). All three films in the series were produced by Alland.
Although LAWeekly announced in May 1982 that producer-director John Landis planned to remake Creature from the Black Lagoon, retaining Jack Arnold as the director and the original design of the creature, that film was not produced. In early 2003, Universal announced new plans to remake the film, but production had not begun as of spring 2005.