DVDs from TCM Shop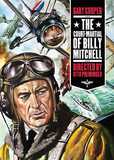 The Court-Martial of Billy Mitchell An air-corps pioneer stands... MORE&nbsp> $14.96 Regularly $19.95 Buy Now blu-ray
NOTES
DVDs from TCM Shop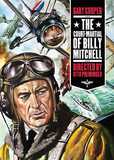 The Court-Martial of Billy Mitchell An air-corps pioneer stands... MORE&nbsp> $14.96
Regularly $19.95 buy now
The following written prologue appears after the opening credits: "The First World War had just ended in total victory for the United States and its Allies. Now war was a thing of the past. America disbanded its army and sank its navy. Its air force was still an unwanted child. In 1921 off the coast of Virginia, the high command of the army and navy gathered to consider a revolutionary experiment." At the end of the film, a formation of "flying jennies" dissolves into a formation of 1950s-era jet planes.
Real-life Billy Mitchell's (1879-1936) interest in military aviation began when he served as an officer in the Signal Corps, which oversaw the Army's air service, during the Spanish American War. During World War I, as Brigadier General of the American Expeditionary Force, he was in charge of American frontline aviation units and led the largest aerial offensive up to that time. After the war, the widely acclaimed war hero watched his aerial force deteriorate due to lack of funding and interest.
As depicted in the film, Mitchell proved the fighting potential of airplanes when he sank the Ostfriesland, but Army officials, who remained skeptical, demoted him to colonel and reassigned him to infantry corps headquarters. As further depicted in the film, after several military air fatalities, among them the death of his close friend, Commander Zachary Lansdowne, Mitchell publicly accused his superiors of criminal negligence and short-sightedness. He also made several uncanny predictions that later proved true.
In October, 1925, Mitchell was court-martialed for insubordination. As depicted in the film, many top aviators testified at the highly publicized trial in his defense, but he was nonetheless convicted and sentenced to five years' suspension from the military. The jury panel, which did not need a unanimous vote, convicted him by a simple majority. Mitchell then resigned his commission, and died eleven years later, still advocating American airpower. According to several modern sources, Douglas MacArthur, who served on the jury panel, is believed to have voted for Mitchell's acquittal. MacArthur was appointed Supreme Allied Commander of the Southwest Pacific theater in 1942, after Japan's attack on Pearl Harbor, Hawaii in December 1941, an event predicted by Mitchell (in 1923, according to the Hollywood Reporter review).
Interest in Billy Mitchell's story probably began soon after his chillingly accurate prediction of the attack on Pearl Harbor came true in 1941. According to a November 1955 Cue article, producer Milton Sperling had been considering the story for fifteen years. Producer Samuel Bronston had acquired the rights and planned to film The Life of Billy Mitchell in 1945, according to an August 1944 Hollywood Reporter news item, but this project did not reach fruition. After the success of the 1954 Wayne-Fellows production The High and the Mighty, producer Robert Fellows reported in a July 1954 New York Times news item that he had concluded a deal to do a Mitchell biography starring John Wayne based on facts of Mitchell's life, as provided to him by Mitchell's sister, Harriet Mitchell Fladoes, but this project also did not reach the production stage. According to an April 1955 Variety news item, after Sperling and Warner Bros. spent over a year getting approval from Mitchell's heirs and relatives and from the U.S. government and Dept. of Defense, they finally began production on the film in June of that year.
Several disputes over the rights were reported shortly after plans for the film's production were announced. According to an April 1955 Hollywood Reporter news item, Barnett Glassman, president of Trophy Productions, stated that he owned the rights to the book Mitchell-Prophet of Air Power by Isaac Don Levine, described as the only biography authorized by Mitchell's family. The same news item also reported that Lester Cohen claimed priority based on the 1942 book, Billy Mitchell-U.S.A., which he co-wrote with Emile Gauvreau. The news item noted that the Warner project, a story of Mitchell's military trial, was a matter of public record, rather than a biography of the man. No further information regarding Cohen's suit has been found. However, an August 1955 Daily Variety article reported that a week after Sperling and Warner Bros. settled out of court with Trophy Productions for $50,000, attorney Theodore R. Kupferman filed a general damages suit for $15,000, claiming that Warner Bros. had no right to make any payments without consulting him, as he had been appointed receiver of the property under a New York Supreme Court order. Kupferman asked for an additional $7,500 for legal expenses, a declaration of rights to the plaintiff's claim and an injunction enjoining distribution of any picture based on the Mitchell story.
The second suit added United States Pictures, J. C. Yoss, Paul R. Davison and five John Does as defendants. The outcome of this suit has not been determined. An August 1956 Variety news item reported that Roslyn Fisher filed suit in both the New York Federal and Supreme Courts against Warner Bros., United States Pictures, and Sperling, seeking no money, but an injunction to restrain the defendants from infringing on the copyright of Levine's book, to which she claimed to have been assigned the rights in 1950 from her husband John, who obtained them from Bronston in 1943. No further information on this suit has been determined.
According to Hollywood Reporter production charts and Warner Bros. studio notes found in the film's copyright file, the production was shot primarily in Washington, D.C., at the Army and Navy Club; the old War, Navy and State Department Building, called the Executive Building by the 1950s and located across the street from the White House; the railroad station; Senate office buildings; Capitol Steps, the Mall near Lincoln Memorial; Q Street; and the warehouse district. Rosemead Airport near El Monte, CA, stood in for Langley Field.
The Court-Martial of Billy Mitchell marked the feature film debut of Elizabeth Montgomery (1933-1995), daughter of actor-producer Robert Montgomery, and future star of the popular television comedy, Bewitched. Several reviews made special mention of Rod Steiger's performance in the film. For their work on the film, screenwriters Milton Sperling and Emmet Lavery received an Academy Award nomination. When the film was released in Great Britain, the title was changed to One Man Mutiny. Another film on the same subject is the television production, The Billy Mitchell Court Martial, which aired in 1956 on CBS-TV's Omnibus television series, hosted by Alistaire Cooke, and starring James Daly. Mitchell's career and predictions were also highlighted in the 1943 Walt Disney documentary, Victory Through Air Power, which concludes with a brief dedication to the airman.