DVDs from TCM Shop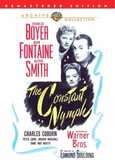 The Constant Nymph A composer finds inspiration... MORE&nbsp> $16.95 Regularly $19.99 Buy Now
USER REVIEWS
See Detailed Ratings
Acting of Lead Performers

Acting of Supporting Cast

Director

Music Score

Title Sequence

Screenplay

Cinematography

Historical Importance

Would You Recommend?

0 Member Ratings
Rate the acting of the Lead Performers

Rate the acting of the Supporting Cast

Rate the Director

Rating of the Music Score

Rating of the Title Sequence

Screenplay

Creatively uses the camera to tell the story

Importance in Cinema history

Would you recommend for fans of this genre
Submit Ratings
Cancel
Write a Review
Read Reviews
NO REVIEWS AVAILABLE
The title has not been reviewed. Be the first to write a review by clicking here to start.
some may say..boyer ..ball buster..beyond belief.

a risky studio movie for the time. the idea of the story was maybe ..pure love..not something vulgar.. offered by someone who was not going to have much time on this earth. the material was too hot button..too much of a mountain to climb. solid acting..nice music that fit. could have been worse..could have starred chris rock and directed by kevin james.

THE CONSTANT NYMPH

Susanne Cavendish

8/31/16

Joan Fontaine, until recently was just a name, I associated with the movies, even forgetting that she was in Suspicion, for it was Cary Grant whom I wanted to see. They were so wonderful in the movie and then I took a chance on a movie with the word Nymph in it and I knew it had to mean something from classical times. The look on this young lady's face, the way she moved as if everything she did had urgency, the look of a girl sixteen, played by someone, ten years older, was enough to make this movie, one of my favorites. Charles Coburn and Alexis Smith as Father and daughter were remarkable as two people trying to come to terms with something so different than they were accustomed to, the Sanger children and Dodd, played so well by Boyer, Dodd a man who had one love, for a girl, who was, perhaps the only person he could love, so well. The theme of musical reference plays well with the theme of the movie, itself a bit abstract in the way two worlds came together, in almost every scene. I give the movie an uncompromising five of five stars. In less than two months, if she had lived, Joan Fontaine would have been ninety-nine, having lived to be ninety-six, her sister, Olivia still alive, now one hundred years old. Just a wonderful movie about youth and how it remained undaunted by the obstructions of tradition and custom. Keep a box of tissues, handy. It was easy to see why Tessa rushed about in haste, her quest, life, for she must have known there was so much to love and so little time to do it!

Incandescent Fontaine

Joan Fontaine gives one of the great performances in movie history in this astonishingly vibrant and modern love story. All the Lolita nonsense in some of these postings is silly. Boyer only realizes he loves Tessa when she is certainly of age. Joan Fontaine is just perfect in this role. She does not overdo anything and her readings are perfectly captured by Edmund Goulding a truly neglected director who also gave us Dark Victory and The Razor's Edge. And Alexis Smith deserved a Best Supporting Actress nomination for her great work here. She was younger than Fontaine playing 10 years or more older and she was totally convincing. Even when her character is being hateful you can understand the reasons why. Brenda Marshall is gorgeous and talented and totally wasted as one of the Sanger brood. Everything about this rare film is perfect. The wished for flashback just before Tessa dies is outstanding. Joan Fontaine is positively glowing in all her scenes. Fontaine's Hitchcock films are well known but her work in this film is superb. Her other fine roles include Letter From An Unknown Woman, Jane Eyre and Ivy and she is gorgeous in the vastly underrated Frenchman's Creek. Plus her great aria in This Above All explaining to Tyrone Power why England and the war matters is the highlight of that film. Joan Fontaine was unique. Even such films as September Affair and Born to be Bad reveal an actress of immense delicacy and beauty. There will never be another like her.

Shocking but not because of the love story

I was not shocked by the love story. Men used to marry teen girls. What's shocking is that they thought Joan Fontaine could look 14. It's overly dramatic and sickeningly sweet even for someone who loves such old movies as Penny Serenade and Stella Dallas.Alexis Smith steals the movie.

Perversion Clothed in Romance

This movie was horrid in every way. Contrived, melodramatic, stilted, cloying, annoying and lewd are the GOOD things about it. That a child may have a hormone induced crush on an adult is one thing, but that a grown man would even THINK of a romantic/sexual relationship with a CHILD of 14 is disgusting. I'd have more respect for it being marketed as what it is a less well written, less provocative Lolita or sorts. Instead, the story's and movie's desperation is obvious as it tries to make the relationship between child and adult acceptable by providing references to the spiritual, poetic and love (?) so great it cannot be denied. Regardless of soaring musical accompaniment, ethereal photography and the awkward contortions of the actors to prove it otherwise, the theme of this film is an adult taking advantage of his relationship with a child for his own emotional, sexual and behavioral issues. The adult is ALWAYS guilty of unacceptable behavior if he acts upon any feelings of sexuality, whether they wear the sheep's clothing of romance or not, regardless of the coyness, provocativeness, nymph-like countenance of the CHILD. Why the big deal over Lolita being so "revolting" when at least it clearly presented itself for what it was, the sick longings of an old man for a child when this film seems to want to give every pedophile out there the excuse to act inappropriately as long as passionate music is played in the background and a light peeps through the clouds. This movie was nothing but propaganda for the perverse. It made me throw up a little in my mouth.

This is OK?

Lewis is a pedophile if Tessa is only 14 years old. Why does Lolita come to mind? I cringed when he swats her on her but. Not nice.

hard not to laugh

26 year old Joan Fontaine flitting around trying to look 14 with 44 year old Charles Boyer trying to be 30. I mean- this is the definition of miscasting. Alexis Smith, at 22, is the best of the lot. A really bad movie. Horrible writing, too.

Constant Champion

I agree it is a classic. Love knows no age limits and this is a romance for the ages. Tragique as Charles would say!! I stay up past my bedtime to see again.

The Constant Nymph

An exquisite film illuminated by the ethereal and beautifully sensitive performances by Joan Fontaine and Charles Boyer as the unrealized lovers Tessa and Lewis. Lewis' declaration "Why didn't I know" is the force guiding all performances and sentiment. The supporting actors are excellent. Alexis Smith beautiful and as many have said, a scene stealer. The score wraps your heart and mind in the mist and clouds of the forever nymph, eternally an innocent.

A Tragic Death

In answer to Robert Barnacki's question, Tessa's young death is found in Margaret Kennedy's novel as well, though there she and Dodd flee to France, where she dies trying to open a stuck window in their hotel room. Her last words, as she stares unseeingly at a burning lamp, are "Light the light." Such a death would not have been a mystery at the time. Children who suffered rheumatic or scarlet fever might have damaged heart valves as a result and were doomed to early deaths. Nothing could be done about it then. Among the better-known who died such deaths were producer Irving Thalberg, writer Anne Morrow Lindbergh's oldest sister, Elizabeth, and actor John Garfield, all of them in their thirties. Thematically, it meant that Tessa's yearning for love would always be shadowed by death. Her love would remain unconsummated, even as she would remain a constant nymph, nurturing and innocent. This in turn lends a certain timelessness to the romance between her and Dodd. As she tells him in the dream sequence while the great tone poem "To-Morrow" is played, she had waited for him since before he was born. Presumably she will wait for him in Heaven as well, where all things are made right.

An astonishing performance

Joan Fontaine's Tessa in "The Constant Nymph" is an astonishing creation. Compared to the mannered playing in most films of the time, it is so natural and unaffected, so tender and true to the character. Everything she does, whether running with wild exuberance or quietly confiding her love, seems to come from within and not from a screenplay. What a marvelous scene she has with Boyer on the mountain, laughing self-consciously as she tries to suggest the depth of her feelings for him. I don't mean to denigrate other performances from this period, which I enjoy immensely, but only to say how much apart from them this one is, or from the performances of any other period. In "Rebecca," "The Constant Nymph," and "Letter from an Unknown Woman," Joan Fontaine may have given three of the greatest performances of any actress ever. This is possibly the best of the three.

"The Constannt Nymph" is Constant Excellence!

Only Edmund Goulding could've turned this film into such an intensely romantic experience. But was Tessa's death demanded by 40's movie censorship or was it part of the original material? (A bit of trivia: many years later - 1961, in fact - Fontaine and Lorre would appear together again in "Voyage To The Bottom Of The Sea".}

The Constant Nymph

A romantic drama that could've easily been lost for future generations. Fonatine was nominated for her believable-enough performance as a 14-year old in love with Boyer's musician; Smith gives one of the best performances of her career as Fontaine's older rival. The story is deep, but resorts to cheesy melodrama, where the tender scenes are aided by Erich Wolfgang Korngold's score. A good film with a quick pace, but it may not be the masterpiece other's are expecting. I give it a 4/5.

Not that great

One of those "lost" films that enjoy a good reputation because no one has seen it for decades. This was tied up in legal battles. It's well made, but creepy since the plot is about a 14 year old girl who is in love with a 30 year old man. (Joan Fontaine tries hard, but I couldn't believe her as 14 -- I think she was 25 when this was made.) The alpine sets are woefully fake for an "A" picture. And luckily the actress in the very beginning is not in the rest of the film since I couldn't understand anything she said.

Fontaine's best film!

Normally, I don't like Fontaine's performances, as she seemed to be always cast as a woman who loves and loses or, in some films, a very weak woman who has no idea what she's doing. This film, however, truly brings out her abilities as an actress. She certainly produces the qualities of the title of this film, as a nymph is eternally innocent. I don't agree with some reviewers about the age of 14 for Fontaine and the older Boyer being inappropriate in this film. The age difference is treated very well here. Boyer's character does not take Fontaine to his bed and, although he professes his caring for her, he does not do anything else. His feelings are brought out in his music and his wife takes note of it. Alexis Smith is excellent in her role as the wife here. She is a total witch and does it very well. Boyer. My goodness! Is there a film he has made when you don't fall in love with him? I loved his very understated performance in this film. He was a tortured soul and, that type of person, is not prone to histrionics but, rather, is quiet and introspective. I liked this film a lot, particularly for the very fine acting performance by Joan Fontaine.

Pure Korngold

I really don't intend to belittle the fine cast of this classic film, but the truth is.... whenever Korngold is a film's composer, he and his incredible music become the true star. I find it impossible to dislike a film featuring his majestic score! Yes, this is a Korngold film and for that reason alone is worth watching.

Constant Nymph

Just saw this film for the first time yesterday (Friday, June 8). The title intrigued me and when I saw the actors that were in it, I just knew I would love this film. I'm sorry to say, as much as I love Charles Boyer, Joan Fontaine and Alexis Smith, I was truly disappointed. Nothing wrong with the acting, but the idea of an 30 something married man professing love of a 14 year old girl was definitely creepy. He would be dubbed a pervert in this day and age. Joan Fontaine played the role wonderfully, but if you forget for a moment that this is Joan and think of, let's say, your 14 year old sister or cousin in love with a 30 plus year old man, you would have 2nd thoughts and not find the story line so "beautifully romantic". If my husband was as "affectionate" and touch-feely to someone's 14 year old girl, I would be just as upset, jealous, suspicious as Alexis character. In other words, this is not one of my favorite movies

Trivia

The film was 'average.' I just wanted to point out something I noticed as soon as I turned the film on (which was after it began running): Joan Fontaine is more than three years older than Alexis Smith, yet played her younger cousin. Alexis Smith died in 1993 and Joan Fontaine is still alive at 94.

The Constant Nymph

Whoever called Erich Wolfgang's music more corn than gold, obviously did not appreciate beautiful music!This movie leaves me breathless and filled with emotion. I am so grateful to the TCM legal team who made viewing this movie possible after almost seventy years.I am a great fan of classic movies so The Constant Nymph will be added to my library when it is available for purchase.Beautifully written and acted story, about the boundless possibilites where love is concerned.Thank you again for the showing the movie on January 31, 2012.Big movie fan!!

The Constant Nymph

In her autobiography,Joan Fontaine said that this was her favorite film. I agree! Her performance is wonderful as well as Charles Boyer. We had to wait a long time to see this film. It was worth the wait. Wish they still made movies like this!

I loved The Constant Nymph - Five Stars

Last night I saw on TCM for the 2nd time a movie I love and had waited to see. I disagree with anyone who says that Charles Boyer was ... well ... not fine in the film. Definitely not. He is the excellent actor he always was - and that is an understatement. The love on his face when he calls Tessa "beloved" is so passionate. Oh, that lover Boyer. Just his voice makes me melt. To me, "lovers" conjures up only two legends: Valentino and Boyer.I wonder if anything had changed from the novel; I had read the novel a long time ago but can't remember. My mom told me about the film and how she loved it in the '40's. And I read of the continuing "rights" problems, not being shown ever on TCM/TV, and at last being shown at the TCM 2011 Film Festival . When TCM first aired it, I loved it, and now I love it more. Joan Fontaine was completely wonderful as Tessa. Alexis Smith's Florence is a rich, spoiled snob and, after being a total bitch throughout the film and really hateful to Tessa and Paula - no way is she going to be "understanding" about her husband at the end of the film! The way she treated and shook Tessa is awful and this, I feel, contributed to Tessa's sad death. I understand how my mom felt about the film, but she never said if my beloved father liked it. He did like Charles though and I think he did. It's a beautiful and touching story of Louis & Tessa. Louis and Florence should NEVER have married. He was not like her - not a snob nor condescending to anyone. And naturally, I wanted Charles & Joan to kiss - there were two good opportunities - but of course they didn't. I suppose the Breen Office would have had a fit. I wish Louis had waited for Tessa...Of course, you get how I feel. I wonder, as Charles as Louis Dodd says, "...but why did I not know?" Very sad.

Great Performances

What a great and heart wrenching performance by Alexis Smith, who I think stole the show. She was a very fine actress, in both comedy and drama. Joan Fontaine also played her part very well, especially since she was actually about 10 years older then the part she played. She really made it work. Charles Boyer was somewhat bland, but I think he downplayed his role to let the women shine. Or he was directed to do that. This is the first time I've ever seen this movie and I enjoyed it very much. I was getting it mixed up with another Fontaine movie that was also about a musician, I believe it was on TCM a few weeks ago. Now I'm going to watch her play a bad person in Born To Be Bad, another first for me. Looks very enticing.

The Constant Nymph

I saw this film when I was 14 in 1943. I fell in love with Joan Fontaine !!!!!!

Concerning love

I'm not at all sorry to disagree with "Movie Lady." I think the problem is that "love" has become just a synonym for sex. The idea that it might have a spiritual dimension or that one might love another and even find inspiration from that other, without having sex, is apparently too abstract, even too "precious," to be accepted now. But for those who accept that such a love is possible, it is entirely understandable that a man whose heart has been closed for so many years, might be at least touched by the open, simple love of a girl just becoming a woman. Before such a love, all the wasted years of his life would have been as nothing. Of course, this is the very theme of the story, but even when the movie was made, it was understood that this kind love could not find expression in our world, for the reasons so apparent to Movie Lady. She finds the death of Tessa a contrivance; for others, apparently, it is something tragic and affecting. Certainly it is so for me. From an aesthetic standpoint, though, she might consider the opinion of the poet, Edgar Allan Poe, who believed that there is no theme more poignant and affecting than the death of a beautiful woman.

Thanks for"The Constant Nymph"

II recently saw t"the Constant Nymph" on TCM. It was a film that has not been seen on TV or on VHS or DVD. Te film was a hidden gem. The performance by Joan Fontaine was exquisite. She brilliantly enacted a love struck 14 year old girl making one forget she was a 26 year old actress at the time. The rest of the cast was wonderful. Charles Boyer was at his peak as a homme fatale. Besides Charles Coburn and Alexis smith, I would like to single out the performance of Joyce Reynolds as Joan Fontaine's younger sister who is aware of her sister's feelings to the older man her sister loves. Edmund Goulding is an under rated director. Korngold's musical score is anoter discovered gem. Hopefully, Warner Brothers will release a DVD>

Joan -=-A constant surprise!

My first time seeing this film and I was so impressed by Joan F's performance. She blew me away!!!!!!!!!!!FANTASTIC!!!!!!!!!!!!!!!!!!!

Fantastic!

Astounding film.Probably Joan's best. From reading other reviews,it seems it was recently telecast. I thought that was not possible. Perhaps an offical DVD/Blu-ray won't be far behind.

THE MUSIC OF "THE CONSTANT NYMPH"

I JUST SAW THIS FILM ON TCM AND WAS I SURPRISED....WHAT A GREAT FILM. JOAN FONTAINE WAS FANTASTIC, AS WAS ALEXIS SMITH...I FELT CHARLES BOYER'S ROLE WAS UNDERWRITTEN, AND THE MOVIE WAS GIVEN TO THE WOMEN...GOULDING WAS KNOWN, LIKE GEORGE CUKOR, AS A WOMEN'S DIRECTOR....AND BOTH WERE GAY....POOR BRENDA MARSHALL ENDED UP ON THE CUTTING ROOM FLOOR....BUT THE REAL WONDER IS ERICH WOOLFGANG KORNWOLD'S MAGNIFICENT FILM SCORE...I WOULD GIVE ANYTHING TO HEAR A NEW STEREO RECORDING OF THIS SCORE. OR EVEN A SOUNDTRACK RECORDING. ANYONE KNOW OF SUCH A RECORDING? ANYWAY, THIS IS ONE DVD I WILL PURCHASE...DON'T MISS IT.

What do I think?

I honestly wasn't going to watch this but I happened to see the trailer. As a music student I thought the score was beautifully haunting ( which is more my style ) . This movie is a gem! I absolutely loved it. I am a hopeless romantic. Usually I'm not fond of movies where one of the main character dies at the end, but in this case I think if Tessa hadn't of died I wouldn't appreciate this movie as well. I would say, 'Beware realists!'. I did think that Charles Boyer was a tad cold, but I think he worked well with this movie because of his looks and character. I can't think of another actor I would have put in his place. Joan Fontaine and Alexis Smith, were WONDERFUL! I would defiantly recommend "The Constant Nymph".

the constant nymph

i love joan fontain ,and the constant nymph is one of my favorites;why can,t i find it for sale,please help.

loved it

I identified with the feelings that Tessa had for Louis. My first voice teacher was a man ten years older than myself, and I was 15. I thought Joan Fontaine was perfect in the role of Tessa, except that I would have liked to have joined the story a little sooner to perhaps see why the girls were all quite so taken with the man. Of course, there couldn't be a satisfying ending to the story, and I thought that having Florence cave in at the end and give up her husband was not a bit realistic. Charles Boyer, understandably, did not seem comfortable in his role.

Poetic

Not to worry. You certainly haven't "popped my balloon". In fact after reading yours and the other negative reviews posted here, my appreciation of the film is increased that much more. I can understand how this film, and another Fontaine film of a similar genre, Letter from an Unknown Woman, may only reach a certain type of audience. But I think if the viewer, as may be the case, focuses purely on context, the artistic virtue is lost. And as for Fontaine's performance, I think Mr. Addeo's review says it all. Korngold's music certainly is the icing on the cake and lends itself beautifully to the charm and haunting essence of the film.

The Constant Nymph

I'm afraid to say that I was disappointed with this rarely seen gem. Charles Boyer give too flat performances to even be called acting. Although Joan Fonatine was nominated for an 'Oscar,' The stand-out performance in this film is given by Alexis Smith, who struggles so much to be loved by Boyer, only to realize that he loves Fontaine. Erich Wolfgangs Korngold's music score is a marvelous thing to hear among an 'okay' love story. I apologize to 'pop the balloon' to those who are anxious to see this film. I give this a 2/5.

Sorry to disagree

I am afraid I will have to disagree with the other reviews posted here. After having heard of this movie for years, I finally saw it last night. I found it to be overwrought and melodramatic in the extreme. While the subject matter may have been considered appropriate in 1924 when Margaret Kennedy's book was first published and the marriage age for women in many states was 14 or even younger, in this day of awareness of child sexual abuse, the idea of a 30-something man finding inspiration, much less romantic love, with a 14-year-old child is stomach churning to say the least. The fact that Joan Fontaine was 26 at the time of filming made the plot a little easier to take, but not much. Throughout the movie I kept wondering how in the world the "love" triangle was going to be resolved and soon realized that the only possible outcome would be Tessa's death. I am giving this two stars based soley on Ms. Fontaine's performance which was sensitive and touching, if a little too precious in many spots. Charles Boyer was his usual suave, shallow self, and Alexis Smith in her film debut was, unfortunately, stiff as a board. What others found charming and delicate, I found just too creepy for modern viewing.

Luminous Joan Fontaine

This is one of those films I have been waiting for years to see, having been out of circulation for at least 50 years. It was well worth the wait. Joan Fontaine is the type of actress that just doesn't exist anymore. She plays exquisitely fragile, ethereal, delicate types of women with depth, passion, soul and devotion. This is yet another impeccable performance that rated her an Academy Award nomination and I cannot think of another actress who could have pulled off, entirely successfully, playing a 14 year old girl. She is haunting, beautiful and tragic. Charles Boyer and Alexis Smith are fine in their roles but it is Fontaine who carries the film and Edmund Goulding directs in a luxurious style highlighting the delicate relationship between Fontaine and Boyer. They could never make this type of film anymore and that's alright because they wouldn't know how to deal with the subject matter. Music, poetry, art, disillusion, loss, heartache and romance between a pubescent girl and adult man is something mainstream Hollywood no longer knows how to make interesting to the public and for that matter it seems like the public doesn't really crave this any longer. Joan Fontaine is still alive and she must have been ecstatic to know that this film has garnered so much acclaim and interest. My only disappointment being that since Miss Fontaine is still alive why hasn't she been interviewed? You know she hasn't many years left. She must have amazing stories and insight to share with her public. Would kill to see her intereviewed on TCM. I have a feeling Robert Osborne has contacted her since he seems to pay attention to detail and I imagine she has been approached but most likely has declined - please, please be persistent in getting a live interview and with her and her sister as well. They are the last of the greats from Hollywood's golden era.

evanescent

the score perfectly underscores the ethereal and touching love relationship between two souls whose connection is long in coming. I nearly cried at this film--and I was not sure why. I think there was something subtly poetic about the score, the film's quality, and--of course--the tortured Boyer and the luminous Fontaine.

The Constant Nymph remains constantly enjoyable

A delicate subject handled very nicely. Today, it would be handled crudely and crassly. Korngold's music is a superb finale for such a charming movie.

turkey

small wonder this film wasn't shown for many yearsit should go back on the shelf for another fifty.what a bomb.but the korngold score will survive. if nothing else.

The Luminous Miss Fontaine

After years of searching and probing, I was very fortunate to have been able to aquire a DVD copy of 'The Constant Nymph'. It was well worth the search, as Miss Fontaine.........who is one of my 40's favorites, is lumimnous and gives a superb performance as a lovelorn young innocent. Miss Fontaine was at the first peak of her career in this film, having just appeared in succession in 'Rebecca', 'Suspicion' & 'This Above All'. The 'Constant Nymph' garnered Miss Fontaine her third Oscar nomination, while sister Olivia de Havilland whose stardom came earlier, was languishing at Warner Brothers in Errol Flynn costume dramas. Miss Fontaine, who at this time was under contract to David Selznick, made 'The Constant Nymph' for Warner Brothers, Miss de Havillands home studio. One can only imagine the added strain this put on the relationship with sister Olivia. Of course great success was to come Olivia's way by the mid & late 40's. But this is Miss Fontaine's shining hour, supported beautifully by Charles Boyer, Alexis Smith, Peter Lorre & Charles oburn. I am so pleased that TCM will be airing this almost forgotten classic. Joan Fontaine would go on to star in popular and critcally acclaimed 40's & 50's films such as Ivy, A Letter to an Unknown Woman, The Emperor Waltz & Ivanhoe. Two of my Fontaine favorites, the 1944 Paramount technicolor swashbuckler 'Frenchman's Creek' and the 1950 Paramount romantic weeper 'September Affair' are classics that are unfortuately also not available on DVD, and never shown on television.Thank you TCM for bringing us this rare classic. It is my hope that the showing of this film will encourage TCM to air more of Miss Fontaines forgotten classics.

DVD?

When will this finally see a DVD release?

Heartfelt, Unforgettable

Based off of a 1925 novel by Margaret Kennedy, causing quite a scandal in its day for its portrayal of a powerful adolescent love affair, The Constant Nymph was filmed a total of four times, though the 1943 version is by far the most memorable. Blending an all-star cast with a sweeping Korngold score, it was a great success and brought much acclaim for Joan Fontaine's sensitive and ultimately heart-wrenching performance. Playing a character reminiscent of her later film Letter From an Unknown Woman, she captures the spirit of a plain and good-spirited girl unspoilt by the rules of civilization, a constant nymph directed by her single unwavering passion for a self-concerned musician (Charles Boyer), who realizes his feelings for the girl too late. Though the film takes liberties with the novel (most notably the different ending), the film has its own charm and infuses the whole production with a grand quality. Certainly one of the unsung classics long tragically obscure, be sure not to miss this one!

Love this film!

I felt very fortunate to see this film at the 2011 TCM Film Festival. And what a find!!! I have read up on this film for years, constantly waiting to see if it would on the TCM schedule. So I must say this film was the number one film on my list at the festival. It was quite touching and joyous, with Joan Fontaine giving such a tender and contagious performance...one of her best I believe. And Charles Boyer matching her completely. Alexis Smith was beautiful, and I always love seeing Peter Lorre. Cannot wait to see this film on the TCM schedule soon!!!

Constant Nymph (1943)

THE CONSTANT NYMPH (1943) is mostly forgotten because the author's will stated after the original release film it could only be shown at universities or museums. Nymph, definition. A nymph in Greek mythology is a minor nature goddess typically associated with a remote location. Nymphs personify the creative and fostering activities of nature and identify with the life- giving outflow of springs. Nymphs tended to frequent areas distant from humans, but could be encountered by lone travelers outside the village, where their music might be heard, and the traveler could spy on their dancing or bathing. For me, the title THE CONSTANT NYMPH might mean, always innocent or always nurturing. Source & other versions. The book by Margaret Kennedy, THE CONSTANT NYMPH was a runaway bestseller when published in Britain in 1924. One review from The Atlantic magazine said, "It's a novel about ideas... as well as the sort of delicious and merciless emotions that can make people exuberant or desperate." It was also quiet controversial. In 1926, Margaret Kennedy along with Basil Dean adapted THE CONSTANT NYMPH for a three act play for the London stage starring Noel Coward and Edna Best. Playwright Basil Dean jump started his career by turning this novel into a very successful play and backing the first two movie versions first in 1928 and again in 1933. Basil Dean used his profits to form Associated Talking Pictures an important film factory that later became Ealing Studios. Cast, supporting. Among the supporting cast is Peter Lorre who wanted to prove he had more range than playing Mr. Moto or criminal types. Charles Coburn, the white haired heavy set comedy relief who was an overnight discovery at age 61 is best known for THE MORE THE MERRIER and GENTLEMENT PREFER BLONDES, but in tonight's film he has trouble pronouncing the name Roberto and instead says Robert 'Oh. And grand dame, Dame May Witty plays the old socialite that is charmed out of her silver slippers by Charles Boyer. Ca

Watch it on www.youtube.com!

The Constant Nymph is like Letter From an Unknown Woman but better! It is the film in which Joan Fontaine got her third oscar nomination and one of her best performances. At the beginning she is a giddy teenager but by the end of the movie she is an old soul, tormented by love for a man she can't have for many reasons. The Constant Nymph won't be on video for some time because of legal reasons but you can watch it on youtube!
*We protect your personal infortmation and will not provide it to anyone without your consent. For a complete explanation, please refer to TCM's Privacy Policy. By submitting your contribution, you agree to TCM's Terms of Use.